Thales Delivered First EC135 Simulator in China


Thales announces the level D qualification of the very first EC135 Full Flight Simulator (FFS) by the Civil Aviation Administration of China (CAAC)

Thales, July 18, 2017 - As part of its ever growing presence in the Chinese aerospace market, Thales announces the level D qualification of the very first EC135 Full Flight Simulator (FFS) by the Civil Aviation Administration of China (CAAC).

The Thales Reality H EC135 helicopter simulator is housed in the Aviation Safety facilities, Haite Group's flight training centre in Tianjin.

Haite Group is a leading comprehensive aviation technology service provider in China. It is headquartered in Chengdu and has a listed company Haite High-Tech Co., Ltd and more than 40 other subsidiaries

With the addition of Thales EC135 Full Flight Simulator (FFS), the Haite Training center in Tianjin will be instrumental in meeting the increasing demand for helicopter pilot training in China, offering unrivalled training packages to Emergency Medical Services and commercial operators for both training new pilots and gearing up existing pilots in complex and demanding missions.

The Thales Reality H helicopter flight simulator is already in service around the world and was chosen for the first time in China because it provides operational efficiencies and high quality mission-oriented training to pilots. This high-fidelity FFS features an extended visual display of 240°x80° field of view, combined with high-resolution geospecific imagery from the ThalesView™ image generator and an efficient and user-friendly Instructor Operating System (IOS). Its unique and revolutionary all-electric motion system, HexalineTM provides the most realistic motion cues while requiring less power and very low maintenance. These innovative modelling technologies create a completely immersive environment that make the Reality H the most realistic and efficient training tool on the market to support helicopter operators' key priorities of safety and mission success.

"This new level D qualification of the Reality H full flight simulator by the CAAC follows the qualifications by EASA and CASA in Europe and Australia and proves once more that it is the most advanced mission training device in the world.

The fantastic demand for highly skilled pilots in China, the fastest growing helicopter markets in the world means there is a constant need for the best and most thorough training and simulation systems. The significant expertise of Thales in terms of international simulation standards and regulation will position Haite as a leader on the helicopter pilots training market in China."

About Thales: Thales is a global technology leader for the Aerospace, Transport, Defence and Security markets. With 64,000 employees in 56 countries, Thales reported sales of €14.9 billion in 2016. With over 25,000 engineers and researchers, Thales has a unique capability to design and deploy equipment, systems and services to meet the most complex security requirements. Its exceptional international footprint allows it to work closely with its customers all over the world.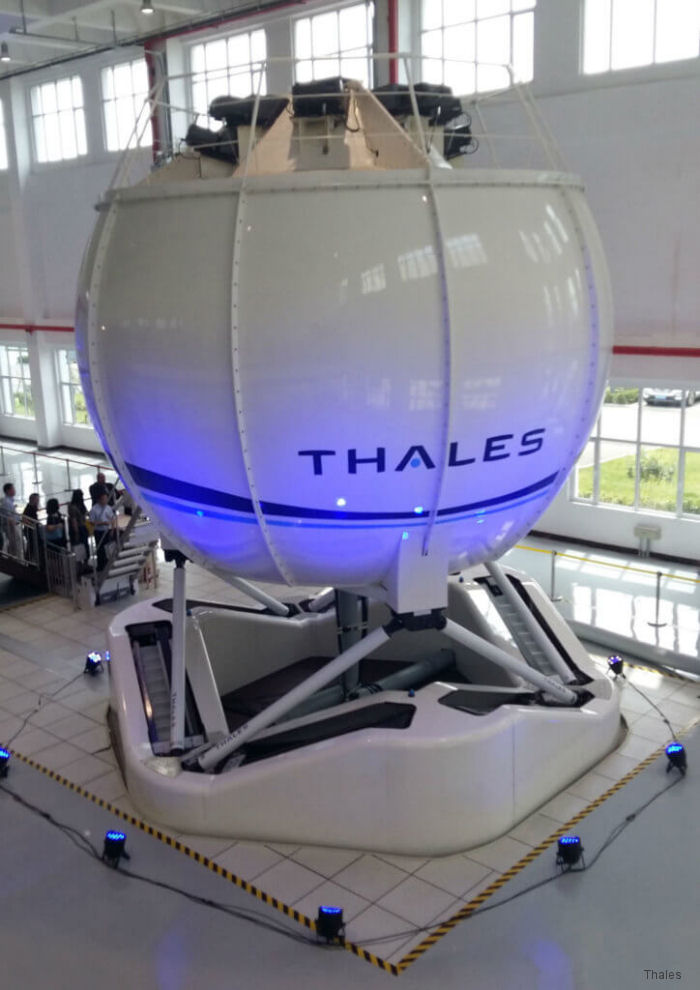 This article is listed in :
Airbus Helicopters EC135/H135
--Helicopters Flight School - Training Civilian


Thales

China