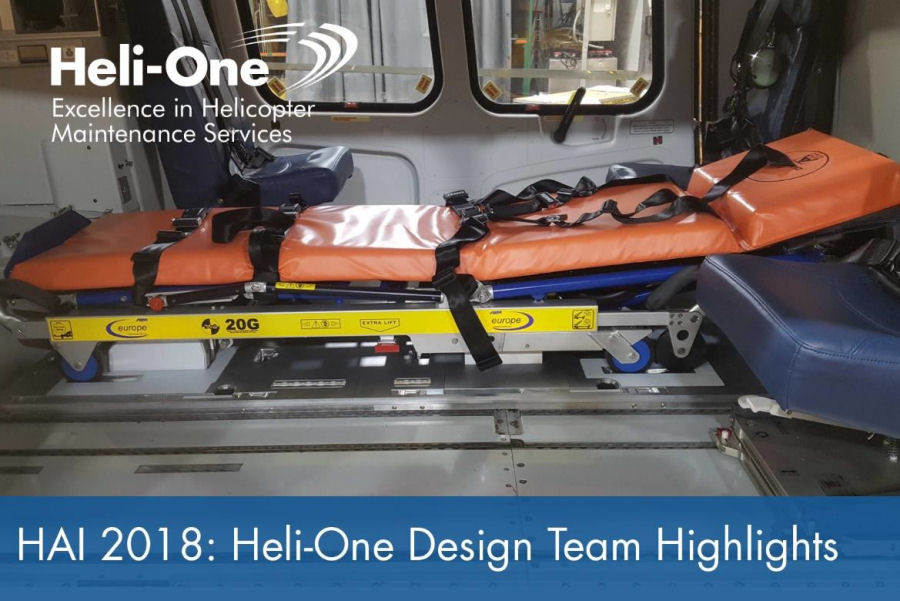 Heli-One, February 26, 2018 - Heli-One, a leading provider of helicopter maintenance, repair, and overhaul (MRO) services, is announcing a lineup of new modifications and products developed by their two Design & Engineering teams in Norway and Canada.

These new offerings appeal to a wide variety of operators and include: medical equipment wall, stretcher installation, hooks, external cameras, and awareness lighting upgrades. These modifications and products improve efficiency, safety, and situational awareness for operators of all mission and operational types.

Equipment Wall

This modular equipment wall is extremely adaptable to different mission types, including search-and-rescue (SAR) and emergency medical service (EMS) missions, and law enforcement. It can accommodate mission consoles, stretchers, medical equipment, and additional seating, in addition to several other purposes. It requires a tool-free installation which can be done within 10 minutes.

Stretcher Adaptation (AW169)

This modification, recently certified for the AW169, accommodates the ergonomic handling of the stretcher where flexibility and urgency is a priority. A base plate installation allows for different stretcher offset positions, giving crew the flexibility
to adjust for optimal position.

External Cameras

Operators can have enhanced situational awareness with the installation of a Lexavia LFX 2010 IR/Daylight camera – either in a forward- or downward-facing orientation. Crew can monitor, in high resolution, the terrain or cargo operations. This light works in day or night, has three fields of view, and has minimal installation footprint.

USB Charger

An USB charger port (up to 6 ports) has been developed for the AS332, AS365, S-92, and AW139. This TSO C71-approved power source allows crew to charge their Electronic Flight Bag device and other compatible electronics conveniently in the cockpit.

Pulse Lighting Installation

This installation features LED pulse lights for landing purposes, certified for the S-76. The lights, located at the chin window of the aircraft allows the pilot to have better situational awareness while landing, as well as providing additional visibility to ground crew.

The two design teams continue to deveop innovative modifications for operators around the world serving in every mission type. Between the teams, hundreds of major, minor, and unique repair solutions have been developed to keep operators safe and mission-ready, and to add value to aircraft. Heli-One will feature some of these modifications and more this year at HAI Heli-Expo, Booth N4505.

About Heli-One: Heli-One is based in Richmond, British Columbia, Canada, and has MRO operations in Richmond, Canada; Delta, Canada; Stavanger, Norway; and Rzeszow, Poland. Heli-One is the world's largest independent helicopter MRO and hold certifications and expertise on a broad range of airframes and components from major helicopter and engine manufacturers, including Airbus, Sikorsky, Leonardo, Bell, Safran, Pratt & Whitney and General Electric.
Heli-One is a segment of CHC Helicopter, the operating company of CHC Group LLC.

Heli-One