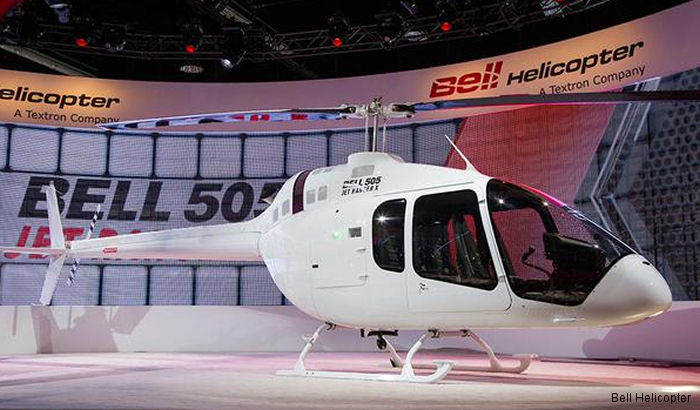 Bell Helicopter, May 21, 2015 - MOSCOW, Russia – Bell Helicopter, a Textron Inc. company, will showcase for the very first time the Bell 505 at this year's HeliRussia exhibition, May 21-23 in Moscow, Russia.

The Bell 505 Jet Ranger X, which first flew November 10, 2014, is a five-seat, single-engine, turbine helicopter leveraging Bell Helicopter's proven technology and nearly half a century of experience. Its fully flat floor, increased cabin volume and clam shell doors provide the configuration flexibility needed in today's market. The customer-driven design of the aircraft places safety, performance and affordability at its forefront, blending proven systems with advanced technology and a sleek, modern design. With the ideal combination of speed, range and useful load, the Jet Ranger X is designed to deliver best-in-class performance.

"Russia is a key region and market for Bell Helicopter, we see high demand for our commercial helicopters, especially with the new Bell 505," said Patrick Moulay, vice president of global sales and marketing at Bell Helicopter. "We expect to see the aircraft operating across many mission segments throughout the region upon certification.

Bell Helicopter aircraft on display location The Bell 505 will be on static display for the very first time at stand 2k.

Company executive interviews The following executives will be available for interviews ahead of and during the show: Patrick Moulay, Bell Helicopter, VP Global Sales and Marketing To schedule an interview, please contact Virginie Brizard.

About Bell Helicopter Bell Helicopter, a wholly owned subsidiary of Textron Inc., is an industry-leading producer of commercial and military, manned and unmanned vertical-lift aircraft and the pioneer of the revolutionary tiltrotor aircraft. Globally recognized for world-class customer service, innovation and superior quality, Bell's global workforce serves customers flying Bell aircraft in more than 120 countries.
Bell 505 Jet Ranger X
The Bell 505 Will Be At HeliRussia 2015