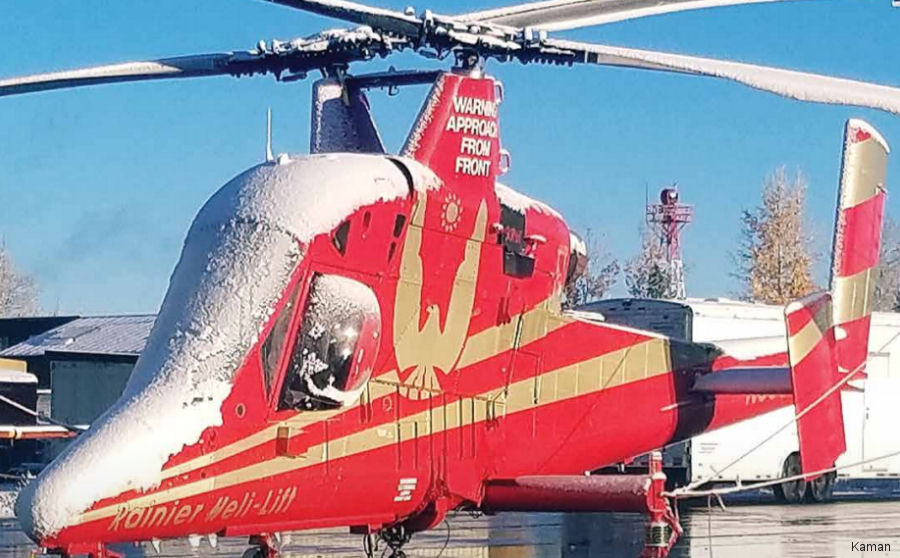 Kaman, July 26, 2018 - BLOOMFIELD, CN - Kaman Aerosystems, a division of the Aerospace segment of Kaman Corp announced today that it has entered into an agreement with Rainier Heli International Inc, of Kirkland, Washington, under which Rainier will offer K-MAX® leasing solutions to customers.

Rainier specializes in providing lease and lease-to-purchase programs tailored to meet the specific needs of helicopter operators around the world.

"Rainier has operated a K-MAX® in the US and abroad performing fire-fighting and utility missions for more than twenty years. As a current owner operator of multiple helicopters, we understand the outstanding value proposition K-MAX® offers to the external lift market, including firefighting and power line construction," stated Lon Halvorson, CEO of Rainier.

"We are very pleased that Rainier has decided to invest in the future success of the K-MAX® program with this important milestone," stated Roger Wassmuth Senior Director, Business Development. "We expect this partnership will allow us to further penetrate emerging markets around the world with new production aircraft through a new financing alternative."

Development of the K-MAX® was led by Kaman founder and former CEO, aviation pioneer Charlie H. Kaman, and received Federal Aviation Administration certification in 1994. The single-engine, single-seat K-MAX® is a rugged low-maintenance aircraft that features a counter-rotating rotor system and is optimized for external load operations and designed specifically for vertical reference flight. The aircraft can lift up to 6,000 pounds (2,722 kg).

About Kaman Aerosystems: Kaman Aerosystems is a division of the Aerospace segment of Kaman Corporation (NYSE:KAMN), which was founded in 1945 by aviation pioneer Charles H. Kaman. Headquartered in Bloomfield, Connecticut, Kaman Corporation conducts business in the aerospace and distribution markets. The company produces and/or markets widely used proprietary aircraft bearings and components; super precision, miniature ball bearings; complex metallic and composite aerostructures for commercial, military and general aviation fixed and rotary wing aircraft; aerostructure engineering design analysis and FAA certification services; safe and arm solutions for missile and bomb systems for the U.S. and allied militaries; subcontract helicopter work; production of the K-MAX medium-to-heavy lift helicopter and support for the company's SH-2G Super Seasprite maritime aircraft.

About Rainier Heli International: Rainier Heli International is the worldwide leasing arm of the Halvorson group and leases a fleet of light, medium twin and heavy helicopters. For over twenty years Rainier has operated a K-MAX® in the U.S. and abroad performing fire-fighting and utility missions. The Halvorson family of companies has been involved in aviation for over 50 years and owns and operates over 100 rotary and fixed wing aircraft. The family owned company operates the world's largest scenic helicopter tour business in addition to their airline and utility helicopter operations.
K-MAX in

Rainier Heli International
K-MAX in

Kaman
Kaman Sales Distribution Segment for $700M Cash