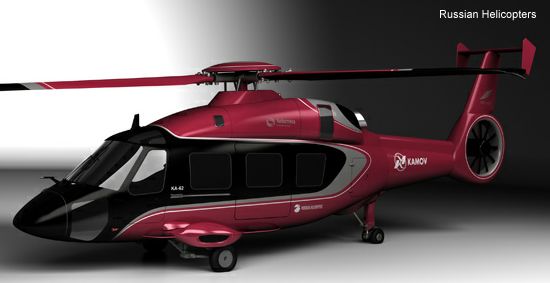 Russian Helicopters, May 17, 2012 - Moscow - Russian Helicopters, part of Russian state defense industry holding Oboronprom, and a leading global designer and manufacturer of helicopters and producer of some of the world's most iconic, innovative and widely operated models, today presented the new model of the medium multi-role Ka-62 at the 5th international helicopter exhibition HeliRussia 2012.

The presentation took place on Russian Helicopters Day at the company's stand (1E, 1F) in Moscow's Crocus Expo international exhibition centre (pavilion 1, room 4).

"We are delighted to present the new model of the medium multi-role Ka-62 to the Russian aviation market," said Dmitry Petrov, CEO of Russian Helicopters. "The new model combines all of the traditional qualities that generations of purchasers have come to expect from Russian-made helicopters, and is reliable and easy to operate. The designers have worked particularly hard to reduce the helicopter's environmental footprint and increase its operational cost-efficiency. I am sure that the new model's expanded functionality will find increased demand among traditional buyers and will also attract new purchasers."

Built using new technologies and materials, the Ka-62 is a single-rotor design, with an enclosed tail rotor and an airframe and propeller blades consisting of over 50% polymeric composite materials.

The version presented today can be fitted with two Turbomeca Ardiden 3G engines, providing 1,680 hp. The modular design and dual channel FADEC make the Ardiden 3G highly reliable and easy to use, with the benefit of exceptionally low fuel consumption. The helicopter will also include a glass cockpit developed by St Petersburg-based company Transas.

Other features include a five-blade rotor, secondary hydraulics circuit, energy-efficient wheeled landing gear, strengthened fuselage and fuselage attachment points and shock-absorbing seats for the crew and passengers.

The Ka-62 is designed for cargo transportation, medevac and search-and rescue operations, and can also be used in the oil and gas sector and for corporate purposes.

Visitors to the Russian Helicopters stand at HeliRussia 2012, the fifth iteration of the event, running through May 19, can also see helicopters in serial production including the Mi-8/17 and Ka-32A11BC, as well as the upgrade programme for the super-heavyweight Mi-26T2. The stand also features the light Ansat and Ka-226T, which are scheduled to go into serial production. Also on show are the military Mi-28NE Night Hunter, Ka-52 Alligator and Mi-35M, as well as the upgraded Mi-8/17, which supplied to the Russian Ministry of Defence and by Rosoboronexport to the foreign buyers.

The Ka-62 will be produced at the Progress Arsenyev Aviation Company in Russia's Far East. The first flight is scheduled for August 2013, with certification by the Interstate Aviation Committee and first deliveries set for 2015. Russian Helicopters also plans to have the Ka-62 certificated by the European Aviation Safety Agency.

Russian Helicopters, JSC is a subsidiary of UIC Oboronprom, which in turn is a part of Russian Technologies State Corporation. It is one of the global leaders in helicopter production and the only helicopter design and production powerhouse in Russia. Russian Helicopters is headquartered in Moscow. The company comprises five helicopter production facilities, two design bureaus, a spare parts production and repair facility, as well as an aftersale service branch responsible for maintenance and repair in Russia and all over the world. Its helicopters are popular among Russian ministries and state authorities (Ministry of Defence, Ministry of Internal Affairs, Emergency Control Ministry), operators (Gazpromavia, UTair), major Russian corporations. Over 8000 helicopters of Soviet/Russian make are operated in 110 countries worldwide. Traditionally the demand is highest in the Middle East, Africa, Asia-Pacific, Latin America, Russia, and CIS countries. Russian Helicopters was established in 2007. In 2011 its IFRS revenues increased 27.8% to RUB 103.9 billion. Deliveries reached 262 helicopters.

Partners of Russian Helicopters: AirTaxi Service (interior completions and maintenance); Tranzas (software, navigation systems, aviation simulators); CSTS Dinamika (technical training means for aviation flight and engineering personnel); BETA AIR (testing equipment and aviation electronics); Ural Works of Civil Aviation (repair of helicopter engines and components, as well as gearboxes).

UIC Oboronprom, JSC is a multi-profile industrial and investment group established in 2002. It is a part of Russian Technologies State Corporation. Its main tasks include: helicopter engineering (Russian Helicopters, JSC) and engine-building (United Engine Industry Corporation managing company).
Ka-62 in

Russian Helicopters

Progress AAC
Russian Helicopters