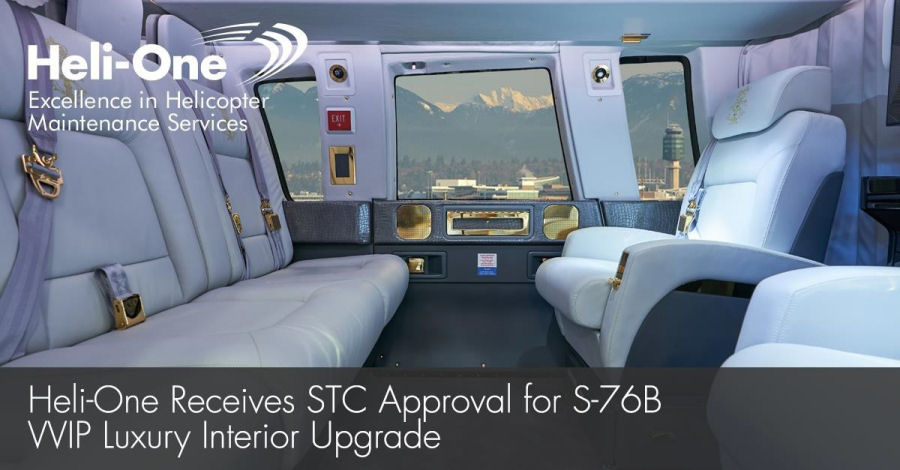 Heli-One, March 06, 2019 - Atlanta - Heli-One, a leading global provider of helicopter maintenance, repair, and overhaul (MRO) services, has received Supplemental Type Certificate (STC) approval for its luxury interior upgrade from Transport Canada and the Malaysia Department of Civil Aviation.

This STC is from the S-76B VVIP upgrade project recently completed for a customer in Asia. The cabin has been redesigned with first class amenities to offer passengers a luxurious flight experience.

The STC covers the completely redesigned interior including:

- Multi-spectral LED lighting: Passengers can choose from a selection of light settings that can be fully customized depending on time of day or flight situation. Controls for the lighting system are via touch-screen displays in-cabin or remotely via iPad.

- Entertainment on Demand: Passengers have access to audio and/or visual entertainment shown on a 15-inch display in the cabin. Passengers can also follow along their flight's progress with the live Flight Show. The system is controlled through various touch screen controls (two wall panels, credenza display) and remotely through iPad or a smartphone app.

- Inter-Cabin Conferencing: Noise-cancelling headsets reduce operational noise while a conferencing system allows passengers to communicate with each other or the flight crew.

- All-Leather Interior: Installed with care by Port Aircraft Interiors. The all-leather seats were custom shaped and feature gold-embroidered detail representing the customer.

- Carbon Fiber Furnishings: Port Aircraft Interiors also custom-created the carbon fiber credenza and convertible table with a polished dark finish, offsetting the gold-plated hardware in the cabin.

- External Cameras: Passengers can monitor the external environment at any time during flight via two cameras installed in the tail boom (front view) and belly (pan/tilt/zoom functionality).

"Our entire team are privileged to work on this aircraft and we are certain the customer and their flight crew will enjoy the all-new interior," said Eddie Lane, President, Heli-One. "The upgrades feature the latest in aviation technology to facilitate a truly first-class flight experience."

Heli-One has extensive experience supporting the S-76 and is an Approved Sikorsky S-76 Customer Support Center and Gearbox Overhaul facility. The Design team has developed more than 50 post- delivery modifications and hundreds of proprietary repairs for this aircraft type.

About Heli-One: Heli-One is based in Richmond, British Columbia, Canada, and has MRO operations in Richmond, Canada; Delta, Canada; Stavanger, Norway; and Rzeszow, Poland. Heli-One is one of the largest independent helicopter MRO and hold certifications and expertise on a broad range of airframes and components from major helicopter and engine manufacturers, including Airbus, Sikorsky, Leonardo, Bell, Safran Helicopter Engines, Pratt & Whitney Canada and General Electric. Visit http://heli-one.com to learn more.

Heli-One is a segment of CHC Helicopter, the operating company of CHC Group LLC.

Heli-One
Sikorsky S-76B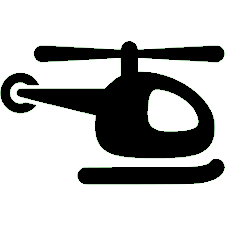 Helicopters Interior Designs