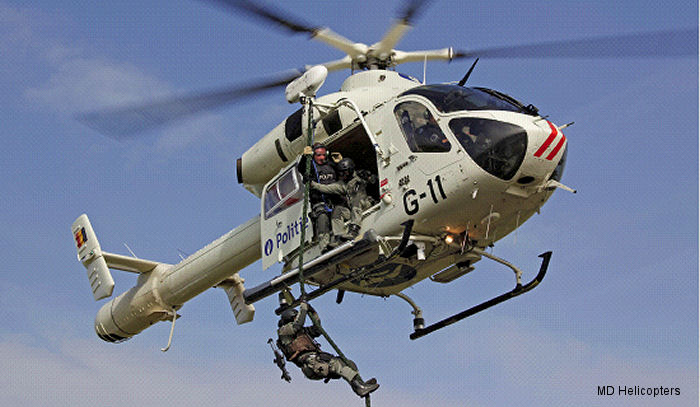 MD Helicopters, April 27, 2015 - Mesa, Arizona, U.S.A. – MD Helicopters, Inc. (MDHI) announced today that the European Aviation Safety Agency (EASA) has approved an increased maximum gross weight of 6,770 pounds for the MD 900/902 Explorer.

The extra 270 pound payload will allow operators in all market segments to expand the already superior mission capabilities of this versatile twin-engine aircraft. The FAA previously approved this increase in March 2013.

MDHI's twin-engine MD 900/902 Explorer entered the commercial market in 1994, setting new and still enduring benchmarks for safety, quiet operation, versatility and low cost operation. Today, nearly 50% of the global MD 900/902 Explorer fleet operates in service of emergency medical services, law enforcement and military/para-military organizations throughout Europe.

"We couldn't be more pleased that this certification is finally complete for our European customers," said Lynn Tilton, Owner and Chief Executive Officer for MD Helicopters, Inc. "Since the FAA granted this capabilities enhancement in 2013, many of our operators have seen an increase in the already impressive mission versatility of this aircraft. It is long overdue, and I am pleased that our European Community customers can now benefit from the same certification."

Powered by two Pratt and Whitney Canada PW207E engines, the MD Explorer features a fully articulated main rotor system, bearingless composite flexbeams and rotor hub. Anti-torque control is provided by the MDHI-exclusive NOTAR® System that reduces pilot workload, external noise levels and significantly improves safety in confined areas and on offshore platforms. Safety and maintainability of the MD 902 Explorer is further enhanced by a built-in HIRF and lightning strike protection, built-in maintenance steps and platforms, and an advanced composite airframe that is resistant to corrosion in hostile marine environments.

About MD Helicopters, Inc.: MD Helicopters, Inc. (MDHI), a Lynn Tilton company, is a leading manufacturer of commercial, military, law enforcement and air-rescue helicopters. The MDHI family of rotorcraft is world renowned for its value, versatility and performance. The MD Helicopters family includes the twin-engine MD Explorer, and single engine versions of the MD 600N, MD 520N, MD 500E, MD 530F, MD 530G and MD 540A. The innovative NOTAR® system for anti-torque control with no tail rotor is used exclusively by MD Helicopters to provide safer, quieter and confined-area access capability.
McDonnell Douglas MD900 Explorer
EASA
European Commission