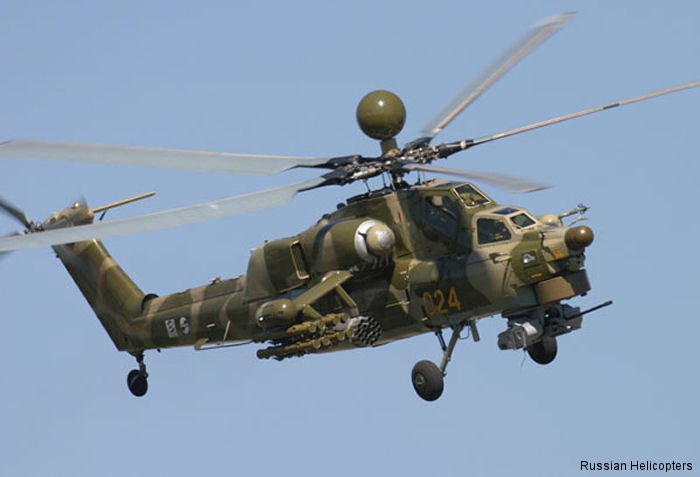 Russian Helicopters, October 13, 2016 - Moscow - Russia's Deputy Minister of Defense Yuri Borisov visited Mil Moscow Helicopter Plant today, a subsidiary of Russian Helicopters, part of State Corporation Rostec where a prototype of a modernized Mi-28 combat helicopter is starting its flight tests.

While at the plant, Yuri Borisov took a close look at the new combat helicopter and its design features, and also spoke with test pilots, designers and managers. In the presence of the Deputy Minister, the helicopter made its first test flight while its first hovering was completed on September 9th of this year. The flight was successful, in the opinion of the crew, and the helicopter systems were functioning normally. Yuri Borisov approved the modernization schedule and expressed confidence that the modified attack Mi-28N will make a significant contribution to improving combat capabilities of units and subunits of the Defense Ministry's Russian army aviation.

"The upgraded Mi-28N is a highly effective attack helicopter, which is able to perform a wide range of tasks, from aerial reconnaissance and target designation to destruction of diverse ground and air targets. Among its main advantages are not only agility and ability to operate around the clock, but also increased firepower. This helicopter marks a new achievement of the Russian helicopter industry," said Russian Helicopters CEO Alexander Mikheev.

While creating the modernized Mi-28N designers took into account their work on the training and combat Mi-28UB, and the front cabin of the new helicopter received a second set of controls. In addition, the crew cabin was upgraded so that the commander and the operating pilot will now receive more information about the environment and all helicopter systems in a more accessible format, which will increase crew situational awareness, facilitate interaction and increase the speed of decision-making in complex combat situations. The helicopter is also equipped with a new guidance, navigation and flight control system that possess faster calculating abilities. The cabin crew is reliably armored and protects against armor-piercing bullets and projectiles with a caliber up to 20 mm.

The helicopter is equipped with advanced radar over the rotor hub assembly that has enhanced capabilities in the use of precision weapons, including self-guided missiles, which can significantly reduce time spent in potentially dangerous situations. Among other advantages of the new helicopter is resistance to combat damage, which is achieved through the use of new materials and design solutions. The main rotor blades are made of composite materials, which allows to complete a flight after being hit by a 20-30 mm caliber shell. The fuel system design excludes a possibility of an explosion or a fuel tank fire.

The helicopter is also less visible for the ground-based air defense. It is equipped with an integrated avionics suite. With the use of digital cartographic data, the suite allows to search, detect and identify ground and air targets, define their coordinates and provide target designation for ground and air command centers. The helicopter weapons include guided and unguided missile suites, bombs, as well as a movable gun mount with gun of cal. 30 mm.

Russian Helicopters, (part of State Corporation Rostec), is one of the global leaders in helicopter production and the only helicopter design and production powerhouse in Russia. Russian Helicopters was founded in 2007 and is headquartered in Moscow. The company comprises five helicopter production facilities, two design bureaus, a spare parts production and repair facility, as well as an aftersale service branch responsible for maintenance and repair in Russia and all over the world. Its helicopters are popular among Russian ministries and state authorities (Ministry of Defence, Ministry of Internal Affairs, Emergency Control Ministry), operators (Gazpromavia, UTair), major Russian corporations. In 2015 its IFRS revenues increased 29,5% to RUB 220,0 billion. Deliveries reached 212 helicopters.

State Corporation Rostec is a Russian corporation founded in 2007 for the purpose of promoting the development, production and export of hi-tech civilian and military industry products. It comprises 700 organisations, nine of which have now been formed as holding companies of the military-industrial complex, five of them are involved in civil industries and 22 are directly controlled. Rostec's portfolio includes recognised brands such as Avtovaz, Kamaz, Russian Helicopters, and VSMPO-AVISMA. Rostec's organisations are located in 60 constituent entities of the Russian Federation and supply their products to the markets of more than 70 countries. The revenue of Rostec in 2014 amounted to RUB 964.5 billion. The tax deductions into the treasuries at all levels exceeded RUB 147.8 billion.
Location :

Tomilino Heliport
Mi-28 Havoc in

Russian Helicopters