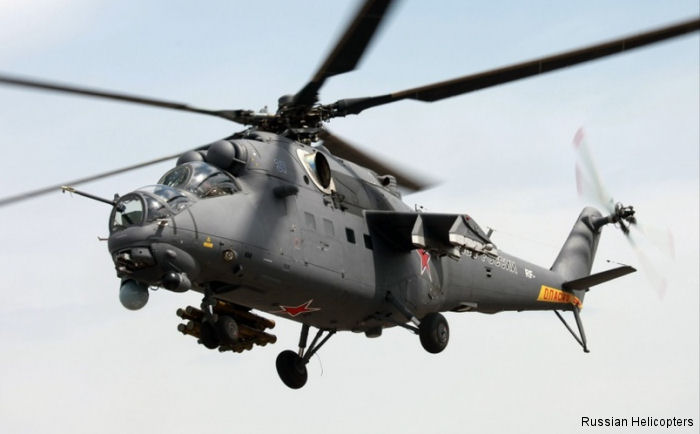 Russian Helicopters, January 11, 2017 - Moscow - Russian Helicopters, part of State Corporation Rostec, will supply the Ministry of Defense of Kazakhstan with four transport-combat Mi-35M helicopters in 2018.

The deliveries will be carried out through Rosoboronexport. The contract was signed as part of the Treaty between the Russian Federation and the Republic of Kazakhstan on military-technical cooperation.

The supplies of the Mi-35Ms, produced at PJSC Rostvertol, are part of strategic cooperation between the two countries and are aimed at gradual replacement of the current military helicopter fleet in Kazakhstan with modern rotorcraft. A similar process is taking place in the Russian Federation, which significantly increases the combat capability of Armed Forces both at the level of the state and in the framework of intergovernmental cooperation of defence ministries.

"The Mi-35M is gradually replacing the large fleet of Mi-24s worldwide. It should be said that the Mi-24 helicopter was a unique machine for its time and throughout the years it repeatedly proved its high combat effectiveness. However, we are moving ahead, and designers at Mil Moscow Helicopter Plant created the Mi-35M based on the older Mi-24 model. Unlike its predecessor, the Mi-35M has significantly expanded possibilities of use, since it can perform combat missions at any time and under any weather conditions. It has increased rate of survival in the air due to its advanced security features. Its performance characteristics are also improved," - said Russian Helicopters Deputy CEO for Sales Vladislav Savelyev.

Kazakhstan is one of the largest and oldest operators of Russian helicopters. The fleet of Russian-made helicopters in Kazakhstan today is about 200 units. The military, law enforcement and rescue agencies of Kazakhstan are currently operating all major Russian Helicopter models including military transport, fire-fighting and search and rescue versions of the Mi-8/17 series, multirole Ka-32A11BCs, as well as transport and combat Mi-24V and heavy transport Mi-26T helicopters. The contract for the supply of Mi-35Ms to Kazakhstan specifies payment terms in Russian rubles, which also confirms the strategic character of cooperation between the two countries.

Russian Helicopters, (part of State Corporation Rostec), is one of the global leaders in helicopter production and the only helicopter design and production powerhouse in Russia. Russian Helicopters was founded in 2007 and is headquartered in Moscow. The company comprises five helicopter production facilities, two design bureaus, a spare parts production and repair facility, as well as an aftersale service branch responsible for maintenance and repair in Russia and all over the world. Its helicopters are popular among Russian ministries and state authorities (Ministry of Defence, Ministry of Internal Affairs, Emergency Control Ministry), operators (Gazpromavia, UTair), major Russian corporations. In 2015 its IFRS revenues increased 29.5% to RUB 220.0 billion. Deliveries reached 212 helicopters.
Mi-35M Hind in

Kazakhstan air defence forces