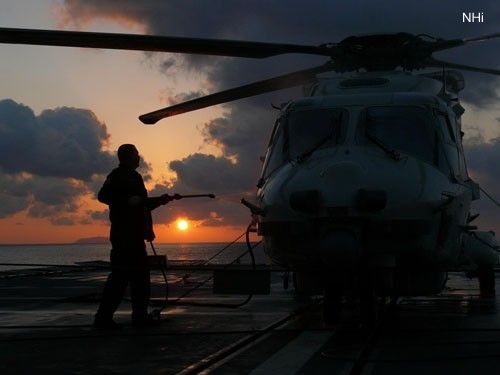 NHIndustries, May 27, 2013 - NHI is pleased to announce the conduct between June 3rd and June 6th of the NH90 product conference at the Royal Netherlands Air Force Base at Gilze-Rijen, near Breda in The Netherlands (RNLAF).
Three NH90s and their equipments will be displayed.

This new edition of the product conference has been organized by NHI with the help of the Commander of the Royal Netherlands Air Force Lieutenant General A. Schnitger. "NHI expresses its thanks to the RNLAF for their hospitality and Support" declared Peter Harris, Manager of the NHI product conference.

This event is particularly important since the NH90 is increasingly being deployed on operations. The international exchanges and discussions between End Users and Industry are proving to be very valuable. With more than 34,000 flight hours logged by customers, and the aircraft being deployed in war and warlike conditions by three European countries, the NH90 return on experience is more important than ever. All current NH90 operators are expected to be in attendance in 2013, with over 100 confirmed participants.

The first edition of this NH90 Product Conference took place in 2011. NHI launched this initiative in order to allow NH90 operators to exchange with Industry in an international forum. The nature of this Conference is to focus on communication between Industry and the operators and maintainers of the NH90 Helicopter and its support systems.

The NH90 is the optimal choice for modern operations thanks to its large fully composite airframe, its excellent power to weight ratio; and its wide range of role equipment. It features a Fly-by-Wire flight control system for reduced pilot workload and enhanced flight characteristics.

The NH90 is proposed in two main versions, one dedicated to naval operations, the Nato Frigate Helicopter, and a Tactical Transport Helicopter for land based operations. As of today, 149 helicopters have been delivered in Naval and Tactical transport versions. They are in service in Germany, France, Italy, The Netherlands, Sweden, Finland, Belgium, Norway, Greece, Oman, Australia and New Zealand.

The twin-engine, medium-size NH90 helicopter program is managed by the consortium NHIndustries, the Company owned by AgustaWestland SpA (32%), Eurocopter (62.5%), and Stork Fokker (5.5%).
NH Industries NH90