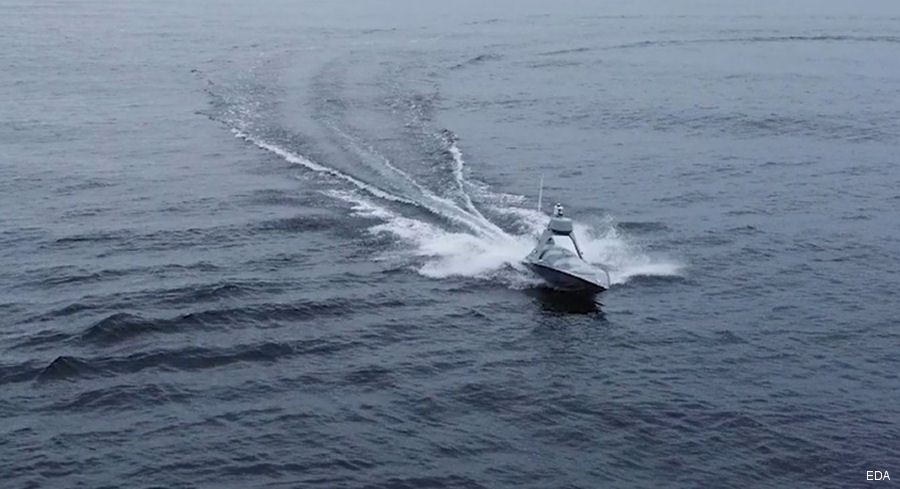 European Defence Agency, August 26, 2021
- OCEAN2020, the largest EU funded defence research project, has concluded two successful days of testing in the Hanö Bay, Sweden.
The sea trial brought together 12 unmanned systems, 4 naval vessels, 5 tactical command and control systems, one earth observation satellite system plus a prototype of an EU Maritime Operations Centre, installed at the EDA.
The live demonstration marks a major milestone for the project in demonstrating enhanced situational awareness in a maritime environment through the integration of new technologies for unmanned systems.
The Second Baltic Sea Demonstration tested how the information collected from the assets deployed in the area of operations can be integrated to create a Recognised Maritime Picture (RMP). The execution of two scenarios was based on the utilisation of the twelve different unmanned systems that proved their capacity of patrolling, detection, identification, and classification of threats thanks to the information acquired by different types of sensors.
Some unmanned systems were deployed for patrolling and threat detection, while others tracked the threat up to interception and dissuasion.
OCEAN2020 aims to achieve operational and technical objectives, ranging from enhanced situational awareness, autonomy, cost effectiveness and increased interoperability for joint missions. The variety of assets involved in OCEAN2020 highlights how collaborative autonomy between multi-domain unmanned vehicles can provide a force multiplier.
Coordinated by Saab, the sea demonstration ran two scenarios: a high-speed surface threat and an unknown submerged activity scenario. While the first scenario combined surveillance, interdiction, and engagement of multiple high speed unmanned surface threats with all types of UxV´s, with Persistent Wide Area Surveillance and Maritime Interdiction actions including radar detection and EO/IR video, the focus of the second scenario was to detect and identify underwater threats (e.g., sea mines or IED), laid from hostile submarines and to detect the insertion of hostile Special Forces on a friendly coast.
OCEAN2020 Assets

Building on the experience and lessons of the first sea demonstration in the Gulf of Taranto (Italy 2019), the second sea demonstration focussed on the verification of objectives, such as the launch and recovery of Unmanned Systems (UUV) from a vessel, integration between tactical systems and naval Combat Management Systems, coordination between unmanned assets operating in squad with the use of AI and demonstration of how data fusion can improve the tactical picture at the tactical and operational level.

The following assets participated in the second sea demonstration. 12 different Unmanned Systems from Saab (3), Leonardo, Safran, Bluebear, IOSB (2), TNO (2), CMRE and the Portuguese Navy (integrated by GMV). 4 naval units; Swedish Navy HMS Pelikanen; Lithuanian Navy P11 Žemaitis; German MOD R/V Planet (WTD 71) and Polish Navy Minehunter Czajka of Krogulec. The satellite systems are COSMO SkyMed. Finally, the EU MOC (Maritime Operation Centre) coordinated by Indra & IOSB including connectivity with the Spanish MOC through MARSUR network.

Funded from the European Union's Preparatory Action on Defence Research under grant agreement No 801697, OCEAN2020 received funding of €35.48 Million. Since its launch in April 2018 the project has carried out extensive research and technology work to reach the point of undertaking two live sea demonstrations. The consortium has been involved in a significant amount of solution analysis, system design, technical development and system integration of individual assets and trials.

Location :

Baltic Sea
OCEAN2020
European Commission
OCEAN2020 Drones in the Gulf of Taranto


EDA OCEAN2020 Program
EDA European Defence Agency

European Commission