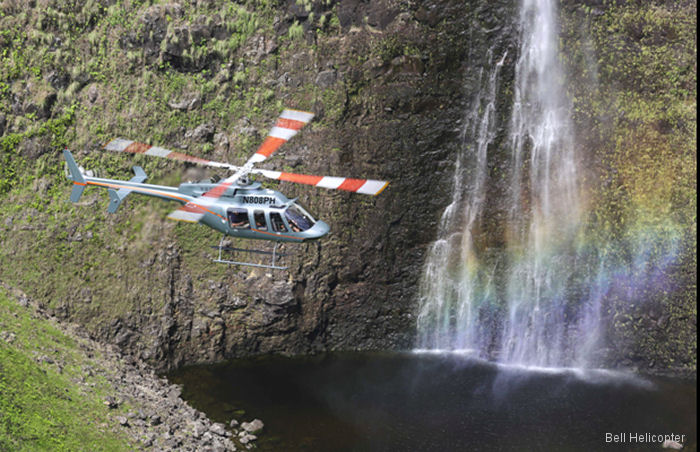 Bell Helicopter, August 16, 2016 - Fort Worth, Texas – Bell Helicopter, a Textron Inc. company with the support of Able Aerospace Services, announced today that Paradise Helicopters, a leading helicopter tour company in Hawaii, has signed its fleet of Bell 407s for the Customer Advantage Plan (CAP). Paradise is the first helicopter tour company to enroll in this new service solution.

Bell Helicopter's Customer Advantage Plans provide customers with comprehensive coverage solutions for daily operations. The plans offer a fixed-price-per-flight-hour that provides predictable maintenance costs, priority access to parts and assemblies, and ease of maintenance and planning. Under the Customer Advantage Plans, Able is the unique provider of all dynamic component repair, overhaul and accessories solutions, utilizing decades of experience and an extensive offering of FAA-approved proprietary repairs.

"We look forward to providing Paradise Helicopters with this simple, reliable and cost-effective solution for its fleet of Bell 407s," said Glenn Isbell, executive vice president, Customer Support and Services for Bell Helicopter.

"This innovative program helps us know what our costs are per hour, offering complete direct maintenance cost protection and no required buy-in for our installed fleet," said Calvin Dorn, CEO of Paradise Helicopters. "It also underscores our continued commitment to safety and reliability throughout our operations, which we have provided to our customers for nearly two decades."

Based in Kona, Paradise Helicopters is an award-winning air tour company that is widely recognized for its safety practices and extraordinary helicopter experiences on Oahu, Lanai, Maui and Hawaii Island. Paradise recently became the first air tour company in the world to be certified by Helicopter Association International's new Accreditation Program of Safety (HAI-APS). In addition, Paradise is one of only two helicopter companies in Hawaii to complete IS-BAO Stage 2 certification, which is granted by the International Safety Board and includes stringent requirements that surpass both Tour Operators Program of Safety (TOPS) and the Federal Aviation Administration (FAA).

Bell Helicopter provides its customers with local support in every corner of the world and has the largest support network in the industry with more than 100 Authorized Customer Service Facilities in 34 countries. Ranked number one in customer support for 22 consecutive years by Professional Pilot magazine, Bell Helicopter is committed to having resources where customers operate to speed up delivery of service and support, and gives customers access to service professionals that are easy to reach, know the operating environment and understand their needs.

About Paradise Helicopters: Founded in 1997, Paradise Helicopters is a leading provider of air tours and operations in Hawaii. The award-winning company is widely recognized for its industry-leading safety practices and exclusive tours. A selection of tours and charter flights are offered from the Ko Olina resort area and Turtle Bay Resort on Oahu, through the Four Seasons Resort Lanai, and from Hilo and Kona on the Island of Hawaii; specialty flights on an authentic WWII aircraft are available through Pacific Warbirds on Oahu. Visit paradisecopters.com or pacificwarbirds.com.

About Able Aerospace Services: Able Aerospace Services is a leading supplier of component and MRO services. With headquarters and maintenance facilities on the Phoenix-Mesa Gateway Airport (KIWA) in Mesa, Arizona, Able's products and services support commercial and military fixed- and rotor-wing aviation. Able combines 32 years of aviation experience with a staff of more than 500 employees to accomplish its mission: To safely reduce aircraft operating costs by providing resourceful component repair, overhaul and approved replacement parts solutions. Able is certified by numerous airworthiness authorities including the FAA, EASA, ANAC, CAAC, JCAB and others.

Able Aerospace
State of Arizona
Bell 407
Bell Helicopter Customer Advantage Plans