RAF Puma HC.2 Fleet Reaches 20,000 Flight Hours


The 24 Puma HC.2 delivered to the RAF between 2012 and 2015 reached 20,000 flying hours

Airbus Helicopters, December 20, 2017 - In October 2017, the RAF Puma Mk2 fleet reached 20,000 flying hours since the delivery of its first aircraft and a Release to Service.

Working in close cooperation with the MoD and the RAF, Airbus Helicopters was able to deliver a fleet of 24 upgraded Puma Mk2s to time and to cost, helping the Ministry achieve Initial Operating Capability (IOC) fleet in February 2015 which paved the way for the aircraft to be deployed to Afghanistan in support of Operation TORAL just three weeks later.

The new aircraft quickly earned its stripes replacing the RAF Chinooks that had previously conducted this role and quickly gaining support across NATO forces for the versatility it provided.

The new engines and additional fuel tank ensured it could easily cope with the hot and high conditions in Kabul, while its compact footprint allowed it to operate in confined spaces; especially in urban environments.

The enhanced performance enables the aircraft to carry out tactical troop or load transport (16 passengers, 12 fully equipped troops or up to 2.5 tonnes of cargo using the underslung loads) as well as casualty evacuation when fitted with up to 6 stretchers.

More recently, the aircraft has been deployed to the Caribbean in support of Op RUMAN, the UK's disaster relief operation in the wake of Hurricane Irma, demonstrating the Puma Mk2s value in support of rapid response contingent operations. With two of these aircraft easily transported in a C17, followed by a four hour assembly at destination ready for operations, the Puma Mk2 has now demonstrated the vital role it can play supporting UK interests anywhere in the world at short notice.

A favourite with the forces who use it, Lieutenant General Richard Felton CBE, and previous Commander JHC said: "Out of all the JHC aircraft I've flown, Puma Mk2 probably made my jaw drop most, purely because of how good it is".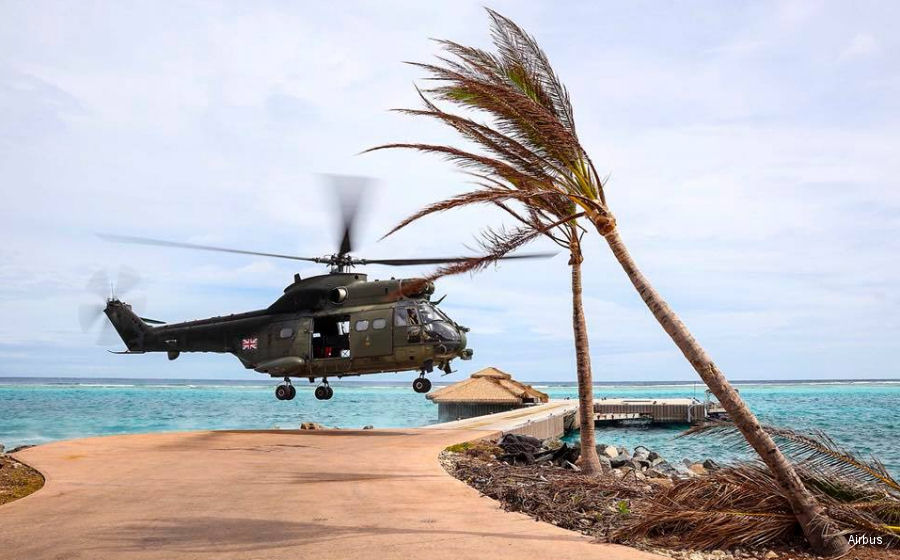 This article is listed in :
Eurocopter Puma Mk2 in

Royal Air Force
Operation Toral
Hurricanes Irma, Jose and Maria Relief Operations
See also RAF Puma HC.2 Fleet Reaches 10,000 Flight Hours
What links here :
Airbus Sign Support for RAF Puma Mk2