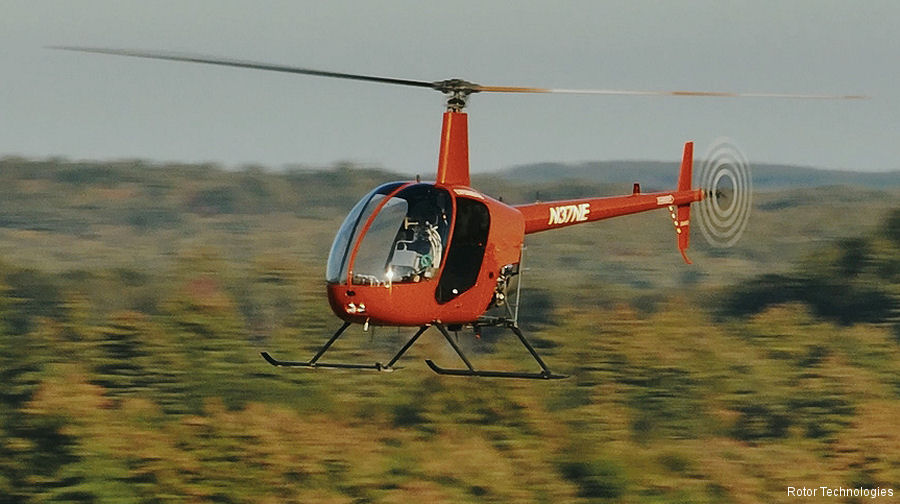 Rotor Technologies, November 17, 2023
- Nashua, New Hampshire - Rotor Technologies, Inc. (Rotor), a developer of autonomous vertical takeoff and landing (VTOL) aircraft, has completed the first autonomous helicopter flight campaign of a full-scale civilian helicopter.
The campaign was flown with two Rotor R220Y autonomous helicopters. The R220Y is an experimental platform based on the popular Robinson R22 two-seat helicopter, with seats, pilot controls, and the instrument panel removed and all functions of the helicopter automated by Rotor's technology.
Two R220Ys logged more than 20 hours of flight time and over 80 hours of engine run-time during the flight campaign. These flights successfully proved Rotor's flight control systems, autonomous hover and velocity modes, and vision-based perception systems. The campaign also developed the aircraft's long-distance flight capability through in-flight testing of long-range radio equipment and cellular LTE communication links – although all flights were conducted within direct line of sight of a ground control station.
Dr. Hector Xu, Rotor Founder and CEO
said "This is a major milestone toward fully-autonomous flight and testament to our ability to develop autonomy that will be safe and reliable enough for utility and passenger operations. Our AI pilot system is already expert-level at tasks like precision flight control and navigation in poor visibility conditions, and we're increasing its capabilities every day."
Although no human pilot was onboard during test flights, the R220Y currently requires a pilot to remotely control the vehicle when the autonomy system is not engaged.
David Smith, Robinson Vice President of Operations
saysw in reference to the successful R220Y flight tests "We're excited to see Robinson helicopters used by Rotor as a platform for innovation. We believe that our flight heritage and manufacturing capability will position Robinson to be a key player in the next generation of VTOL aviation."
The Next Step

Rotor is commercializing its autonomy technology with the development of the R550X, an uncrewed utility helicopter based on the Robinson R44 Raven II. The R550X will feature a payload capacity of 1,212 lbs (550 kg) and more than three hours of endurance. The R550X is designed to perform hazardous operations such as firefighting, crop dusting, construction, humanitarian aid, and remote cargo delivery without putting pilot lives at risk.

Ben Frank, Rotor Chief Commercial Officer said "We're bringing the highest-payload civilian uncrewed VTOL available in the world to the commercial market. We're taking all the technology that we've developed on the R220Y and are putting it on a similar – and even more capable – platform. We're working with a set of close partners to put the R550X into revenue operation in 2024. No other company is close to performing commercial operations with an autonomous helicopter of this size."

Beyond the R550X, Rotor is progressing toward certifying the technology for passenger flight. Autonomous passenger helicopters have the potential to popularize fast and convenient regional transportation. With the increased safety and efficiency brought by autonomy, the 200-mile journey between New York and Boston could be completed in about 90 minutes without the need to travel through congestion.

About Rotor : Rotor Technologies, Inc. (Rotor) is a developer of autonomous vertical takeoff and landing (VTOL) aircraft. Rotor's mission is to make vertical aviation radically safer and more accessible using autonomy. Rotor's R550X is an uncrewed helicopter that can be operated safely at night and low visibility for dull, dirty, and dangerous missions without the need for an onboard pilot. With a payload capacity of 1,212 lbs (550 kg), the R550X is an ideal platform for aerial firefighting, crop dusting, aerial work, and cargo delivery. All of Rotor's aircraft are compatible with Cloudpilot, Rotor's on-demand piloting service that delivers autonomous flight capabilities via satellite and wireless connectivity.

Rotor Technologies, Inc.
State of New Hampshire
Robinson R22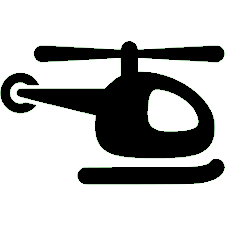 Helicopters UAV & Drones