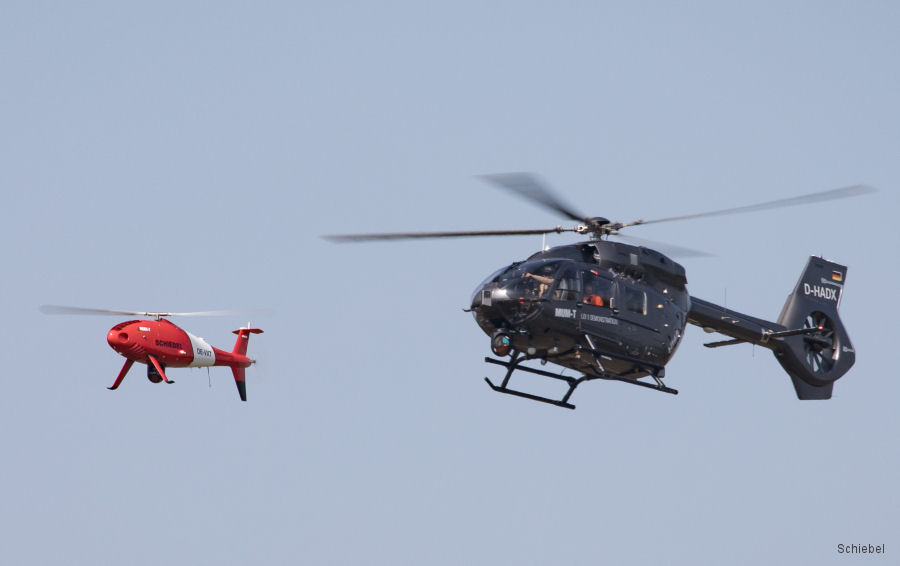 Drone Historic Flight by Airbus and Schiebel, 24-Apr-18 :

Airbus and Schiebel tested Manned Unmanned Teaming (MUM-T) capabilities between an H145 a Camcopter S-100 drone. First European helicopter manufacturers to demonstrate this technology. The highest Level of Interoperability (LOI 5) was achieved which allows the manned platform (in this case the H145 helicopter) to exercise full control of the drone including its take-off and landing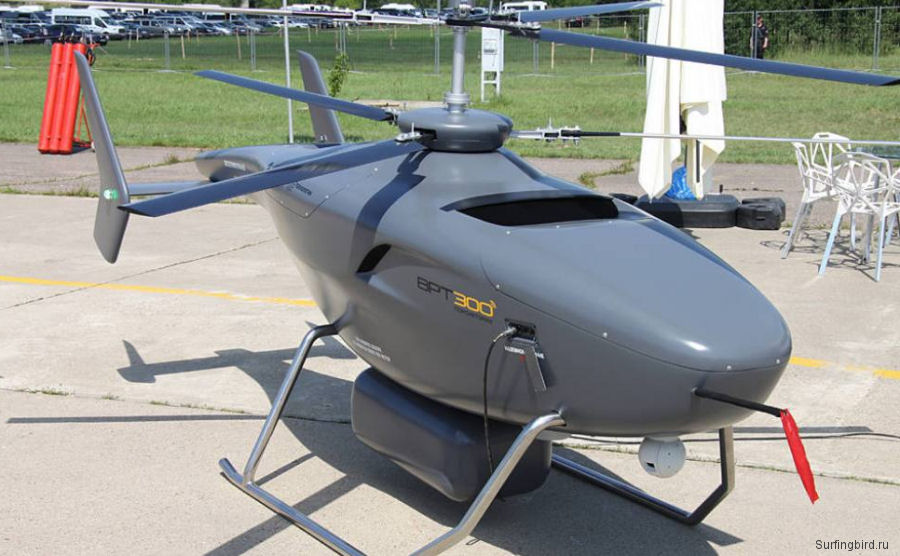 Russian VRT300 Drone Flight Tests Launched, 19-Apr-18 : VR-Technologies' VRT300 unmanned helicopter, capable to carry a 70 kilograms payload begun main systems and assemblies tests. Flight test scheduled by end of the year.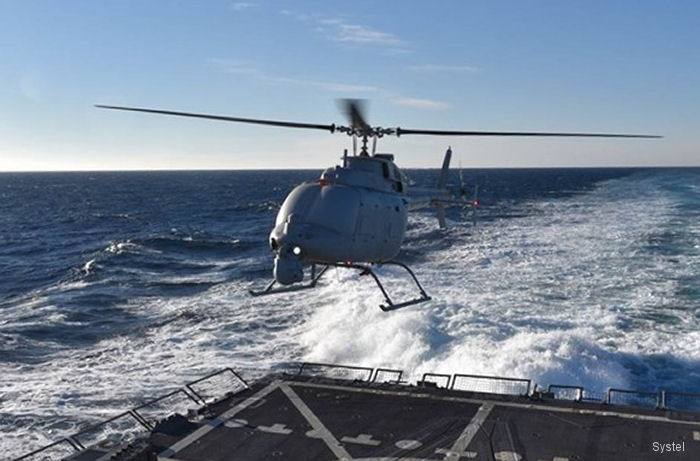 Systel to Support US Navy MQ-8C Drones, 09-Apr-18 : Systel Inc was selected by US Navy Naval Air Systems Command (NAVAIR) to support the MQ-8C Fire Scout drone program with rugged high-density computing servers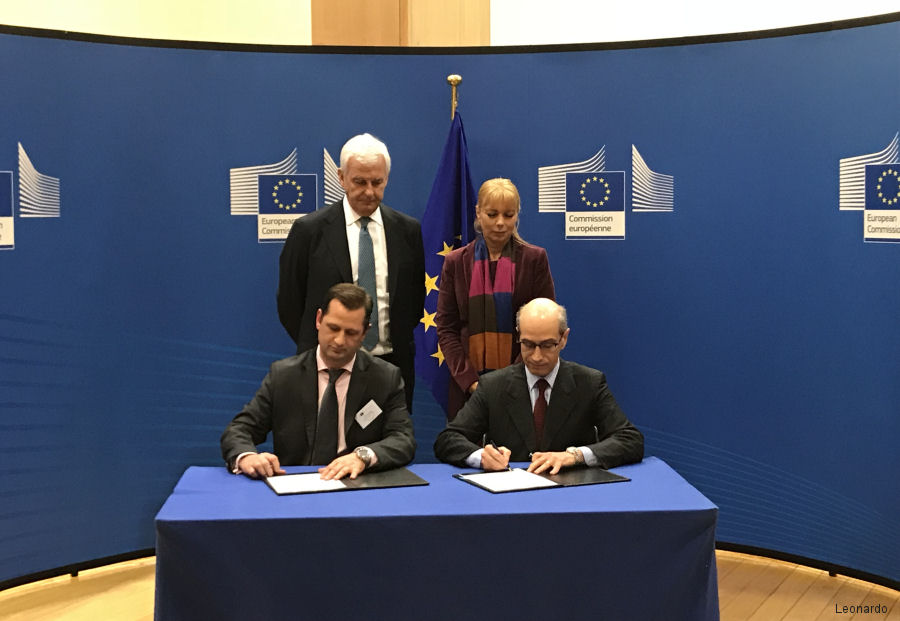 Leonardo Signed OCEAN2020 Contract, 28-Mar-18 : European Defence Agency (EDA) selected Leonardo as coordinator of 42 partners from 15 countries for the OCEAN2020 project seeking the integration of various types of unmanned platforms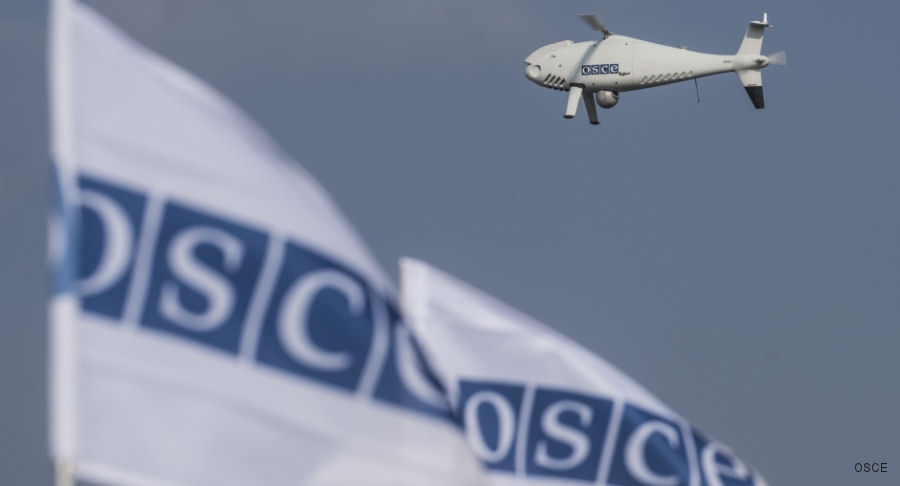 Drone Camcopter to Monitor Situation in Ukraine, 28-Mar-18 : Camcopter S-100 UAV drones, operated by vendor under a service contract to the Organization for Security and Co-operation in Europe (OSCE) to monitor security situation in eastern Ukraine


26-Mar-18 - Camcopter Heavy Fuel Drone Demo in Australia
21-Mar-18 - Drone Delivery Canada Started Condor Development
16-Mar-18 - Drone Delivery Canada First Test Flight in USA


27-Feb-18 - SW-4 Solo First Flight Without Pilot Heli-Expo 2018
08-Feb-18 - Airbus 'Skyways' Delivery Drone First Flight

Singapore Airshow 2018
01-Feb-18 - Vahana eVTOL from A³ by Airbus First Flight
18-Jan-18 - DDC Unveils 25Lbs Cargo Drone Raven X1400
15-Jan-18 - Drone Delivery Canada Expands Testing to USA
12-Jan-18 - EDA OCEAN2020 Program
11-Jan-18 - French Naval Helicopter Drone Demonstrator
10-Jan-18 - Boeing Unveils New Cargo UAV Prototype


19-Dec-17 - CityAirbus Completed Iron Bird Power On
15-Dec-17 - Compliant UAV Status for Sparrow Cargo Drone
13-Dec-17 - Aurora Autonomous UH-1H in Quantico
16-Nov-17 - Drone Delivery to be Tested in Northern Canada
01-Nov-17 - FAA Certification for Optionally Piloted UH-1H
26-Oct-17 - VSR700 Rotary Wing UAV
25-Oct-17 - Camcopter S-100 Second User Conference
18-Oct-17 - Russian Helicopters 1.5T Tilt-Rotor by 2019
17-Oct-17 - ALEA Standards for Public Safety Drones Programs
03-Oct-17 - CityAirbus Passes Propulsion Testing Phase Helitech 2017
15-Aug-17 - HSC-23 Makes History with MQ-8B Drones
20-Jun-17 - Gabbiano TS Ultra Light Multi Mode Radar Paris Air Show 2017
19-Jun-17 - VSR700 Demonstrator First Autonomous Flights Paris Air Show 2017
26-May-17 - Unmanned Tilt-Rotor at HeliRussia 2017 #HeliRussia2017
23-May-17 - Camcopter Completes Flight Trials in Norway
10-May-17 - Commercial Drone Services Start-Up "Airbus Aerial"


24-Apr-17 - A³ by Airbus and AUVSI Cooperation
17-Apr-17 - Airbus Selects SingPost as Skyways Logistics Partner Rotorcraft Asia 2017
01-Apr-17 - Vahana by A³
01-Apr-17 - Skyways by A³
01-Apr-17 - CityAirbus by A³
30-Mar-17 - Patria and Schiebel Working on MUM-T Operations
29-Mar-17 - Panther Drone First Aerial Package Delivery
27-Mar-17 - Drone Interoperability Test with Bristow S-92
23-Mar-17 - FAA's Waivers for Small Drones
10-Mar-17 - Canadian First BVLOS Pipeline and Powerline Inspections
01-Mar-17 - Leonardo AESA Radar for Schiebel Camcopter S-100
28-Feb-17 - Leonardo and UK MoD Launch Phase 2 of RWUAS
24-Feb-17 - Aeryon SkyRanger First BVLOS Flight
06-Feb-17 - Royal Australian Navy Selects Camcopter S-100
23-Jan-17 - AUVSI Launches Remote Pilots Council
05-Jan-17 - Yuneec Unveils H520 Drone
27-Dec-16 - Leonardo Acquires Sistemi Dinamici SpA
22-Nov-16 - Camcopter S-100 Concludes Mediterranean Mission
16-Nov-16 - SW-4 Solo at Unmanned Warrior 2016
15-Nov-16 - Optionally-Piloted Helicopters Firefighting


14-Nov-16 - Cormorant UAV First Fully Autonomous Flight


10-Nov-16 - Aurora to Develop Unmanned UH-1H
20-Oct-16 - French Navy's Future VTOL Drone
18-Oct-16 - MQ-8C Fire Scout with Leonardo AESA Radar
03-Oct-16 - L-3 MX-8 Electro-Optical/Infrared Imaging System
26-Sep-16 - Schiebel And Diehl Defence Teaming Agreement
22-Sep-16 - Bell Unveils V-247 Vigilant Tiltrotor
22-Sep-16 - Korean Air / Boeing Unmanned 500MD
21-Sep-16 - Safran Signs MoU With Urban Aeronautics
02-Sep-16 - CybAero Delivers Three Drones to Chinese Customs
26-Aug-16 - US Army Testing Drone for Battlefield Intelligence
08-Aug-16 - Era Launches Drones Service with Total Safery
02-Aug-16 - CybAero Joins Commercial Drone Alliance
13-Jul-16 - Drone Aviation Introduces Bolt
27-May-16 - Aurora AACUS Test New Capabilities
26-May-16 - EHang Drone to Begin Testing in Nevada
19-May-16 - Yamaha RMAX Debuts Spray Service
10-May-16 - US Army Aviation Seeking Runway-Independent UAS
04-May-16 - EASA Task Force to Assess Drones Aircraft Risk Collision
03-May-16 - CybAero Drone Test From Visby Class Corvette
21-Apr-16 - New Thermal Imaging Solutions for Firefighters
18-Apr-16 - Drones Added to the Alaska Aviation Task Force
18-Apr-16 - Aurora Flies Subscale X-Plane Aircraft


15-Apr-16 - Australia Post Testing Drones
08-Apr-16 - Surrey and Sussex Police Acquired Drones
30-Mar-16 - Brazilian FT Sistemas FT-200FH Umanned Helicopter FIDAE 2016
21-Mar-16 - DARPA Awarded Next Gen US Navy UAV Demonstrator
03-Mar-16 - DARPA Selects Aurora to Build VTOL X-Plane


17-Feb-16 - Tiltrotor by Russian Helicopters Makes its First Flight
17-Feb-16 - Airbus Helicopters to Test UAS in Singapore Singapore Airshow 2016
09-Feb-16 - Bristow Enters UAV Services Business
08-Feb-16 - Camcopter S-100 UAV Demonstration in Netherlands


21-Jan-16 - Drones Driving Force in Future Logistic Operations
20-Jan-16 - UGV/UAV Joint Autonomy demonstration for US Army


13-Jan-16 - Saab / AeroVironment Qube UAV for Swedish Police


30-Dec-15 - AirMule Completed its First Autonomous Untethered Flight
18-Dec-15 - EASA Paves the Way for Safe Use of Drones in Europe


14-Dec-15 - FAA Announces Small Drones Registration Rule


02-Dec-15 - K-MAX Collaborative Unmanned Systems Demonstration
20-Nov-15 - Volocopter VC200 First Flight


12-Oct-15 - Rockwell Collins Real Time Video for US Army
15-Sep-15 - UK MoD SW-4 RWUAS Demonstration
10-Sep-15 - DARPA Robotic Landing Gear


09-Sep-15 - Stampede Agricultural Drone Video System
09-Sep-15 - Aerial Power Line Inspection : Helicopter vs UAV
01-Sep-15 - UK Cumbria Police to Use UAVs


11-Aug-15 - WSU Unmanned Helicopter Yamaha RMAX UAV


15-Jul-15 - Search and Rescue ICARUS Ready for Use in 2016


03-Jun-15 - CybAero Successfull Acceptance Tests in China
08-May-15 - Mississippi State University Center of Excellence for UAS
04-May-15 - Indago UAV Used in Cyclone Pam Disaster Relief Efforts #CyclonePam
27-Apr-15 - Indago Quad Rotor Drone in Public Safety Missions
05-Apr-15 - CybAero Demonstration Flights in China a Success


15-Feb-15 - FAA Propose New Rules for Small UAS
03-Feb-15 - FAA Grants Eight More UAS Exemptions
08-May-14 - Northrop Grumman / Yamaha presents Rotary-Bat
17-Apr-14 - AACUS


26-Nov-13 - HeloAir to Recover Drones for US Navy
10-Apr-12 - US Navy investigates unmanned helicopter mishaps
28-Feb-12 - Robot Quadrotors Perform James Bond Theme


09-Oct-06 - Boeing Manned/Unmanned Helicopter First Flight
12-Jul-06 - Boeing Little Bird Flies Unmanned for First Time
08-Mar-04 - Bell Eagle Eye in USCG Deepwater Program