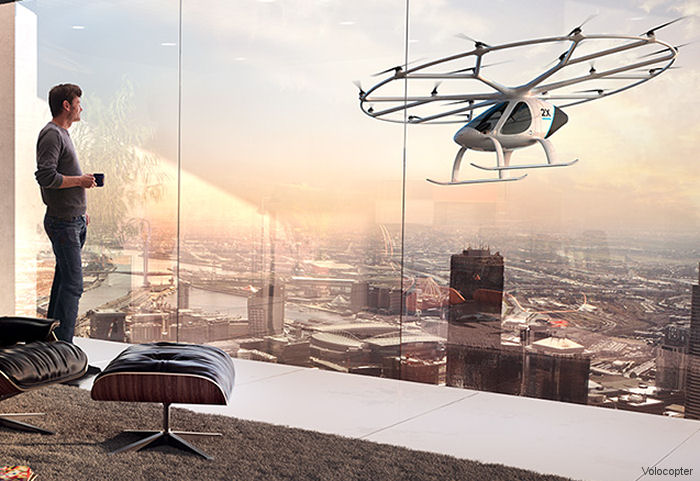 Volocopter, January 09, 2020
- Bruchsal, Baden-Württemberg, Germany – Urban Air Mobility pioneer Volocopter announced that the European Aviation Safety Agency (EASA) awarded the company Design Organisation Approval (DOA) following a series of thorough audits.
The approval is a confirmation by EASA that Volocopter is performing its tasks as an aircraft manufacturer in a controlled and safe manner. As an approved Design Organisation, Volocopter has a competitive edge in development speed, while guaranteeing the highest safety standards.
Volocopter is the first eVTOL startup on record to receive DOA with vertical take-off and landing (VTOL) as scope of work worldwide.
EASA is the European Union's aviation authority and regulator, ensuring the highest level of safety protection. By awarding a DOA, EASA entrusts a growing range of responsibilities to Volocopter as per a set of rules and processes. The key effect of having a DOA is that EASA exercises surveillance to the organization as a whole, and the involvement can be reduced to fewer steps on the way to the final commercial certification.
Consequently, product development can be conducted at a faster pace by the approved organization. Receiving EASA DOA thus proves to be a strong competitive advantage for Volocopter within the global context.
"Receiving this seal of approval from EASA is testament to our rigorously professional processes, world class team, and devotion to safety here at Volocopter," says Jan-Hendrik Boelens, CTO and Head of Design Organization of Volocopter. "Design Organisation Approval is a crucial step towards receiving commercial certification and brings air taxis ever closer!" says Florian Reuter, CEO of Volocopter.
Processes and resources certifications

EASA awards DOA to companies they have thoroughly audited with regards to their organisation, processes, resources, and staff expertise. Key aspects the agency checks before giving their seal of approval are clearly defined throughout certain processes that also need to be lived in everyday work, safety awareness, and the organisation. The audits ultimately serve to assess and decide whether a company can bring a safe aircraft to market.

The initial DOA approval obtained today will be continuously expanded with further privileges. These privileges can eventually include elements such as issuing approvals of changes or even issuing a permit to fly for its test aircraft allowing to conduct engineering and certification flight test of Volocopter's commercial air taxi. By obtaining a DOA approval Volocopter joins the ranks of Airbus S.A.S; Dassault Aviation, Leonardo S.p.A., BAE Systems, ADAC Luftfahrttechnik GmbH or Lufthansa Technik as Design Organisation.

Patrick Ky, Executive Director of the EASA "Awarding the first DOA with a scope of work for VTOL is a milestone for the industry. We are happy about the successful cooperation and the fact that our safety standards are now part of the rising eVTOL market."

Earlier this year EASA finalized and published the Special Condition VTOL, the world's first certification baseline specifically created for air taxis, under which Volocopter is in process to get its aircraft certified.

About Volocopter GmbH: Volocopter is building the world's first sustainable and scalable urban air mobility business to bring affordable air taxi services to megacities worldwide. With the VoloCity, the company is developing the first fully electric "eVTOL" aircraft in certification to safely and quietly transport passengers within cities. Volocopter leads and cooperates with partners in infrastructure, operations, and air traffic management to build the ecosystem necessary to 'Bring Urban Air Mobility to Life'.

In 2011, Volocopter performed the first-ever manned flight of a purely electric multicopter and has since showcased numerous public flights with its full-scale aircraft. The most notable have been the public test flights at Singapore's Marina Bay in October 2019 and the world's first autonomous eVTOL flight in Dubai 2017. Volocopter is also developing products for the logistics and precision agriculture space with their VoloDrone.

Founded in 2011 by Stephan Wolf and Alexander Zosel, Volocopter has 150 employees in offices in Bruchsal, Munich, and Singapore. The company is managed by CEO Florian Reuter, CTO Jan-Hendrik Boelens, and CFO Rene Griemens, and has raised a total of 85 million euro in equity. Volocopter's investors include Daimler, Geely, Intel Capital, Micron, BtoV, and Manta Ray Ventures.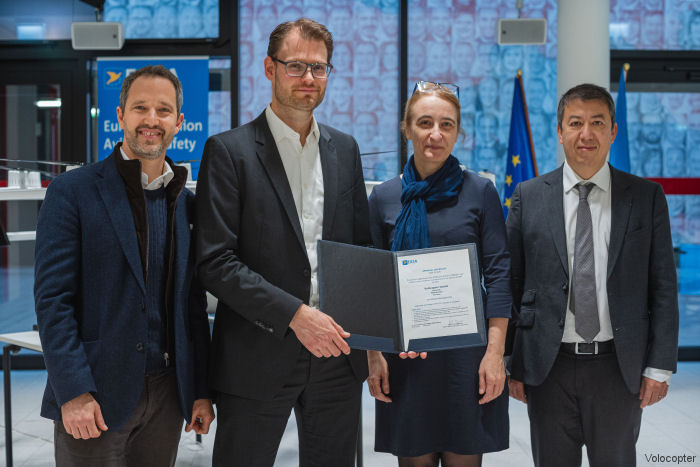 E-Volo Volocopter VoloCity
EASA
European Commission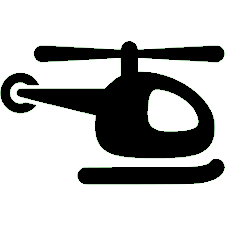 Helicopters UAV & Drones