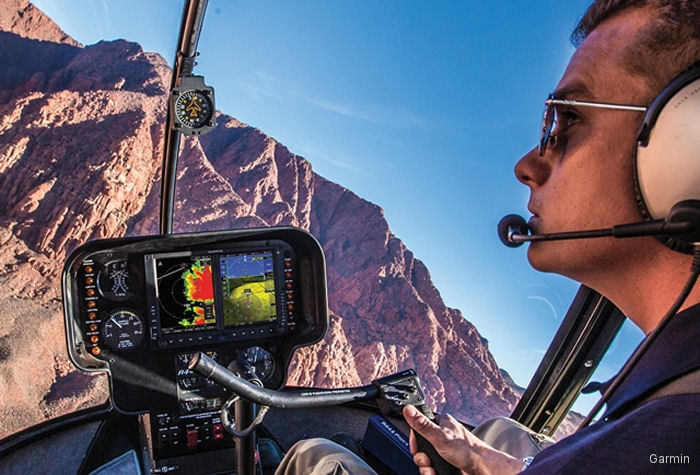 Garmin, March 07, 2017 - OLATHE, Kan. — Garmin International Inc., a unit of Garmin Ltd, today announced a series of enhancements and an expanded feature set for Garmin's G500H glass flight display STC in Robinson R44 helicopters.

Pilots flying behind the G500H in the R44 will experience a faster, more responsive and modernized flight display, alongside a number of additional features that improve situational awareness and bring new capabilities to this system using a Garmin-held STC. Features such as advanced Automatic Dependent Surveillance-Broadcast (ADS-B) integration including TargetTrend™ and TerminalTraffic™, geo-referenced FliteCharts®, Smart Airspace and more provide R44 operators flying with the G500H glass flight display even more state-of-the-art capabilities that reduce overall pilot workload.

"We continue to expand upon the feature set of our G500H glass flight display STC in the R44 so these helicopter operators have access to the latest situational awareness tools on the market," said Carl Wolf, Garmin vice president of aviation sales and marketing. "With this upgrade, we've incorporated capabilities that put even more valuable information in the pilot's primary field of view, further expanding upon the extensive pilot toolset within the G500H in the R44 helicopter."

Advanced ADS-B integration, expanded weather support
Using the GDL 88H, Flight Information Service-Broadcast (FIS-B) weather and ADS-B traffic combine to offer improved situational awareness within the G500H in the R44. ADS-B traffic displays on the moving map and dedicated traffic pages, incorporating exclusive traffic features such as Garmin's patented TargetTrend and TerminalTraffic.

TargetTrend provides pilots with a more intuitive method of judging target trajectories and closure rates, while TerminalTraffic displays a comprehensive picture of ADS-B- equipped aircraft and ground vehicles throughout the airport environment. Additionally, FIS-B weather information received by the GDL 88H can be overlaid on the moving map and dedicated weather pages alongside flight plan data for easier interpretation.

Additional weather enhancements offer pilots access to optional weather products for display on the G500H in the R44. These new compatibilities include:

The display of new datalink weather products received from the GDL 69 include icing, turbulence, METARs, TAFs, AIRMETs, PIREPs, Canadian NEXRAD, as well as winds and temperatures aloft.
Text and graphical weather products received by the GSR 56 Iridium datalink can be displayed on the multi-function display (MFD) of the G500H.

Superior situational awareness tools, enhanced map feature set
Newly improved dynamic maps expand upon the existing rich and vibrant mapping display capabilities for the Garmin-held G500H glass flight display STC in the Robinson R44 helicopter. Pilots will notice the moving map offers faster display and map rendering and demonstrates an overall revitalized transformation. In addition to the newly enhanced display capabilities, geo-referenced Garmin FliteCharts terminal approach procedures offer an elevated level of situational awareness.

WireAware incorporates wire-strike avoidance technology to graphically overlay power line locations and altitude information on the moving map. Altitude is displayed in mean sea level (MSL) and above ground level (AGL), so power lines are easier to identify relative to the helicopter flight path. For G500H- equipped R44 helicopters with synthetic vision technology (SVT™) enabled, new powerline alerting is also visible on the primary flight display (PFD).

The integration of Smart Airspace also makes it easier for pilots to identify what airspace lies ahead. This feature conveniently highlights the airspace nearest to the helicopter's current altitude and de- emphasizes non-pertinent airspace so pilots can quickly distinguish their location to the relevant airspace around them.

Additional enhancements

The G500H glass flight display STC in the Robinson R44 helicopter also offers additional functions and options including:
- The display of height above ground level (AGL) is more accurate in a multitude of environments with the GRA 55 radar altimeter, which is now supported.
- A selected altitude arc can be overlaid on the moving map for easier visualization of a desired altitude crossing point on the moving map.
- Pilot can select between displaying a clock or timer on the PFD.
The display of external video is supported in full-screen mode on the MFD.
- Pilot can select specific outside air temperature (OAT) units, including static air temperature (SAT), total air temperature (TAT) and international standard atmosphere (ISA).
- Helicopter Terrain Awareness and Warning System (HTAWS) annunciations display on the PFD when the G500H is interfaced with a GTN™ 650/750 or GNS™ 430W/530W with HTAWS enabled.
- Obstacles are automatically decluttered on the MFD based on relative altitude.
- Pilots can simultaneously overlay topography and terrain data on the moving map.
- LP+V approaches annunciate on the PFD.

These new features and capabilities for the G500H STC in Robinson R44 helicopters are available immediately from a Garmin Authorized Dealer (installation charges may apply). This Garmin-held STC and software upgrade is supported by Garmin's award-winning aviation product support team, which provides 24/7 worldwide technical and warranty support.

Garmin's aviation business segment is a leading provider of solutions to OEM, aftermarket, military and government customers. Garmin's portfolio includes navigation, communication, flight control, hazard avoidance, an expansive suite of ADS-B solutions and other products and services that are known for innovation, reliability, and value.

For decades, Garmin has pioneered new GPS navigation and wireless devices and applications that are designed for people who live an active lifestyle. Garmin serves five primary business units, including automotive, aviation, fitness, marine, and outdoor recreation.

About Garmin: Garmin International Inc. is a subsidiary of Garmin Ltd. (Nasdaq: GRMN). Garmin Ltd. is incorporated in Switzerland, and its principal subsidiaries are located in the United States, Taiwan and the United Kingdom. Garmin and FliteCharts are registered trademarks and TerminalTraffic, TargetTrend, SVT, GTN and GNS are trademarks of Garmin Ltd. or its subsidiaries.

Garmin
Robinson R44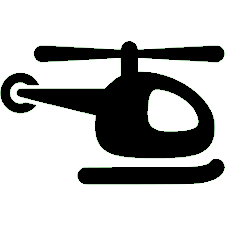 Helicopters Avionics