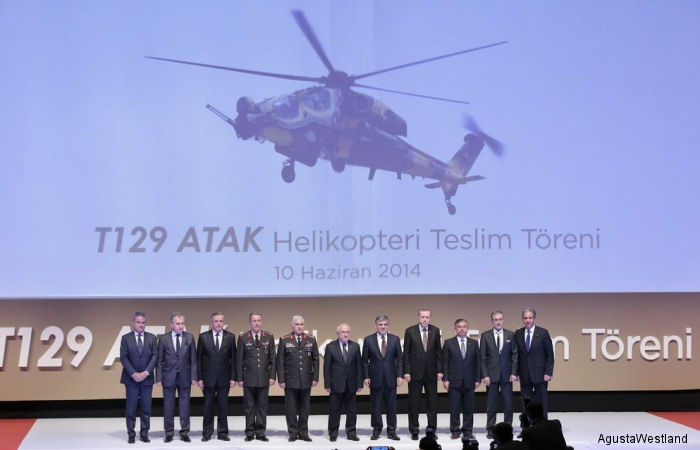 AgustaWestland, June 11, 2014 - TAI (Turkish Aerospace Industries) and Finmeccanica - AgustaWestland are pleased to announce that the Turkish Armed Forces have taken delivery of their first "T129 ATAK" Advanced Attack and Tactical Reconnaissance Helicopter on 22nd of April 2014.

This delivery, celebrated during an official ceremony on June 10th, is the first of 59 helicopters, 9 in T129A Early Delivery Helicopter (EDH) configuration, and 50 in T129B configuration.

T129 ATAK, is a new generation, tandem two-seat, twin engine helicopter specifically designed for attack and reconnaissance purposes, developed from the combat proven A129CBT, incorporates totally new system philosophy with new engines (LHTEC CTS 800-4A), new avionics, visionics and weapons, modified airframe, uprated drive train and new tail rotor.

T129A version is equipped with a nose-mounted 20 mm. turreted gun with 500 rounds capability and can carry up to 4 rocket launchers under external pylons with a total of 76 unguided rockets.

The T129B version will also feature MIZRAK ATGMs and CIRIT (70 mm. Laser Guided Rockets) designed for Turkish Armed Forces and STINGER air-to-air, ensuring effective and multirole day and night capabilities. T129 ATAK with the best of class power to weight ratio has crashworthy design to MIL-STD-1290 and incorporates multi weapon asymmetric loading capability.

Thanks to its outstanding features and mission capabilities, the T129 ATAK is now ready to meet a range of new export opportunities and requirements in the worldwide market.

The commencement of helicopter deliveries is a major milestone for the ATAK program. This latest accomplishment provides further evidence of the successful cooperation between TAI and Finmeccanica - AgustaWestland with the development and delivery of the most advanced combat helicopter.

The T129 ATAK is the helicopter selected in 2007 by the Government of Turkey for the Turkish Armed Forces; development and production will be assured by the "ATAK Team", a Joint Partnership of TAI and Finmeccanica - AgustaWestland.
T129 in

Türk Kara Kuvvetleri