Garmin G5000H Upgrade for UH-60A Black Hawk


The first flight of a Global Aviation Solutions G5000H-equipped UH-60A Black Hawk helicopter occurred in March 2017 expecting certification for 2018

Garmin, April 26, 2017 - OLATHE, Kansas — Garmin International Inc., a unit of Garmin Ltd., today announced the availability of the G5000H integrated flight deck upgrade for the existing fleet of Sikorsky S-70 and UH-60A/L Black Hawk helicopters through Global Aviation Solutions (GAS).

The G5000H modernizes the cockpit, offers key safety enhancements, improves situational awareness and fulfills global airspace modernization initiatives. Additionally, the G5000H upgrade offers greater reliability, provides added cost-savings that solves avionics obsolescence and expands the operational capability of these versatile helicopters.

"Alongside Global Aviation Solutions, we're excited to bring the G5000H upgrade to the existing fleet of UH-60A/L and S-70 helicopters," said Carl Wolf, Garmin vice president of aviation sales and marketing. "With modern technologies such as HSVT, HTAWS and more, operators behind the G5000H will experience a significant reduction in pilot workload, optimal alerting capabilities, as well as an improved level of situational awareness throughout all phases of flight. This modernization program also brings next generation avionics capability and expanded utility to these helicopters, providing pilots with the best information available while in-flight. It's simply a terrific upgrade for these versatile, combat-proven helicopters."

The G5000H installation in the Sikorsky S-70 and UH-60A/L Black Hawk helicopters incorporate four 12-inch high-resolution widescreen displays and two touchscreen controllers that serve as the pilot interface to the integrated flight deck. Two primary flight displays (PFD) and two multi-function displays (MFD) support multi-pane capability, allowing pilots to simultaneously view flight information alongside maps, checklists, weather and more. Charts can be viewed across all four displays and are geo-referenced, including Garmin FliteCharts™ terminal approach procedures or optional Garmin ChartView powered by Jeppesen, as well as geo-referenced SafeTaxi® airport diagrams.

Available with this G5000H upgrade, Helicopter Synthetic Vision Technology (HSVT™) seamlessly blends and displays a 3D depiction of terrain, obstacles, traffic and the runway environment so the image on the display replicates what the pilot would see outside the cockpit on a clear day. HSVT merges with Helicopter Terrain Awareness and Warning System (HTAWS) to provide alert coloring and voice alerts to warn pilots of potential ground hazards by displaying obstacles and terrain that may pose a threat.

The G5000H integrated flight deck is a state-of-the-art avionics suite that is equipped to meet and exceed global airspace modernization initiatives, while also offering a lower cost of ownership. With the G5000H upgrade, these helicopters receive a fully integrated Federal Aviation Administration (FAA) and European Aviation Safety Agency (EASA) rule-compliant Automatic Dependent Surveillance-Broadcast (ADS-B) Out solution.

Additionally, Garmin Connext® services are available as an option and include access to worldwide weather, voice calling and text messaging within the G5000H.

Additional features that are expected to be available with the G5000H integrated flight deck upgrade for the S-70 and UH-60A/L helicopters:

- Wide area augmentation system (WAAS/SBAS) navigation is supported.
- ADS-B In traffic and weather is available as an option using the GDL® 88 datalink.
- Exceeds NextGen/Single European Sky (SES) global airspace initiatives.
- Worldwide datalink weather solutions enable the display of graphical weather including NEXRAD, METARs, TAFs, TFRs, winds aloft and more.
- TCAS II combines ADS-B enhanced active and passive surveillance data to pinpoint specific traffic threats, issuing a Resolution Advisory (RA) if an immediate conflict is detected.
- Seamless interface with third-party products, including radios, sensors and other mission-critical equipment.

GWX weather radar is included as optional equipment and offers four-color storm cell display capabilities with Turbulence Detection and Ground Clutter Suppression as additional options.
GRA™ 5500 radar altimeter provides a smooth and consistent readout of above ground level (AGL) altitude, even in rough terrain, tree canopies, sand or choppy water.

The first flight of a Global Aviation Solutions G5000H-equipped UH-60A Black Hawk helicopter occurred in March 2017.

Global Aviation Solutions expects certification of the G5000H in the UH-60A/L and S-70 helicopters in 2018.

Garmin's aviation business segment is a leading provider of commercial solutions to OEM, aftermarket, military and government customers. Garmin's portfolio includes navigation, communication, flight control, hazard avoidance, an expansive suite of ADS-B solutions and other products and services that are known for innovation, reliability, and value.

For decades, Garmin has pioneered new GPS navigation and wireless devices and applications that are designed for people who live an active lifestyle. Garmin serves five primary business units, including automotive, aviation, fitness, marine, and outdoor recreation.

About Garmin: Garmin International Inc. is a subsidiary of Garmin Ltd. (Nasdaq: GRMN). Garmin Ltd. is incorporated in Switzerland, and its principal subsidiaries are located in the United States, Taiwan and the United Kingdom. Garmin, Connext, GDL and SafeTaxi are registered trademarks and FliteCharts, GRA and HSVT are trademarks of Garmin Ltd. or its subsidiaries.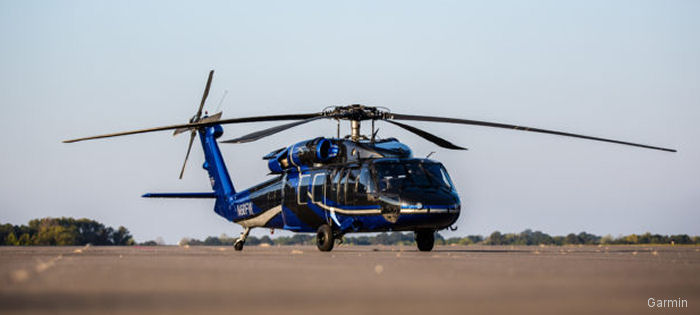 This article is listed in :
Sikorsky Commercial UH-60


Garmin
--Helicopters Avionics
See also First Flight of UH-60A With Glass Cockpit
What links here :
Garmin G5000H Glass Cockpit for KAI Surion
Flight Deck VL-60 for Commercial Black Hawk