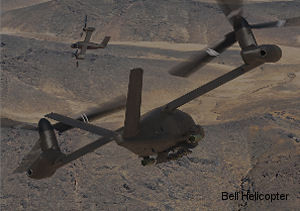 Bell Helicopter, February 07, 2014 - Fort Worth, TX – Bell Helicopter, a Textron Inc. company, announced today that LORD Corporation will design and manufacture elastomeric components for the Bell V-280 Valor.

"We are pleased LORD Corporation has made the strategic decision to join our growing team of aerospace leaders and help develop our third generation tiltrotor, the Bell V-280," said John Garrison, president and CEO of Bell Helicopter. "LORD's advanced elastomeric components are critical enablers of Bell V-280 tiltrotor's increased rotor flapping and enhanced low speed agility. Team Valor continues to align interests and resources to deliver the highest levels of maturity and technical readiness to the U.S. Army for their future vertical lift missions."

"LORD is proud to play such an important role in the development of the V-280 Valor which represents the next generation in vertical lift technology," said Bill Cerami, president, LORD Aerospace & Defense. "We look forward to working alongside Bell Helicopter, bringing our expertise in elastomeric component design and manufacture to bear in order to maximize the long-term operational effectiveness, reliability, and affordability of this aircraft in service for the U.S. Army.

"The transformational features of Bell Helicopter's third generation tiltrotor represent the most operationally effective aircraft for the U.S. Army's Future Vertical Lift requirements. With increased maintainability and component and systems reliability, the Bell V-280 is designed to deliver the best value in procurement, operations and support, and force structure. With twice the speed and range of the U.S. Army's current fleet, the Bell V-280 Valor will offer commanders a combat maneuver platform with the unmatched operational agility to self-deploy and perform a multitude of vertical lift missions.

Team Valor is comprised of leading aerospace companies, bringing the best engineering resources, industrial capabilities, and critical thinking to meet the U.S. Army's needs.

About Bell Helicopter: Bell Helicopter, a wholly owned subsidiary of Textron Inc., is an industry-leading producer of commercial and military, manned and unmanned vertical-lift aircraft and the pioneer of the revolutionary tiltrotor aircraft. Globally recognized for world-class customer service, innovation and superior quality, Bell's global workforce serves customers flying Bell aircraft in more than 120 countries.
Bell V-280 Valor

LORD Corp