Operation Weald is the UK contribution to the European initiatives
Triton
(Italian and Maltese coasts),
Aspida
(Greek coast) and
Poseidon
(Bulgarian coast) to stem the flow of migrants from North Africa and Syria, into Europe, propelled by people traffickers. Triton is supported by
Italy
(search and rescue, and holding centres),
France
(maritime patrol aircraft) and
Germany
(two frigates) at present. Other nations have made smaller commitments such as
Latvia
and
Lithuania
(one helicopter each),
Luxembourg
(satellite surveillance time),
Poland
(maritime surveillance aircraft) and
Belgium
and
Ireland
(one naval vessel each).
The British Government committed HMS Bulwark for a two month Search and Rescue deployment in the Triton area of operations from early May 2015, together with a detachment of 814 NAS Merlins and two UK Border Force cutters. HMS Enterprise is due to relieve HMS Bulwark in Jul 2015.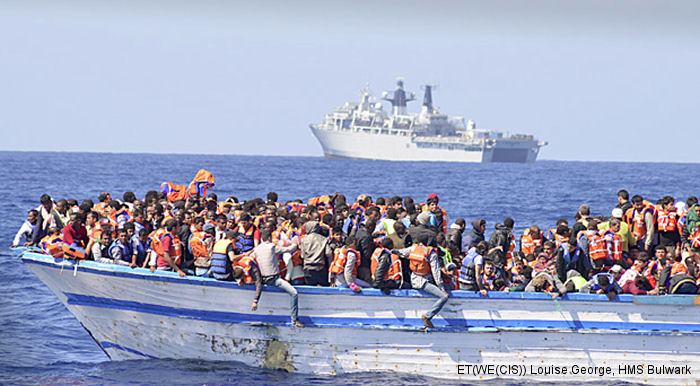 HMS Bulwark Rescues Migrants in the Mediterranean, 29-May-15 : Nearly 370 people, 50 of them children, were saved by HMS Bulwark in one of five rescues played out at the same time off the Libyan coast by European navies responding to the humanitarian crisis
Dates
Rotary Wing Aircraft Unit
Models
04may15 to 03jul15
814 Squadron Fleet Air Arm
EH101









Not all models shown may have taken part in the Operation