NHV and Blueway to merge, 28-Aug-14 : Ostend - NHV and Blueway are pleased to announce that they have signed a merger agreement to create a new top-tier player in the helicopter services industry.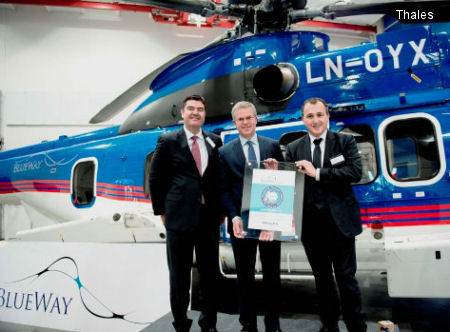 Blueway is Thales training centre launch customer, 21-Jan-14 : Blueway is a market leader in Scandinavian on-shore and off-shore helicopter services, specialising in shuttle services and replacement of flare tips, as well as search & rescue, infrastructure and environmental operations.
Blueway AS Orders One More AW139 Helicopter, 27-Sep-11 : AgustaWestland, a Finmeccanica company, is pleased to announce that Blueway AS of Norway has signed a contract for one more AW139 medium twin helicopter. This aircraft will be used for offshore transport operations. This order follows an initial contract for three AW139s placed in 2010 and one for a fourth unit signed earlier this year as part of a Framework Agreement for the purchase of a total of five AW139s plus options for an additional four. This latest purchase is further evidence of the customer's satisfaction with the best selling helicopter in its class for offshore operations and strengthens the partnership between AgustaWestland and Blueway AS.
Model
Del'd
From
To
AW AW139
2010






9 Construction Numbers in this organisation found