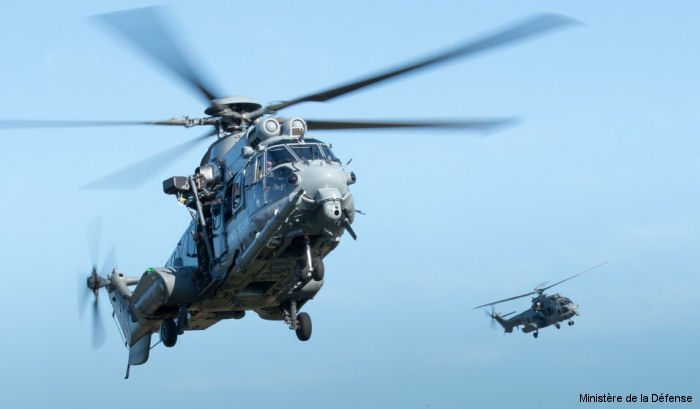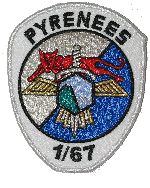 1/67 provides helicopter support to the French Special Forces. Traces its origin to the end of the Algerian War with the creation of the 22nd Helicopter Wing. One of their units, the 3/22 was established at
Pau
. In 1968 split into 1/68 at Pau as the Pyrenees and 2/68 at
Chambery
. In 1972 with the closure of BA120 at Pau, 1/68 moved to Cazaux and in 1975 became EH 01.067 Pyrenees.
Whilst the main mission of the Pyrenees remains Combat Search and Rescue (CSAR), the squadron have completed deployments to Bosnia, Albania, Congo, Afghanistan and Mali. They usually embark a detachment on Charles de Gaulle aircraft carrier.
As of 2017, the remaining SA330 Puma are being transferred to the
EH 01.044
at Solenzara.
On January 31, 2018 achieved Full Operational Capability (FOC) in aerial refueling from KC-130 Hercules tankers. The only French Air Force helicopter squadron having this capability.
During 2015, of the units 5 Super Puma fitted with the M621 20mm gun (known as
Puma Pirate
), 2 remain at Cazaux, while 3 have been deployed to the Sahel.

News of Escadron d'Helicopteres 01.067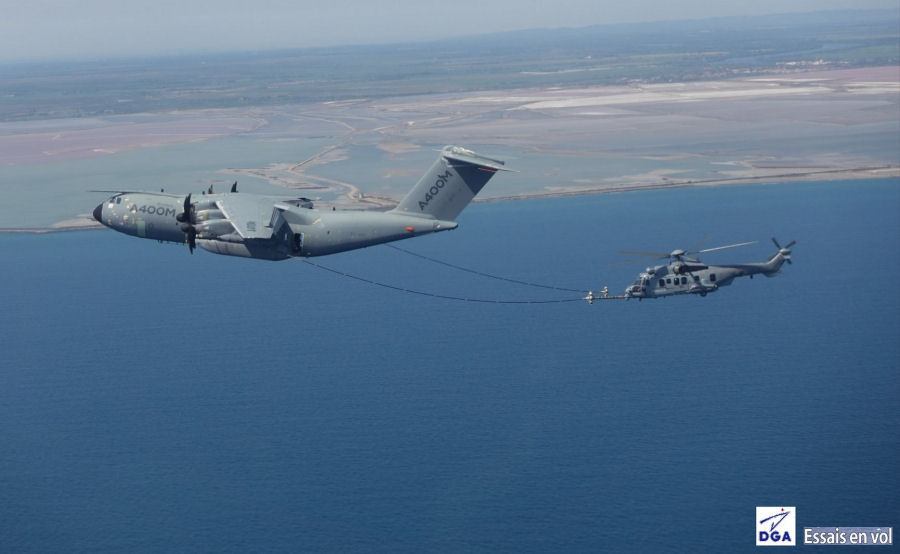 First Fuel Transfer Between A400M and H225M, 21-Aug-20 : #A400M As part of the A400M certification, an Airbus / French Air Force team completed the first full aerial refueling between the new cargo aircraft and a H225 / EC725 Caracal helicopter following last year successful contact tests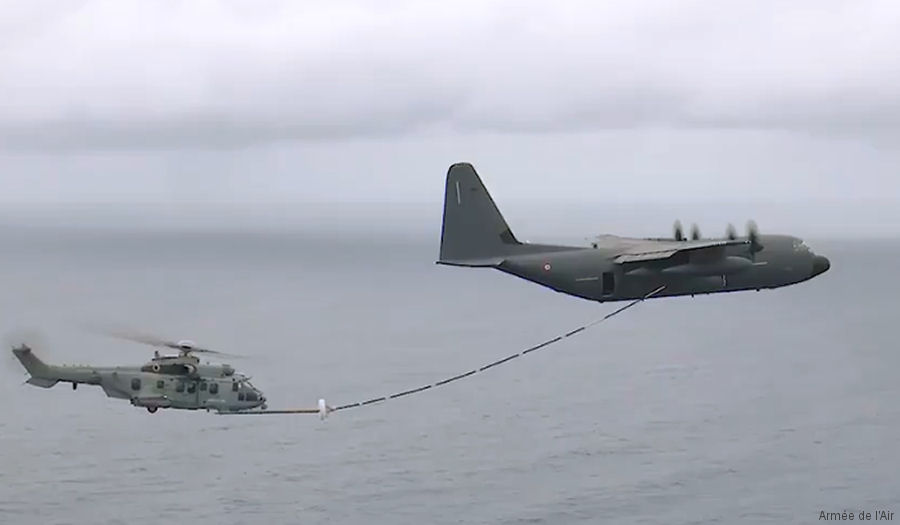 Exercise Dark Dune 2020, 27-Feb-20 :

#DarkDune French Air Force performed helicopter aerial refueling from Hercules Tanker aircraft during Dark Dune 2020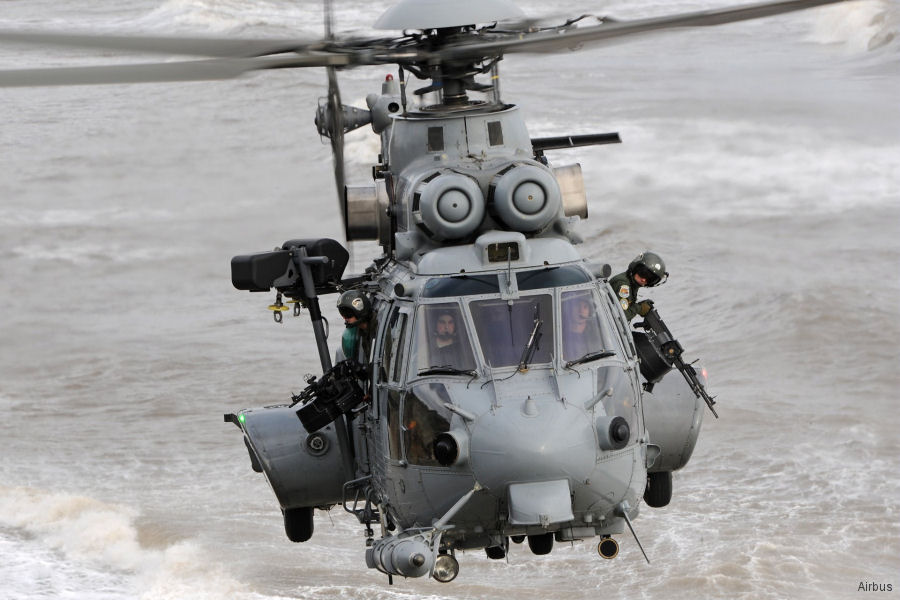 Additional Caracal for French Special Forces, 14-Jun-19 : #Caracal The Armée de l'air ordered an additional H225M Caracal for its elite Helicopters Squadron 01.067 Pyrénées based at Cazaux (BA120). Will join a fleet of 10 EC725 used to support special forces and capable of aerial refueling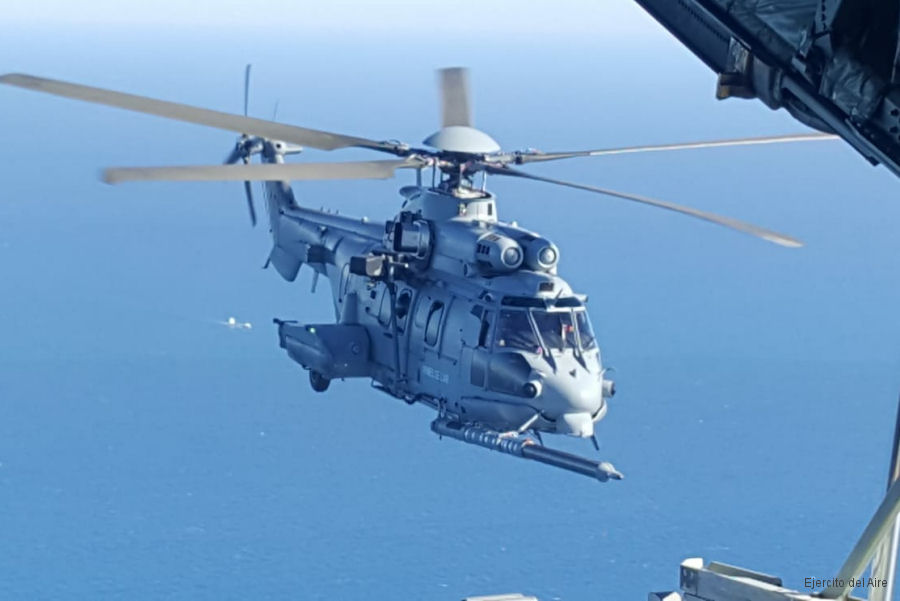 Spanish Tanker Refueled French Caracal, 21-Oct-18 : #refueling A Spanish air force KC-130 tanker deployed to Istres in France to performed an aerial refueling exercise with a French EC725 Caracal helicopter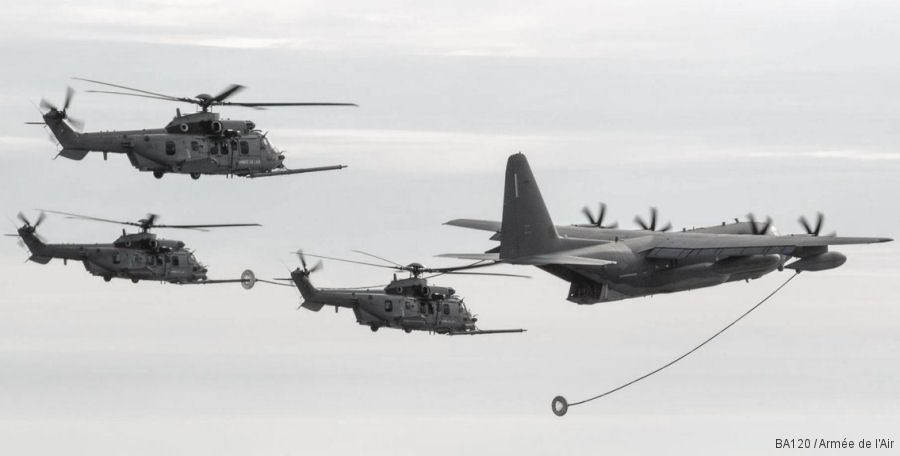 Exercise Dark Dune 2017-II, 08-Dec-17 : French Air Force Caracal pilots completed air refueling qualifications with USAF MC-130J at Cazaux in a new edition of the Dark Dune exercise