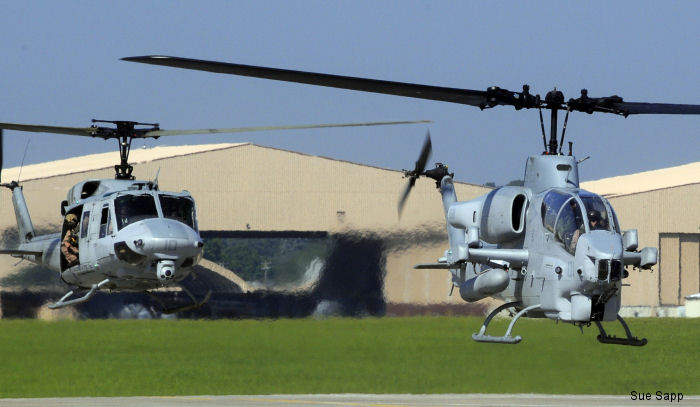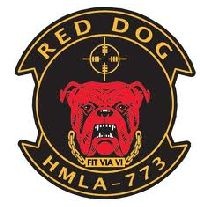 Red Dogs
, tail code
MP
,
MN
,
MM
Marine Corps Reserves.
1958 - Marine Helicopter Transport Squadron 773 (HMR-773)
1962apr - Marine Medium Helicopter Squadron 773 (HMM-773)
1962aug - deactivated
1968 - reactivated
1969sep - deactivated
1971 - Marine Attack Helicopter Squadron 773 (HMA-773)
1971/78 Army AH-1G
1978/1992 AH-1J
1992- AH-1W
1994 merge with
HML-776
1994 - Marine Light Attack Helicopter Squadron 773 (HMLA-773)
News about this Rotary Wing Unit :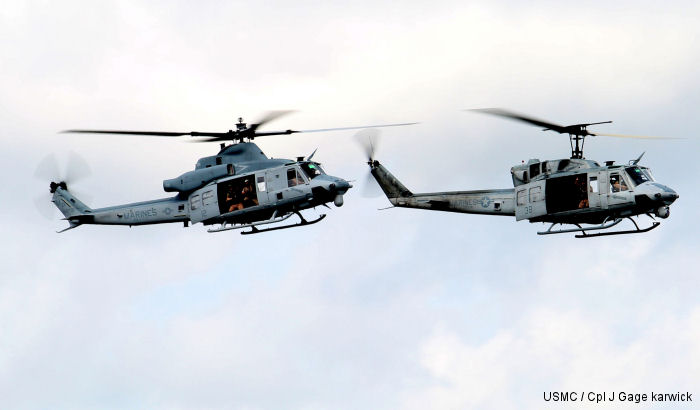 Final Flight of UH-1N Huey for HMLA-773, 03-Sep-14 : NAVAL AIR STATION JOINT RESERVE BASE, New Orleans by Cpl. J. Gage Karwick - After more than 40 years of service, the Marine Corps retired the aging UH-1N Huey helicopter during a "sundown ceremony" Aug. 28, 2014, aboard Naval Air Station Joint Reserve Base, New Orleans.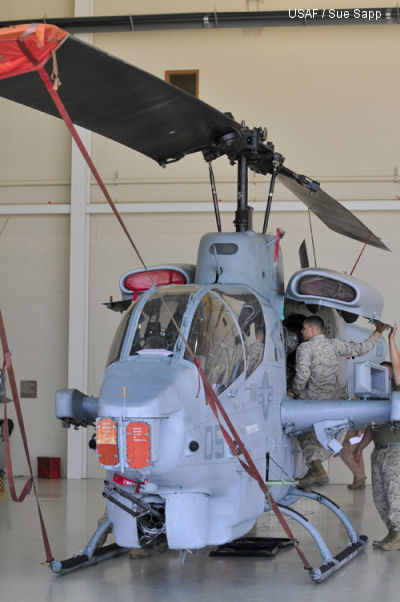 HMLA-773 maintainers make Robins home, 08-Jun-12 : ROBINS AIR FORCE BASE, Ga by Jenny Gordon, Robins Public Affairs - Marine Light Attack Helicopter Squadron 773, the Marine Corps Reserves' only attack helicopter squadron, includes 350 Marines stationed here.
Construction Numbers for HMLA-773 / HMA-773
Help Us
C/N
Version
Built
In this Org
In other Org
26014
ah-1j
157770 : HMA-773 /MP-414 noted aboard USS Guadalcanal at HMNB Portsmouth between 30+

26021
ah-1j
157777 : USMC; HMA-773 w/o 03jun91

26029
ah-1j
157785 : 309th AMARG /7H0212 as HMLA-773 /MP-407; Celebrity Row

26030
ah-1j
157786 : HMA-773 /MP-417 noted aboard USS Guadalcanal at HMNB Portsmouth between 30+

31603
UH-1N
158262 : USMC; 2009 HMLA-773 /MM-26; 2010 HMLA-773 /MM-32
: 07-08may11 HMLA-773./MM-32 N awlins airshow
: 13jun13 pictured as HMLA-773 Det.A /MM-32 at Arlington, Texas

31607
UH-1N
158266 : 12oct07 pictured (bot) as HMLA-773 /MP-01 at Al Asad Air Base, Iraq; 26s+

31608
UH-1N
158267 : 2009 HMLA-773 /MP-10

31610
UH-1N
158269 : USMC; 30jun77 to MASDC-7H055; HMT-303; Mar09 HMLA-773 /MP-12

31628
UH-1N
158287 : USMC; 29dec12 pictured as HMLA-773 DetA /MM-34 at 2012 Bell Helicopter Ar+

31630
UH-1N
158289 : USMC; 1998 HMLA-773./MP-25

N7252N : CBP reg Jul14

31634
UH-1N
158549 : USMC; 1998 HMLA-773./MP-26
: 28aug14 pictured at UH-1N final flight with HMLA-773, NAS New Orleans

31645
UH-1N
158560 : HMLA-773 MM-28
: 07-08may11 HMLA-773./MM-36 N awlins airshow

31648
UH-1N
158772 : UMSC; 2007 HMLA-775 /WR-744; 2008 HMLA-773

31651
UH-1N
158775 : HMLA-773 MP-11

31653
UH-1N
158777 : USMC; 1998 HMLA-773./MP-21
: 07-08may11 HMLA-773./MM-38 N awlins airshow

31665
UH-1N
159189 : USMC; May08 as HMLA-773 /MP-14; 20apr12 pictured still at Yuma, AZ

26050
ah-1j
159210 : USMC; First airframe second batch; HMLA-773 /MP-700; preserved Patriots Po+

- 159210 : Jun15 Has Corrosion, needs to be repainted

26063
ah-1j
159223 : USMC, HMA-773; wfu 1993, to AMARC, still 2007

26930
ah-1t
160810 : Feb16 retired at HMLA-773 Robins AFB, GA

26311
ah-1w
165051 : 07-08may11 HMLA-773./MM-20 N awlins airshow

26331
ah-1w
165283 : USMC; 1998 HMLA-773 /MP-00

26333
ah-1w
165285 : 07-08may11 HMLA-773./MM-22 N awlins airshow

26335
ah-1w
165287 : USMC; 1998 HMLA-773 /MP-04

26336
ah-1w
165288 : USMC; 09Jan07 as HMLA-773 /MP-05 at Dobbins AFB, Georgia; 2009 HMLA-773 /M+

26338
ah-1w
165290 : USMC; 2008 HMLA-773 /MP-07; 2009 HMLA-773 /MP-02; 2014 still

26346
ah-1w
165322 : USMC; 07jul03 pictured (top) as HMLA-773/MP-10 and fake 156322 at Hurlburt+
: 07-08may11 HMLA-773./MM-26 N awlins airshow
: 29dec12 pictured (bot) as HMLA-773 DetA /MM-26 at 2012 Bell Helicopter Arm+

26348
ah-1w
165324 : USMC; 2006 HMLA-773 /MP-11; 2008 HMLA-773 /MP-04; 2014 still

26352
ah-1w
165328 : USMC; May13 HMLA-773 DetB /WG-43

26353
ah-1w
165329 : USMC; 1997 HMLA-775 /WR-734; 2011 HMLA-773 DetB /WG-44; 2014 still

26365
ah-1w
165365 : USMC; 2008 HMLA-773 /MP-05; 2014 still

ah-1w
165449 : USMC; 13jun13 pictured as HMLA-773 Det.A /MM-28 at Arlington, Texas
: 07-08may11 HMLA-773./MM-28 N awlins airshow
: 2014 HMLA-773 DetA /MM-28

UH-1Y
168788 : USMC; Jun14 HMLA-773 /MP-10

UH-1Y
168790 : USMC; Oct14 HMLA-773 /MP-11

UH-1Y
168791 : USMC; Aug14 HMLA-773 /MP-12

UH-1Y
168793 : USMC; Aug14 HMLA-773 DetA /MM-30

UH-1Y
168794 : USMC; Oct14 HMLA-773 DetA /MM-32

UH-1Y
168795 : USMC; Mar15 HMLA-773 Det.A /MM-34

37 serials found for HMLA-773 / HMA-773