From 1968 started at CFB Summerside. This unit previous named 103 RU (Rescue Unit). 103 RU was based at CFB Greenwood.
This unit also flying with fixed wing like the C-130 Hercules and before with the Buffalo.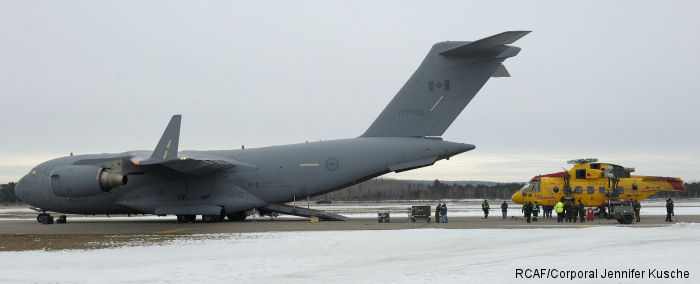 Canada takes part in disaster relief exercise in Peru, 22-Apr-14 : By DND - Aircrews from the Royal Canadian Air Force (RCAF) have deployed to Peru to take part in Exercise Cooperación III, a key Latin American multinational exercise. The exercise, which has a focus on disaster relief, is taking place from April 19 to May 2, 2014.
413 Squadron List of helicopters

Help Us
| | | | | | |
| --- | --- | --- | --- | --- | --- |
| | C/N | Version | Built | In this Org | In other Org |
| | 4009 | ch-113a | 1965 | 11315 : Converted to SAR configuration, Labrador; 424 Sq; 413 Sq; 103 RU; 424 Sq u+ | 10415 : BV-107II-28, c/n 4009, ff?; del Cdn Army as CH-113A Voyageur 10415, 02Apr6+ |
| | 50119 | ch-149 | 2002 | 149911 : superficial damage by polar bear while parked for night at Saglek | |
| | 50132 | ch-149 | 2003 | 149915 : asg 103Sqn pictured (pic1) with 413Sqn C-130 Hercules at Stephenville, Ne+ | |