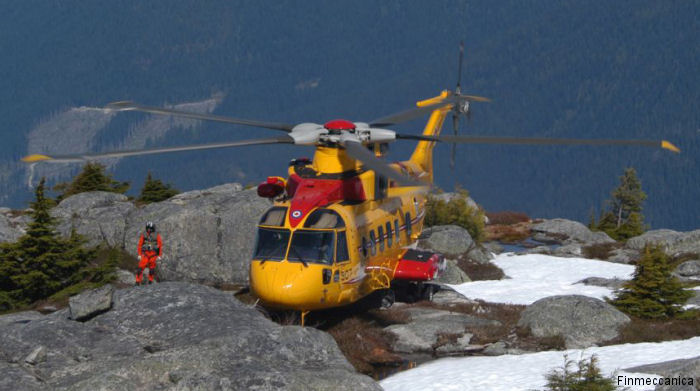 The EH.101 was chosen as Canada new search and rescue helicopter to replaced the
CH-113 Labrador
after the cancellation of the
CH-148 Petrel
.
The first unit to receive the Cormorant was 442 Transport & Rescue Squadron at 19 Wing in
Comox
, British Columbia. The base initially host five helicopters that formed the Operational Training Unit. The remaining ten aircraft were divided between 413 Squadron at 14 Wing in
Greenwood
, Nova Scotia, 424 Squadron at 8 Wing in
Trenton
, Ontario and 103 Squadron at 9 Wing in
Gander
, Newfoundland. Canada has become the first third-party customer to use the Medium Support Helicopter Aircrew Training Facility (MSHATF) at
RAF Benson
for training personnel which includes
British Mk3
flight simulators
In 2011, Canada acquired 7
VH-71
airframes after the US cancelled the
Marine One
replacement program.
In 2017 were announced plans to expand the CH-149 fleet by converting these aircraft and in 2019 was confirmed that the entire fleet will be upgrade to the
AW101 612
standard under the
CMLU
program to allow them to serve beyond 2040
On July 2021, the CH-149 Cormorant fleet reached 100,000 flying hours.
C/N
Built
ID In this Org
In other Org


50054
2000
149901: CSH01/511001, f/f , d/d CFB Comox 03May02

50058
2001
149902: CSH02/511002. d/d CFB Comox 7feb02

50071
149903: CSH03/511003.  d/d CAF 08jul02

50076
2001
149904: CSH04/511004. d/d 20oct01

50080
2001
149905: CSH05/511005. d/d 20oct01

50086
2002
149906: CSH06/511006, pictured

50090
2002
149907: 442Sqn

50098
2002
149908: CSH08/511008. d/d CFB Gander 8jul02

50102
2002
149909: 909 CSH09/511009. d/d 24aug02

50112
2002
149910: CSH10/511010

50119
2002
149911: CSH11/511011

50124
2003
149912: CSH12/511012

50130
2003
149913: CSH13/511013

50134
2003
149914: CSH14/511014; w/o 13jul06, crashed into the sea of Nova Sco+

50132
2003
149915: CSH15/511015