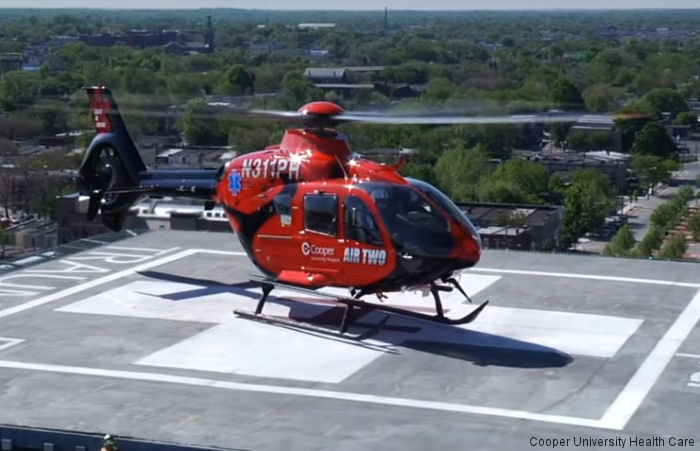 Established 2010, Cooper University Health Care medical helicopters serves New Jerey counties.
Cooper 1
air ambulance services southern Jersey regions flying out of Millville Municipal Airport in Millville, Gloucester County.
Cooper 2
services the northern region with flights originating at the Flying W Airport in Medford, Burlington County serving Burlington, Camden, Gloucester, Atlantic, Cape May, Cumberland and Salem counties.
Both operated by
Metro Aviation
since 2015
News of Cooper University Health Care
Years
Models
Eurocopter EC135P1
Eurocopter EC135P2
Eurocopter EC135T2+


Cooper University Health Care List of helicopters

Help Us
C/N
Version
Built
In this Org
In other Org
0179
ec135p1
2002
N137MH : Cooper Two from , based at Flying W Airport, op by Metro Aviation

N137MH : MedStar
: Metro Aviation from Jul12
N137MH : MedStar Transport by 2016, op by Metro Aviation, pictured

0735
ec135t2+
2008
N282CH : Cooper Air Med /Air1 from Nov15, op by Metro Aviation ; Cooper One

- N13VL : Heli Transport at San Juan, PR Oct08, reser N13VE
N282CH : Metro Aviation from Jan16

0413
ec135p2
2005
N311PH : Cooper Air Med /Air2 at Camden, NJ by 2015 op by PHI; Dec19 still

N311PH : PHI Inc from Feb06; PHI Air Medical from Dec16; PHI Health from Sep19