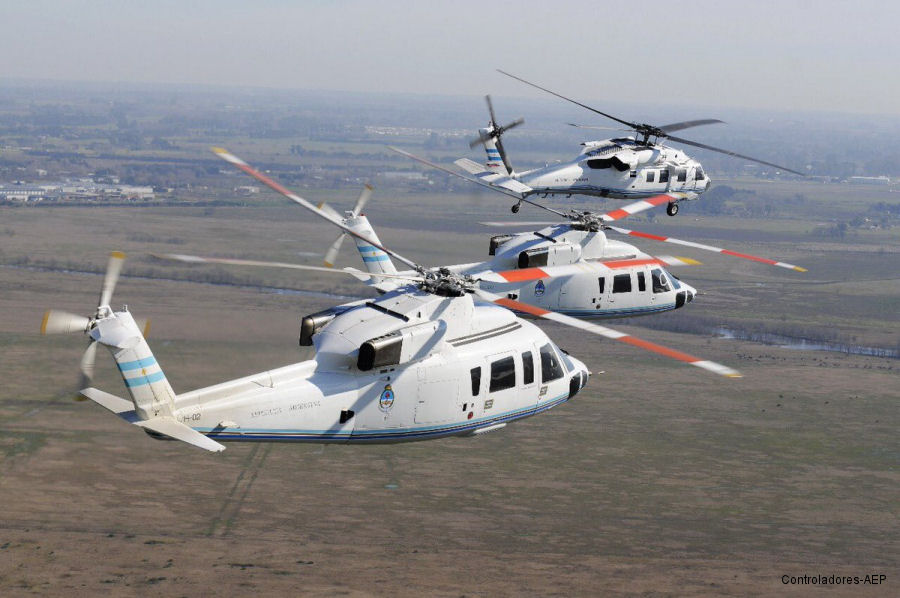 Construction Numbers (Not all in this unit)

Help Us
C/N
Version
Built
In this Org
In other Org
61-763
S-61R
1975
BSH-72: FAA new built d/d 1975; BSH-72 as SAR helo; Final career briefly as VIP H-+

70-2031
s-70a-30
H-01: VIP for Agrupacion Aerea Presidencial d/d 1993
H-01: 27 video at Rosario
H-01: pictured at Rosario airport

58-1464
hus-1
1962
H-01: FAA d/d 1975 S-58DT type as presidential aircraft, ex N-6303; tail failur+

149362: USMC Sikorsky HUS-1 / UH-34J; to N6303
N6303: Carson Helicopters, Perhaskie, PA; conv S-58DT, then S-58ET
LV-OCN: Helicopteros Marinos, ex Argentine Air Force; 1977 sold Court Helicopters/Helicopteros Marinos S.A.;...
N901CH: Construction Helicopter from May85
- N901CH: 05apr12 I believe I have been seeing this flying in and around the Charleston, WV area this week
N942BW: Ballard Aviation at Newton, KS May12-May15; pictured
N942BW: 2014 S-58HT type and in Sydney Australia
- HL9621: Trans Heli, South Korea, departed Sydney Nov15; Will be on fire contracts and construction missions
- HL9621: South Korea

58-740
h-34g.i
1957
H-02: FAA d/d 1975 S-58DT type as presidential aircraft; ex N-7320; 1976 evacua+

80+06: Sikorsky H-34G.I, c/n 58-740, ff?; del W.Germany as H-34G.I, PB+202, 10Dec57; recoded QB+462, unk; r...
N7320: xfer Carson Helicopters, Perhaskie, PA as N7320, unk; conv S-58ET, unk;
N7320: 19feb75
LV-OCM: Helicopteros Marinos dd 1980; ex FAA H-02; apr/jun1982 briefly seized by FAA during Falklands/Malvin...
N902CH: Construction Helicopter from 14may85, [not to be confused with 58-1539]; xfer Aris Helicopter, Jun89...
N392JK: xfer LA County Sheriff as N392JK, 23Jan91; xfer Longranger III, 01Aug00.
- N589S: xfer McMahon Helicopter as N589S, unk; xfer Solley Construction, 29Apr02; xfer 5 State Helicopter as...

760337
s-76b
1987
H-02: VIP for Agrupacion Aerea Presidencial from Jan96; named Virgen de Loreto
H-02: 19:52 hs pictured (pic1) carrying president Fernando De La Rua evacuati+
H-02: 20 pictured (pic2) at Rosario
H-02: Nov14 still

- N984: USA 1988-1995, test serial N7265B

760361
s-76b
1990
H-03: VIP for Agrupacion Aerea Presidencial d/d 2007; ex N7620S; pictured (pic1+
H-03: pictured (pic2) and video at Rosario

- N7620S: 2001-2009, ex N547E; 2007 to Argentina; Jun09 canc

61-466
S-61N
1969
H-71: FAA d/d sep74. ex N82772. wfu 1980. sold as LV-OCL then ZS-HRU. Further re+

N82772: Carson; 09Jul73 damaged at sea; canc 28aug74; to Argentine Air Force as H-71
LV-OCL: HM ex FAA; 1982 Falklands/Malvinas War as SAR; pictured at Buenos Aires
ZS-HRU: Court d/d 03feb87: ex LV-OCL; w/o 17sep92 off Cape Town
ZS-HRU: Wrecked while landing on a ship during adverse weather. Slid on deck and rotor hit a mast and was su...

7 C/N found in this Organisation.