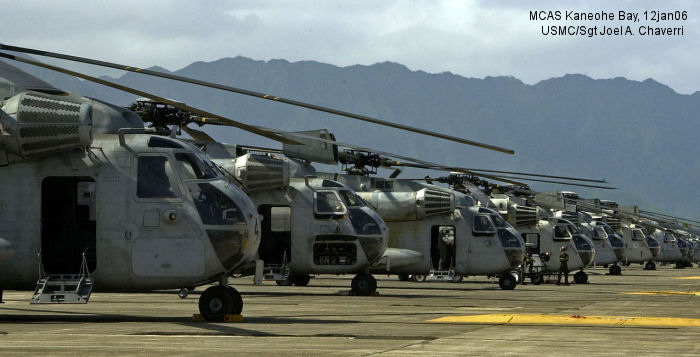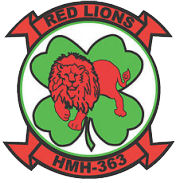 Red Lions
, tail code
YZ
1952 - Marine Helicopter Transport Squadron 363 (HMR-363)
1955 - Marine Medium Helicopter Squadron 363 (HMM-363). First West Coast unit with HUS-1
1969 - Marine Heavy Helicopter Squadron 363 (HMH-363) with CH-53A
October 1972, first unit to operate the CH-53D
Redesignated
VMM-363
on May 2012
---
1955, I was assigned to HMR-363. Jan56 I was part of a forward Det sent to the Marshall Islands for the beginning of operation redwing under the command of major Buzz Sawyer. Early April the main body arrived on the bing ding CVS-116 (USS Badoeng Strait CVE-116). The operation ended in August. HMR 363 spent 9 months overseas and not a mention in any of the history of the sgd lengthy tour, that when the patch with the
atomic blast
was created not the operation in 1955. I hope in someway I have helped fill in a gap in our history. Thanks Jack Childs Sgt us crazy mos 6481.

11aug65, HMH-363 on their way to Vietnam were held on the
USS Princeton
(LPH-5) in Long Beach for 2 days while National Guard Troops were assembled. One of those Marines was my father Sgt. Lloyd (Shakey) Mayes.

1971-May73, I was assigned to HMH-363 in Santa Ana, CA. Great aircraft! I was a crew chief for awhile in 73. Miss the air & the power. The views were incredible over the ocean & beaches of southern Ca. then. I am seeking the history of 363 before 1972. I'd like 2 be able 2 reaquaint with any or all that may be above ground still.

Jun71-Dec73, I was a lucky Red Lion too. I remember quite a few in S-1, supplies, and hydraulics (good old 6055's). My CO, Lt Col V M Lee is probably long gone, but he was a roll model.

1972-1973, I was there at HMH363. Worked in the hydraulic shop and was assigned to presidential support operations at El Toro when Nixon was president. Yep the mos was 6055.

1975-1976 , put together the worst looking CH-53 I had ever seen, YZ-62, hadn't flown in four years and I got selected to put it back together again ! Made it , couple most later we flew it to Vegas for the weekend .