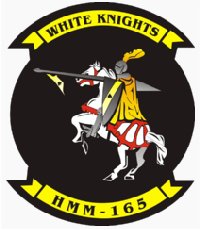 White Knights
, tail code
YW
was formed July 1st, 1965. On 2011 they transitioned to the MV-22 Osprey tilt-rotor and is redesignated
VMM-165
---
1969, I was with HMM-165 when they relocated to Futenma. We were at sea for much of 1969/1970.

1969, I was with HMM 165 in Viet Nam as a crew chief. HMM 165 was the first Marine Corps helicopter squadron to pulled out of Viet Nam in late 1969. Remained aboard ship until at least 1975 when HMM 165 assisted with the evacuation in Saigon. An HMM 165 helo flown by Captain Gerry Berry and crew were the ones who evacuated the ambassador from Saigon! White Knights, call sign Lady Ace. -

1971-1972 I was the crew chief on Blood Sweat and Tears YW-11

Sept71-Aug72, I was crew chief YW-05

1972, I was on board the
USS Tripoli
(LPH-10). HMM 165 was also on board. Choppers had names. "Mo Town Muscle Machine", "Blood Sweat and Tears". Need help remembering the rest. These beaters took us every where. Tough bunch of jarheads manned these planes. Semper Fi

1973 Jan/Dec, I served with HMM-165 (
Operation End Sweep
) as a CH-53 Crew Chief aboard 4 LPHs in the Gulf of Tonkin, South China Sea and Haiphong Harbor doing MCM Ops. Quite a Helo. We used to have over 30 man hours of maintenance per flite hour! Never seen much info on these MCM ops. Steve Eaton. Semper Fi

1977-1980, Dont forget we were also the
Hawaiian Warriors
...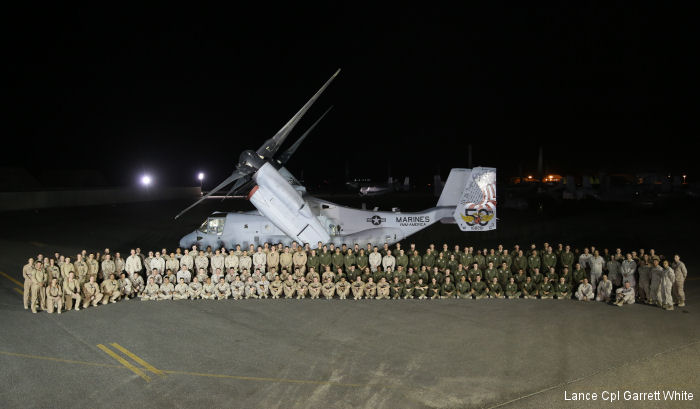 17-Jul-15 -

For 46 years HMM-165, White Knights, flew the CH-46 Sea Knight. In 2011 they transitioned to the MV-22 Osprey and redesignated VMM-165. "Whatever it takes" is celebraring their 50 anniversary
30-Jun-05 -

MARINE CORPS AIR STATION MIRAMAR, Calif. — By Cpl. Skye Jones - More than 40 years ago, Marine Medium Helicopter Squadron 165 was activated at Marine Corps Air Station Santa Ana, Calif., July 1, 1965.
Models