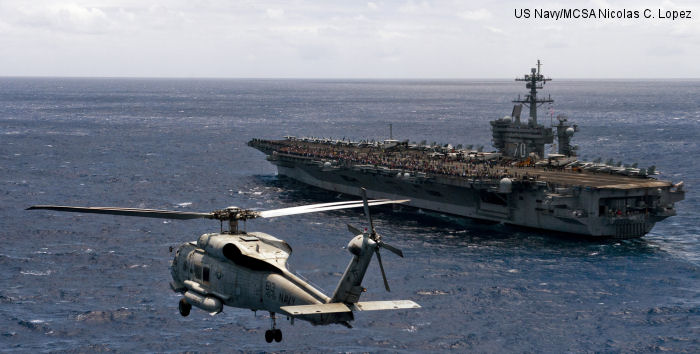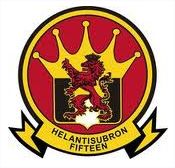 The
Red Lions
, Helicopter Anti-Submarine Squadron FIFTEEN (HS-15) was established on 29 October 1971.

HS-15 completed a deployment aboard the USS Carl Vinson (CVN-70), 12 January 2010 to 12 April 2010, flying the Sikorsky SH-60F and HH-60H. The area of operations was the Caribbean Sea. HS-15 was assigned to Carrier Air Wing 17 (CVW-17) - tailcode AA. The USS Carl Vinson was assigned to the Carl Vinson Carrier Strike Group. On 11 August 2011, Commander Gabriel E. Soltero assumed command of HS-15.

On November 2012, HELANTISUBRON 15 transitioned to the MH-60S Seahawk and is redesignated HELSEACOMBATRON 15 (
HSC-15
)
---
I was at the commissioning of HS-15. We started with only 3 SH-3H helos and slowly recieved 5 more. Once just before deployment on the
USS Guam
(LPH-9) there was a flood in Penn. and we flew air rescue fom Friday thru Sunday night and never shut down one chopper, we hot refueled and had to meet the ship at sea. At sea we flew anti-sub missions and sea air rescue for marines flying Harriers. Definately a unique vertical take and landing aircraft.

Mid-70s I was an antisubmarine warefare operater crewman and SAR wet crewman in HS-15 at NAS Jax. Was aboard USS Guam, Independence and plank owner on the Nimitz. Had SH-3Hs. I was in one crash. Tailrotor drive shaft seized during a refueling op with USS Luce. They pulled us out of the water and dried us off. Cmdr. McCarty was skipper at the time. Great group.

1982-1985, HS-15 SH-3H pilot. Checked in on a Saturday June 1982 and left 3 days later on 6 month deployment on
USS Independence
(CV-62) to the Med as an Ensign (Fleet) pilot for 4 of the 6 months! My 2nd deployment with HS-15 on CV-62 was Oct 1983 - only 6 hours out of Norfolk we were turned south for Grenada ops. Skipper CDR Harve Fielding (w/ LCDR Gerry Carroll copilot) received Helicopter Pilot of the Year award for a rescue of 13 Army personnel. We also performed the rescue of the first successful 4-man ejection of an S-3. Straight to Beirut after the Marine Barracks bombing. Gaddafi had threatened to put a torpedo into an American carrier. LCDR Palko and I were ready to drop a live warshot torpedo on an unknown submerged contact closing the carrier but were not given permission to drop. Very close. My third cruise with HS-15 was 84-85 to the IO as an LT. CDR Arnal Cook USNR RET

2015 HS-15 Red Lions on board the
USS America
(LHA-6)

News of Helicopter Anti-Submarine Squadron Fifteen
HS-15 Officially Transitions to HSC-15, 16-Nov-12 : SAN DIEGO (NNS) by By Mass Communication Specialist 2nd Class (SW/AW) Jonathan P. Idle, Navy Public Affairs Support Element West - Helicopter Anti-Submarine Squadron (HS) 15 officially transitioned to Helicopter Sea Combat Squadron (HSC) 15 during a ceremony, Nov. 15, at Naval Air Station North Island.