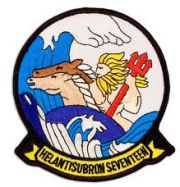 ---
My Husband was one of the plank owners of this squadron, Commander McCamy and the Exec. office was Charlie great squadron, sad to leave them

Jan86-Aug89 served with hs-17. Participated in the bombing of lybia till last cruise for the USS Coral Sea was a pclse and ordenanceman also detachments on
USS Caron

1987-1990, I served with HS-17 as an AO and can promise you that you were not part of that squadron during that time. I did work line division as a plane captain before I went to my shop . Being that no name is mentioned does it happen to be Salters?

Aug88-Jun91, I served as a enlisted Airman with HS-17. We won the Arnold J. Isable award for ASW excellence, the battle E award for our response time Yo help aide in the tragedy of the USS IOWA (BB-61 ) number 2 turret explosion on April 19th 1989 .We had all 6 of our Helicopters in the air in 30 minutes,, we won the Maintenance award for our incredible job keeping them flying.I sailed on the last Med cruise before the USS CORAL SEA CV-43. MY SQUADRON set sail on the USS ABRAHAM LINCOLN CVN-72 right out of Newport News brand new ,we did sea trials with the Big ABE then took her `round the horn ShellBack cruise to San Diego in 1990. I don't want to sound selfish ,but this is the Best Squadron I and my other Shipmates to serve with in the short time She was Commissioned to Her Decommissioning.

1989-1990, I was in HS-17 as the Legal Officer. Had big time family problems and had to step down from flying which virtually ended my career! I enjoyed the Naval Aviator flying experience for the short time it lasted! I still remember being deployed on Coral Sea! She was a very old lady! Lol!

C/N
Version
Built
In this Org
In other Org
61-316
sh-3a
152122 : USN; conv SH-3H; Jan88 as /AK-615 HS-17 on USS Coral Sea (CV-43) Mediterra+

N434RL : US Department of State Jul11-Dec17
- N122WU : US Department of State Dec17-Dec19; auctioned off GSA by 2019
N122WU : Carson from Dec19

61-318
sh-3a
152124 : USN; conv SH-3H; w/o 22aug85 /AK-614 HS-17 USS Coral Sea (CV-43)
: AK614. I was the first crewman (AW2 Brett Norton) and landed on the Coral +

61-373
sh-3d
152708 : 1989 SH-3D type HS-17./AK-612
: 14aug90 pictured as HS-17 /AK-613 USS Abraham Lincoln (CVN-72) over the C+

61-376
sh-3d
152710 : US Navy; 1989 SH-3D type asg HS-17 /AK-613; conv to SH-3G

61-378
sh-3d
152712 : US Navy; 1989 SH-3D type HS-17./AK-610
: USN; conv SH-3H; 25sep90 pictured as /610 HS-17 USS Abraham Lincoln (CVN-7+

N240HJ : LASD Los Angeles County Sheriffs Department d/d 07nov97; ex 152712

61-386
sh-3d
154100 : US Navy; 1989 SH-3D type HS-17./AK-614

61-407
sh-3d
154117 : US Navy; 1989 SH-3D type HS-17./AK-615

61-451
sh-3d
156505 : US Navy; 1989 SH-3H type HS-17./AK-611