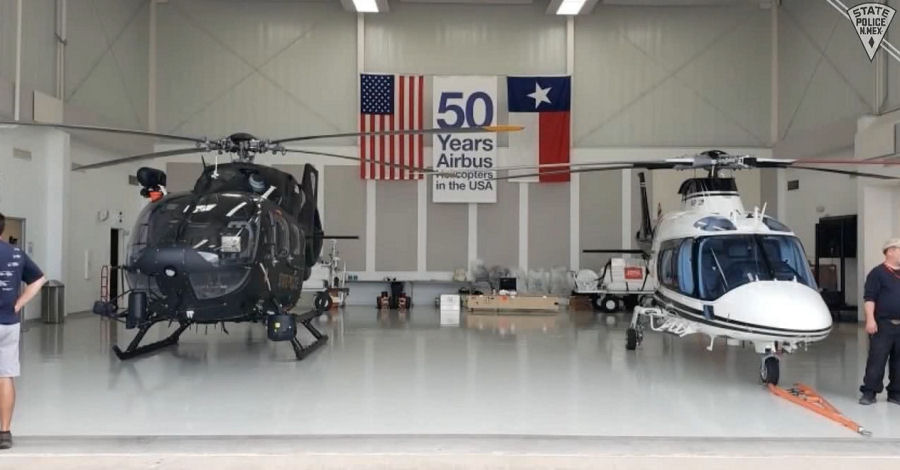 ---
During their tenure at
Holloman AFB
some of the USAF Pararescue Jumperss (PJ) were Brian Berg, Steve Shonk, and Mark Williams. Their civilian counterpart who worked with the
New Mexico State Police Search and Rescue Team
was Bob Heisinger. All four of these guys trained together and went on a number of SAR missions together as well. As I recall, there are several news paper stories involving these four guys and the SAR activities in New Mexico. Brian Berg was an avid international mountain climber with trips to
Argentina
, and Everest. Bob and Brian climbed together quite often. Mark Williams and the flight crew responded to a call to medivac a climber that Heisinger and his crew rescued off of the Steam Boat Ridge area of Alamo Canyon. The rescue occurred at night, in the snow and ice in Mid-February of 1980 in the Sacramento Mountains just outside of Alamogordo, New Mexico. There are many, many more stories tomb told of these guys and the lives that they saved while stationed at Holloman, AFB, New Mexico.

Bill Vargas, former USAF Pararescueman, was selected by the New Mexico State Police to initiate a program that would standardize Search and Rescue mission initiation, coordination, and training throughout the state of New Mexico. Bob Heisinger, also a former UASF Rescue and Recovery Specialist stationed at Holloman AFB, N.M. was given the job of founding, recruiting members and training the State Police SAR Team in District 8, Alamogordo, N.M. On April 10, 1977 the District 8 Team was officially formed and initiated. The USAF Pararescuemen stationed at Holloman AFB joined with Bob during numerous missions, and Bob joined with them during several of their missions.
Both teams worked hand-in-hand on many missions throughout the Southwest. In mid October of 1990, Bob was called to the Three Rivers Campground to search for 7 year old Steven Cooper, who had become lost in the wilderness area. The initial search was conducted at about 9PM the evening of the first day by Bob Heisinger and his son, Jim, along with a Lincoln County Deputy Sheriff. The next morning more than 200 searchers were in the area searching for seven year old Steven. At about mid day the SAR Coordinator from Las Cruces, N.M. requested that Bob take two teams to the top of the trail to be inserted by helicopter, and work the high country back down to the campground. Heisinger, his son Jim, and Jeff Coburn were flown to the top of the trail, approximately 10,000 feet above sea level. Another team was dropped on another ridge that lead to the trail area Heisinger and his team would be searching. About fifteen minutes after being dropped off Jeff Coburn discovered Steven Cooper lying in the fetal position near a stream. He was only wearing long pants, tennis shoes and a t-shirt. Bob reached the boy first and immediately began to treat him for hypothermia.
Jim Heisinger rendered first aid, while Jeff Coburn made preparations to move Steven out of the area. Bob carried Steven in front of himself with Steven's arms around his neck and feet around his waist. Jeff wrapped a wool blanket around the front of them and safety pinned it into place. The five mile journey down the mountain was difficult. But with continued medical care administered by Jim Heisinger and the trail blazing efforts of Jeff Coburn, a former US Army Ranger, Steven was delivered back to the camp ground and loaded on a waiting N.M. State Police helicopter for transport to the hospital. This is one of many successful searches and/or rescues executed by the N.M. State Police SAR and the UASF Pararerscue in New Mexico. The current name of the SAR Team in District 8 is the Alamogordo Search and Rescue; which was incorporated by Robbin Stebbins in 1984.

In late November 1982 an unusual snow storm occurred in southern New Mexico during the last deer hunting rifle season for the year. Hundreds of hunters were caught off guard and became trapped by the enormous snow fall. Among some of the many persons reported missing was a hunter visiting from Texas and camped in the Bear Canyon area of the Sacramento Mountains. The hunter was in camp tending the fire when he noticed a buck moving just along the nearby tree line. All other hunters and family members were away from the camp either hunting or gathering supplies from nearby town of Mayhill. The hunter acquired his 30-30 lever action rifle and set out after the deer. He would soon realize that he was completely unprepared for the events that would follow. At around 2PM members of his family and hunting partners returned to camp and realized that the hunter was not in camp and that his rifle was missing.
Unfortunately his survival kit was located in camp. The hunter had no water, food, coat or matches, and was dressed only in a light jump suit and boots. About an hour into his stalk an extremely heavy snow began to fall, and the hunter realized that he was lost, not sufficiently prepared, and unable to find his way back to camp. Family members contacted the New Mexico State Police, who immediately contacted State Police Officer Dave Skinner, Search and Rescue (SAR) Initiator. Officer Skinner initiated a SAR Mission for the lost hunter. Bob Heisinger, having just completed a successful search for a lost hunter in the area of Joplin Ridge, was contacted by State Police Dispatch in Alamogordo by radio and advised of the Bear Canyon SAR Mission. Heisinger, along with Ray Bollinger and Bill Overton, immediately left Joplin Ridge in route to Bear Canyon. The SAR Team arrived on scene at around noon the day after the hunter became lost. During the interview of those persons in the hunting camp the SAR Team learned that the hunter had been missing for about twenty-four hours in very heavy snow. Mounted upon horseback, Bob Heisinger and John (Civil Air Patrol Radio Operator) rode to a high ridge to gain a commanding view of the primary search area. Bill Overton remained in camp to relay information to and from friends and family members of the lost hunter. Ray Bollinger, also on horseback, skirted the east side of the valley in an effort to utilize as much remaining daylight as possible.
John had made contact with the
40th ARRS
at Holloman AFB, NM and requested their assistance. Pararescue had just returned from a SAR Mission in the Gila Wilderness of southwest New Mexico. One of the hunters they were searching for was injured and unable to walk. His hunting partner established a rather impressive hasty campsite and left his friend in a tent at that location as he departed for help on foot through more than two feet of fresh snow. Pararescue located the lost hunter at the campsite, treated his injuries and loaded him onto the helicopter for transport to the hospital. As they departed the area they continued to search for the other missing hunter. About two miles from the campsite the air crew located the frozen remains of the other lost hunter. Pararescuemen confirmed that the would be rescuer gave his life in an effort to save his friend. Pararescue contacted John by radio and advised him that they were refueling at Holloman AFB and would be airborne; in route to our location within fifteen minutes. As CAP was in contact with Pararecue, Bill Overton was in radio contact with Bob Heisinger. Overton advised Heisinger that Ray Bolliinger located the lost hunter and had returned him to camp. Bob and John made their way off of the ridge and arrived to the camp just after dark.
Upon their arrival to the camp Bollinger advised Heisinger that the hunter was inside a camper and that they had initiated rewarming procedures. Later that evening Heisinger learned that the hunter had fallen in the snow, resulting in the rifle barrel becoming filled with snow. He was unable to signal for help and had no survival gear whatsoever. Ray found him standing by a tree, unresponsive to verbal commands, extremely cold, and unable to move. Ray was able to position his horse down hill from the hunter and simply pushed him over onto the saddle. He then lead the hunter and horse back to camp on foot through more than two feet of snow. The most remarkable aspect of this event is that Ray Bollinger was only sixteen yeas old and of much smaller physical stature than the six foot three inch Texan. The hunter returned to Texas without any permanent physical injury.

News of New Mexico State Police
New Mexico State Police New H145, 30-Oct-20 : #NewMexico New Mexico State Police (NMSP) aviation unit received a new Airbus EC145T2/H145 to replace the AgustaWestland AW109E Power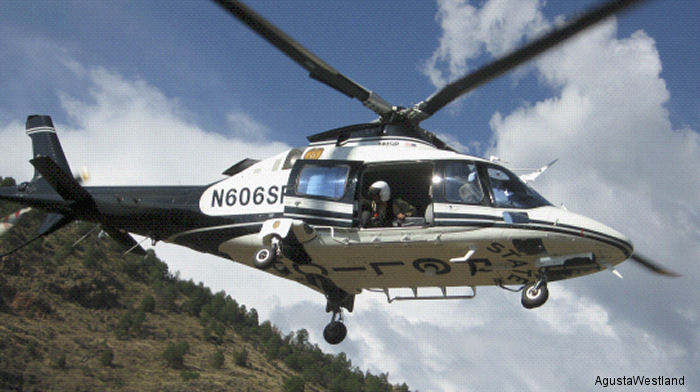 New Mexico State Police AW109 at ALEA 2015, 14-Jul-15 : AgustaWestland will feature New Mexico State Police's AW109 Power at the 2015 Airborne Law Enforcement Association (ALEA) Expo taking place July 15-17 in Houston
Years
Models
AgustaWestland AW109E Power
Airbus Helicopters H145 / EC145T2


New Mexico State Police List of helicopters

Help Us
C/N
Version
Built
In this Org
In other Org
11209
aw109e
2003
N606SP : New Mexico Department Of Public Safety from Dec03; New Mexico State Police+

11741
aw109e
2009
N606SP ABLE6 : New Mexico Department Of Public Safety Mar10-Nov19, pictured; New Mexico +

N606SP
- N126JJ

20174
h145
2017
N607SP ABLE7 : New Mexico State Police Aircraft Section (NMSP) at Santa Fe, NM from Nov19+
:

N443AH