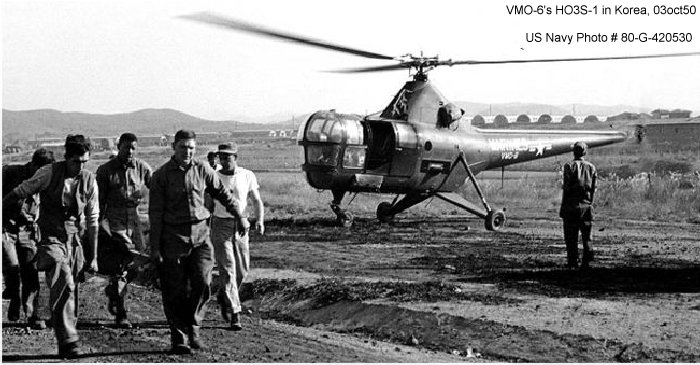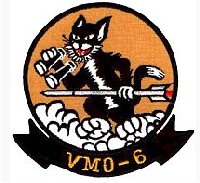 Tomcats
, tail code
WB
received their first helicopter, the Sikorsky HO3S-1 (H-5) in 1950. They played an active role in Korea (pictured), where they replaced it later with Bell 47s and then again in the Vietnam War with the turbine powered Hueys UH-1E. The squadron was deactivated on January 1, 1977. Visit the
VMO-6 Memorial
for more information
In Jul 1950, the unit received 4
HO3S-1
, alongside fixed wing OY-2 observation aircraft, to become worlds first mixed squadron (rotary and fixed wing).
It arrived in S Korea on 2 Aug 1950 and distinguished itself 2 days later, rescuing wounded from a battlefield near Chindongni.

---
I was a crewchief with VMO-6 during my tour in Nam 1967. The location listed Chu Lai airfield the helicopters of VMO-6 was located about 6 miles north of Chu Lai is where Marine helicopters were, name Ke-Ha (spelling?) south of Tam ky on the Map. During the summer of 1967 We relocated up north to Quang tri combat base several miles south of Dong Ha and the hell begin. Sempi-Fi, A.L Sutton, Cpl USMC crewchief VMO-6 1967

The correct Spelling for ""Ke Ha" is Ky Ha. On September 1, 1965, MAG-36, 1st MAW, disembarked from the USS Princeton to what became the Marine Corps Airfield, Ky Ha. VMO-6 was among the several MAG-36 squadrons to disembark, making a helicopter assault on that area. The MAG-36 had to provide it's own security while at Ky Ha due to no availability of Marine Corps grunt forces. The Ky Ha Airfield was not prepared and ready for the MAG-36 arrival and had only just begun building the heli pads. All MAG-36 personnel had to live in field conditions for several months until the whole airfield had been completed. This was during the monsoon season, beginning days after landing in South Vietnam. Living conditions were horrific. Regardless, VMO-6 and MAG-36 began operations in the Vietnam War within several days after it's arrival on September 1, 1965. I was assigned to VMO-6, MAG-36, 1st MAW, Republic of South Vietnam, then LCpl R L Britt, USMC. I departed VMO-6 on September 12, 1966, heading for MCSC, Albany, Georgia.

C/N
Version
Built
In this Org
In other Org
6016
UH-1E
151281 : VMO-6 w/o 07feb68
: VMO-6 /WB-9, I was the crew chief, we went back to Lang Vey to get a SOG m+

6017
UH-1E
151282 : VMO-6 w/o 14jan67

6021
UH-1E
151286 : VMO-6 w/o 10may67

6024
UH-1E
151289 : VMO-6 w/o 25feb68

6026
UH-1E
151291 : VMO-6 w/o 15feb68

6029
UH-1E
151294 : VMO-6 w/o 07jun68

6030
UH-1E
151295 : VMO-6 w/o 07nov68

6036
UH-1E
151842 : VMO-6 w/o 18aug67

6046
UH-1E
151852 : VMO-6 w/o 05apr67

6052
UH-1E
1965
151858 : USMC d/d Jun65 MCAS New River, NC; Jun65-Feb67 VMO-1 MCAS New River, NC; +

N121FC : US Forest Service 1987-2002

6057
UH-1E
151863 : VMO-6 w/o 02oct68

6058
UH-1E
151864 : VMO-6 w/o 18may68

6066
UH-1E
151872 : VMO-6 w/o 06feb66

6067
UH-1E
151873 : VMO-6 w/o 14nov66

6090
UH-1E
152424 : VMO-6 w/o 28feb69

6091
UH-1E
152425 : VMO-6 w/o 18may69

6125
UH-1E
153759 : VMO-6 w/o 08jul68

6127
UH-1E
153761 : VMO-6 w/o 24mar68

6133
UH-1E
153767 : VMO-6 w/o 26aug68

6144
UH-1E
154760 : USMC VMO-6 as WB-15; Aircraft flown by Maj Stephen Pless during the actio+

6145
UH-1E
154761 : VMO-6 w/o 25apr68

6189
UH-1E
154967 : VMO-6 w/o 11jun70

6190
UH-1E
154968 : VMO-6 w/o 11apr68