Wednesday September 8, 1999
US Marines Introduce New Helicopter
WASHINGTON ( AP ) - It's a plane. It's a helicopter. And judging by the cheers from Pentagon brass and members of Congress, it could be something of a Superman of military aircraft.
Looking oddly old-fashioned as a fixed-wing plane, with two oversized propellers, the Marines' MV-22 Osprey transforms itself into the helicopter of the future.
After a swift pass up the Potomac River past the Washington Monument on Wednesday, the rotors on the first production model smoothly tilted up, setting it down easily on a patch of grass at the Pentagon.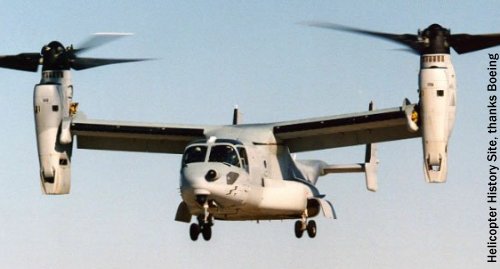 Basically, the Osprey converts from a helicopter into a speedy fixed-wing plane in 20 seconds, offering new capabilities for troop deployment, drug interdiction and search and rescue, including hostage rescue.
``It's going to change the way in which we approach everything from assault operations to disaster relief to humanitarian aid and peacekeeping,'' said Defense Secretary William Cohen, welcoming the Osprey before a crowd of Pentagon officers, members of Congress, diplomats and other guests.
``The V-22 is going to cut our response time from weeks down to days and days down to hours,'' Cohen said.
The twin-turbine, vertical-lift, tiltrotor aircraft, also known as a convertiplane, had its first test flight a decade ago, but is being touted by the military as a key warfare and peacetime military technology for the future.
``This is the revolution in military affairs,'' said Cohen, describing the aircraft as the ``epitome of what our forces will need and what they will become in the 21st century.''
Cohen compared the potential impact of the tiltrotor with that of the aircraft carrier in World War II and the use of modern bombers and jet fighters in Kosovo.
The aircraft flies at twice the speed, has four times the range and carries twice the payload of the aging CH-46 helicopters it will replace. A CH-46 landed alongside the Osprey and a sleek tiltrotor test prototype, the XV-15.
The Marines have plans for 360 of the MV-22s by 2013. The Air Force is expected to order 50 of another version, the CV-22, and the Navy 48 HV-22Bs for combat, special warfare, logistics support and search and rescue.
Jointly produced by Bell Helicopter Textron of Fort Worth, Texas, and Boeing Co., in Ridley Park, Pa., the world's first production model tiltrotor aircraft can achieve speeds over 400 miles per hour and an altitude of 25,000 feet. It is designed to carry up to 24 troops or external loads of 15,000 pounds. It can fly 2,000 miles and land on a dime.
Rep. Curt Weldon, R-Pa., who with several other members of Congress flew in on the V-22, said the program has strong bipartisan support. Lawmakers rejected efforts by the Bush administration to kill the plane, criticized for its high cost and safety.
The House has approved $856 million to buy 11 next year - one of the biggest items in the defense budget. Early safety concerns plagued the innovative aircraft, but builders say modifications from the original design have made it lighter and safer.
Cohen said the Osprey production schedule is ``on time and within budget.''