Friday December 1, 2000
Bell/Agusta Achieves Civil Tiltrotor Milestone Mates Wing and Fuselage for First Prototype BA 609 Tiltrotor
Fort Worth, Texas, USA ( Bell/Agusta Aerospace Company Press Release ) - The first wing and the first fuselage for prototype #1 of the Bell/Agusta 609 were mated on November 29, 2000, at Bell's Flight Research Center, Arlington, Texas.
First flight for the BA609 is scheduled for late next year, with FAA certification planned for 2003, with deliveries to follow. Bell/Agusta Aerospace Company is a joint venture between Bell Helicopter Textron and Agusta, a Finmeccanica company, to design, develop, produce and market the BA 609 civil tiltrotor and the AB139, which is a conventional new medium twin engine helicopter. The company will produce a total of four prototype tiltrotor aircraft for flight testing and certification.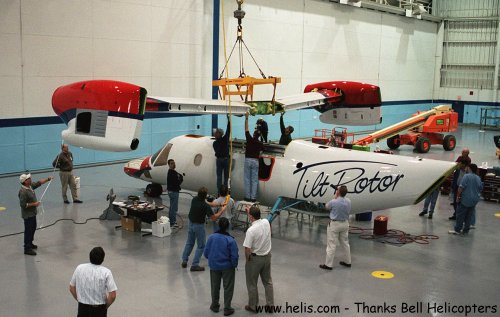 Bell/Agusta reports 83 advance orders for the 609 tiltrotor from 44 different customers in 23 different countries. Final assembly for production aircraft will take place at Bell's Amarillo, Texas facility. Final assembly will also take place at the Agusta plant in Italy. Fuji Heavy Industries of Japan has the contract to build all of the production fuselages for the BA609. All parts and components for both lines will come from the exact same source, yielding aircraft that will be identical whether assembled in Italy or Texas. Headquarters for the Bell/Agusta Aerospace Company is located at Alliance Airport in Fort Worth, Texas. BA609 customer training will be conducted at this location, which will also serve as a delivery center.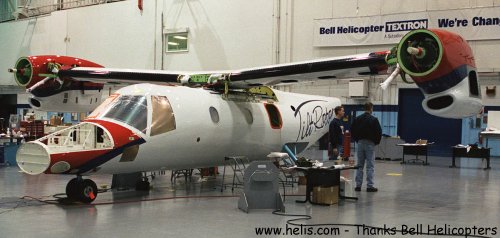 With its rotors in the vertical position, the tiltrotor is able to take-off, land and hover like a traditional helicopter. When the rotors are tilted forward to the horizontal position, the aircraft is able to fly with the high speed and range of a turboprop fixed wing airplane. The transition from helicopter mode to airplane mode takes 20 seconds, as does the transition from airplane mode to helicopter mode. This versatile capability enables the BA609 to fly with twice the speed and range of conventional helicopters.
The BA609 will cruise at 275 knots with a maximum unrefueled range of 750 nautical miles, 1,000 nautical miles with auxiliary fuel tanks. The aircraft in standard configuration is fully pressurized and de-iced. The BA609 offers many advantages over other forms of vertical flight transportation currently used. Helicopters have reached their physical performance limits while tiltrotors offer unique flexibility, increased productivity, lower operating costs (versus helicopters) and can replace mixed fleets of helicopters and fixed wing aircraft.