Wednesday July 19, 2000
MD Helicopters selects Kaman Aerospace to suply rotor systems for MD Explorer helicopter
BLOOMFIELD, Conn., USA ( Kaman Aerospace Press Release ) - MD Helicopters, Inc. (MDHI), Mesa, Ariz., has selected Kaman Aerospace Corp. to supply composite rotor blade systems for MDHI's popular MD Explorer helicopter.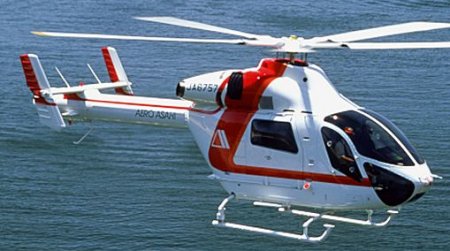 The multi-year contract, including options, has a potential value of $75 million to Kaman. The five-bladed rotor system sets will be manufactured at Kaman Aerospace facilities here and delivered to MD Helicopters' assembly plant in Mesa. The agreement calls for Kaman to supply rotor systems at a rate of one shipset each week with deliveries expected to begin in the first half of 2001.
This is MDHI's second major award to Kaman. In April, Kaman was selected as the sole supplier of fuselages for MDHI's entire line of single-engine MD 500 and MD 600 Series helicopters. That multi-year program has a potential value of $100 million. Work on the fuselages is being performed at Kaman's Moosup, Conn., plant, and at facilities in Jacksonville, Fla.
Walter R. Kozlow, president of Kaman Aerospace, said, "MDHI is an excellent company and is fast gaining a major foothold in the world commercial helicopter market. We are proud to be associated with them, and appreciate their confidence in our capabilities to support these important programs."
The MD Explorer is an eight-place, twin-engine helicopter in service with a number of countries performing Emergency Medical Service missions, law enforcement, executive transport, and utility work. The Explorer is also in service with multiple international military and coastal patrol operations.
Kaman Aerospace also manufactures its own helicopters, the multi-mission SH-2G Super Seasprite maritime helicopter and the K-MAX medium to heavy lift helicopter. In addition, Kaman is a major subcontractor for commercial and military aircraft, and is a leader in electro-optics, arming and safing devices for missiles, and other advanced technology products.

MDHI is a subsidiary of RDM Holdings N.V., Netherlands, Antilles. In addition to its aerospace activities, RDM also builds submarines and other defense products. RDM created MD Helicopters through its purchase of the commercial light helicopter line from The Boeing Company in February 1999.