Wednesday May 29, 2002
MV-22 Resumes Flying, Exceeds Expectations
PATUXENT RIVER, Md, USA ( US Naval Air systems Command Press Release ) - The MV-22 Osprey took to the skies May 29 here for the first time after being grounded for over 17 months following the tragic Dec. 11, 2000 mishap. The first MV-22 test aircraft to resume flying has improvements in its hydraulic and flight control software systems that make it practically a brand new aircraft and the safest Osprey yet, according to V-22 program officials.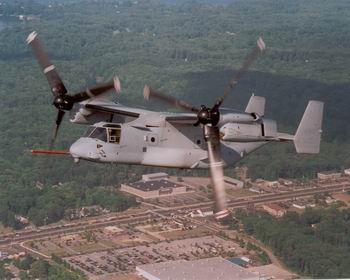 "The long awaited return to flight was a success. The Osprey not only performed what today's test plan called for but exceeded our wildest expectations," said Col Dan Schultz, V-22 program manager. Today's flight plan called for the aircraft to take off, hover, and land. After successfully completing several vertical takeoffs, landings, and hovering maneuvers over the runway, the pilots conducted rearward and sideward flights to check the aircraft's maneuverability in helicopter mode. The pilots gradually built up maneuver speeds up and down the runway, went into landing pattern circuits and began conversion work. Later in the afternoon, the Osprey's encore performance included a full conversion to airplane mode at level flight speeds of 250 knots. The Osprey logged nearly two and one half hours of flight time today and returned in full up flight status.
Tom MacDonald and Bill Leonard, senior Bell Boeing V-22 Integrated Test Team pilots, who have a combined total of 13,000 flight hours in both fixed and rotary wing aircraft and over 500 hours each in the MV-22, took the aircraft through a series of maneuvers to evaluate its handling and performance. Part of this series included converting out from helicopter to airplane mode to take standard vibration measurements to check out the tracking and balance of the individual blades of the two proprotors. This "test card" for the first flight series follows the Osprey's methodical and event driven approach to safely return the aircraft to flight testing.
"Along with everyone else on the V-22 test team, we are excited about being back in the flight test business. We are proud of the extensive safety and reliability enhancements to the Osprey's design, which was made possible by the concerted efforts of many people throughout the NAVAIR, Bell Boeing, Rolls Royce and supporting contractor teams," asserted MacDonald.
Leonard shares the excitement of being back in the air and moving forward with flight testing. "I'm dedicated to the concept and believe tilt rotor technology will be as important to aviation as the advent of the jet engine. This aircraft has potential that we in the aviation community have yet to understand let alone exploit. I've been actively engaged in military and civilian aviation for over 35 years, flown well over 100 different aircraft and truly believe that this technology, if exploited properly, will impact both civil and military aviation to an incredible degree," he said.
In preparation for today's flight, several days of aircraft ground runs and a systems checkout were conducted so both pilots would have further opportunity to re-acquaint themselves with the V-22 cockpit prior to the actual flight. "To ensure that no stone has been left unturned in our pursuit of safety and excellence, the entire process was structured and viewed by the V-22 Integrated Test Team as a true first flight, almost as if the aircraft had never flown before and was making its maiden flight," said MacDonald.
As part of the training for this flight, Macdonald and Leonard had a dress rehearsal simulation at the Manned Flight Simulator which allowed them to practice the first flight following the actual test cards and procedures developed for it with the telemetry room engineering team directing the flight and monitoring the progress and instrumentation in the control room.
Today's flight marks the beginning of an 18-month developmental flight test plan here that will validate the engineering and design changes made to the aircraft and continue with developmental testing that will further test such areas as vortex ring state boundaries, dynamic shipboard compatibility, formation flying, and low speed hovering and landing conditions. Other areas to be tested include the aircraft's icing, cargo handling and radar warning systems. A total of 1800 flight test hours are scheduled over this period of time using seven MV-22 aircraft.