Monday November 5, 2007 :
CHC Helicopter Corporation Signs A Contract For Thirteen AW139 Helicopters
UK / Italy : ( AgustaWestland Press Release ) - AgustaWestland is pleased to announce that CHC Helicopter Corporation through its global helicopter support division, Heli-One, has signed a contract for thirteen AW139 medium twin helicopters. The order value is worth approximately 140 million dollar. This new order, which adds to the previous one for twenty AW139s, will further expand CHC's AW139 fleet dedicated to offshore and emergency medical service missions. CHC, as the world's largest provider of helicopter services to the global offshore oil and gas industry, started incorporating the AW139 helicopter into its fleet in 2005 as part of its fleet renewal and expansion plans.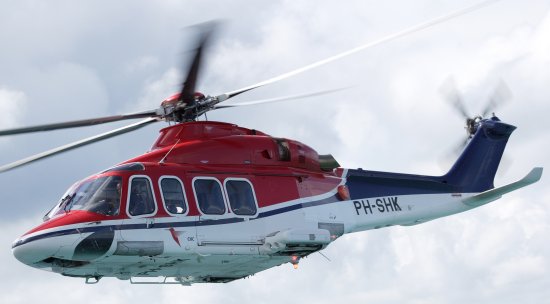 Renzo Lunardi, Senior Vice President Commercial Business Unit, AgustaWestland said "We are proud and delighted that a leading operator such as CHC, by executing this contract, has committed to add additional AW139s to its fleet of aircraft. The AW139 is the best selling medium twin engine helicopter in the world and will enable CHC to deliver improved levels of performance, safety, capacity and comfort to its customers."
The AW139 has quickly become the twin engine helicopter of choice for offshore oil and gas support operations with sales of over 100 aircraft for this market. The AW139 is ideally suited for the offshore role, with its large cabin and baggage compartments allowing it to transport 12 to 15 passengers while offering ease of access and egress by way of its large sliding cabin doors. The AW139's excellent characteristics including its roomy and unobstructed cabin make this helicopter an ideal choice for EMS and SAR applications as well. CHC is progressively expanding and strengthening its capabilities in emergency medical services and search and rescue markets, offering increased capabilities and improved services. CHC was awarded a contract in March 2007 to operate three AW139s in Australia providing improved emergency medical and rescue services 24 hours a day, seven days a week.
Almost 300 orders have been placed by more than 80 customers from over 30 countries to date, making it the benchmark helicopter in the medium twin category. Designed with inherent multi-role capability and flexibility of operation, the AW139 can perform many roles including offshore transport, search and rescue, emergency medical service, VIP/corporate transport, law enforcement and utility missions.