Helicopter Westland Whirlwind HAR.4 Serial wa 29 Register 8730M XD186 used by Royal Air Force RAF. Built 1954. Aircraft history and location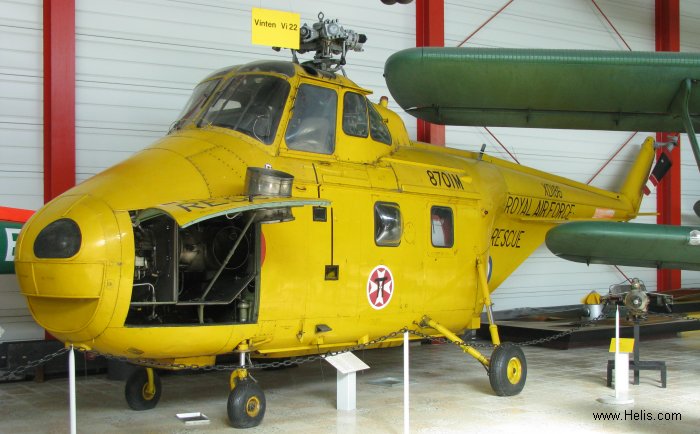 XD186

Royal Air Force

Westland Whirlwind HAR.10 RAF f/f Aug 1954, d/d Nov 1954 to 155 Sq
crashed 11 Sep 1958 and for repair and conv to HAR.10 by Westland
To CFS Helicopter Flt Dec 1959
crashed 18 Jan 1962 To Westland for repair
to 228 Sq on 1 Jan 1963 for SAR duty
202 Sq on 1 Sep 1963
22 Sq A flt by 1981, when it was grounded. 202 Squadron
1989-07-26

A

EGDC
Air Day 89 HAR.10 type preserved at Chivenor Air Day
preserved Hermeskeil Air Museum, Germany as RAF Rescue 8701M



8730M

Royal Air Force
1993-12

B

Hermeskeil Air Museum
Assigned a maintenance serial 8730M in May 1982 and on display at RAF Chivenor, still Sep 1988
To Hermeskeil Dec 1993
boomless by Sep 1994 (boom attached by Aug 2006 to XP352/8701M)
still there May 2010 outdoors, boomless
[The main image on this page shows XP352 with the boom of XD186].