Helicopter Sikorsky HH-3F Pelican Serial 61-586 Register 1430 used by US Coast Guard. Built 1968. Aircraft history and location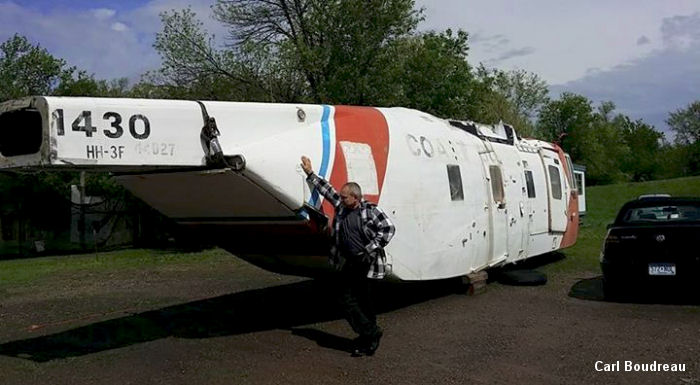 ID
New Layout

1430


US Coast Guard
This was the first HH3F delivered to the USCG by Sikorsky. It was depected on the cover of the USAF Technical Pubs used by USCG Helicopter support staff. Upper portion of Cockpit was cut off by main rotor blades when helicopter landed short of plateau and pitched up as it encounterd hillside. This was a full ground autorotation training excersise that obviously failed badly and was discontinued as a practiced skill. I crewed in this airframe in 1975 at CGAS Kodiak. The caulking on the seam where they replaced the entire cockpit was clearly visible then Coast Guard Air Station Kodiak

1430


US Coast Guard
apr69 to jul71 (aprox) at CGAS Brooklyn Coast Guard Air Station Brooklyn

1430


US Coast Guard
21jul71 09:05hs helo operations USCGC Reliance (WMEC-615) at 23 degrees 23 minutes north latitude 26 degrees and 90 degreed 50 min west longitude. 355 miles from Corpus Christi, TX and 260 miles from New Orleans MedEvac SK2 James Monko with an amputated left ring finger to Public Health Hospital New Orleans. 0917 hours injured hoisted up in basket off of Reliance flight deck. Flight ops secured 0918 hours. CGC RELIANCE LOG QMCS Robert C Lee. Coast Guard Air Station Corpus Christi

1430


US Coast Guard
23Nov92 to AMARC/440027

1430



17may15 (bot) wreckage at an Airsoft field in Baldwin, WI. They just had it delivered.
| | |
| --- | --- |
| | |