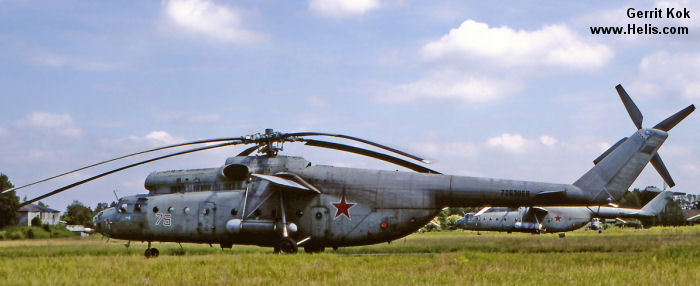 A Heavy transport helicopter, the Mi-6 (or V-6) was by far the worlds largest helicopter when it was designed with a maximum load capacity of 12,000 kg. It was also the worlds fastest helicopter with a top speed of 300 km/h (190 mph). More than 900 units were built between 1960 and 1981.

Construction Number structure: YYBBNN, e.g. c/n 716002
71 built in 1971
60 is the batch number
02 serial within the batch

Model
Year
History
Mi-6A
Mi-10 Harke
1963
Mi-12 Homer
1968
Design work began around 1959, with construction starting in 1965. First successful flights were in 1968; and the type was formally announced in ...

List of Operators of Mil Mi-6 Hook
| | |
| --- | --- |
| From | Organisation with model Mi-6 Hook |
| 1974 | |
| 1986 | |
Construction Numbers on database of Mi-6 Hook or its versions