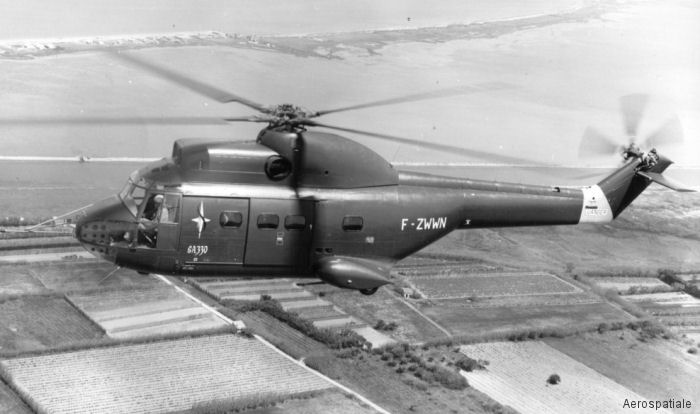 A twin-engined all weather, day or night transport helicopter, the Puma was originally developed as the
Sud Aviation SA 330A Alouette IV
to fill an Aviation Legere del l' Armee de Terre (French Army Aviation,
ALAT
) requirement for a medium troop transport helicopter following its experiences in Algeria.
It was the third helicopter to be added to the
Anglo-French helicopter agreement
along the Gazelle and Lynx, selected (as the SA.330E) to satisfy the
RAF
s Tactical Transport Programme.
Puma has a four blade main rotor and a five blade tail rotor, with a small, port side stabiliser opposing it. The main body is a semi-monocoque, all metal, pod and boom structure, covered in a stressed metal skin, all supported on a retractable, tricycle undercarriage. It also features a large, jettisonable, sliding cargo door on each side.
First prototype (F-ZWWN) flew on 15 Apr 1965. The last of 6 pre-production airframes flew on 30 Jul 1968. It has proved an excellent platform for technical development, leading to several versions and it formed the basis of the
AS332 Super Puma
model.

Production by Aerospatiale ceased in 1987 by which time a total of 697 airframes had been built
Model
Year
History
SA330B Puma
1968
French Army production version powered by 1185 shp Turbomeca Turmo IIIC4 engines

SA330C Puma
1969
First export production version powered by 1400 shp Turmo IVB engines

SA330E Puma
1970
First flight November 25, 1970 produced by Westland as the Puma HC.1. 48 built, all but ZA941 for the RAF.

SA330F Puma
1970
Civilian export version powered by 1185 shp Turbomeca Turmo IIIC4 engines

SA330G Puma
1974
Upgraded civilian version with 1575 shp Turbomeca Turmo IVC engines

IAR 330
1975
Aerospatiale SA.330L Puma licence-built version manufactured in Romania

SA330J Puma
1975
Civilian transport version with composite rotor blades and with higher maximum takeoff weight

SA330H Puma
1976
Upgraded airframes with Turbomeca IVC engines and composite main rotor blades

SA330L Puma
1976
Military version of the SA 330J Puma, both based on the SA 330H. Main rotors of glass fibre and carbon fibre composite materials with a stainless ...

AS332 Super Puma
1978
Developed from the successful SA.330, the Super Puma first flew on 13 September 1978. Fitted with twin 1330kW Turbomeca Makila 1A turbine engines ...

IPTN nsa330 puma
1981
license produced in Indonesia, airframes listed under Aerospatiale SA330.

NSA330J Puma
1981
NSA330J produced under license by IPTN in Indonesia

EC Puma Mk2
2012
Twenty four Royal Air Force Puma HC.1 modified by Eurocopter France at Marseille (4) and Eurocopter Romania (20) under the RAF Puma Life Extensio ...