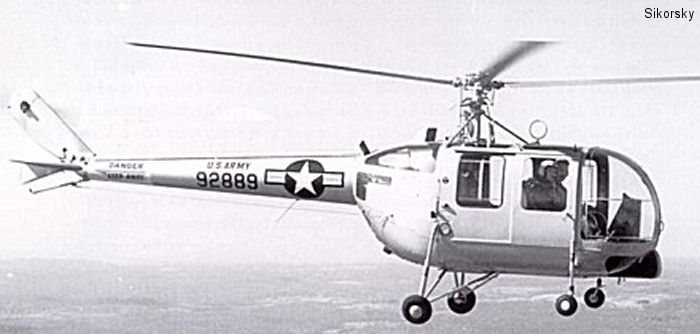 First all-metal rotor blades helicopter in US. First flight February 12, 1947. 93 units built serving with the Marines and USCG and after retirement many introduced into the civilian market by Orlando Helicopters who acquired the parts inventory from Sikorsky.
In 1949, the S-52 was the first ever helicopter to loop and roll (See videos)

Model
Year
History
S-52-1
1949
Civilian 4-place utility helicopter, 3 built.

S-52-2
1950
Improved 4-place utility helicopter, 1 built. Later converted to S-59 turbine powered prototype.

HO5S-1
1952
Improved 4-place light observation and utiliy helicopter for USMC, 79 built.

HO5S-1G
1952
Utility version of HO5S-1 for USCG, 8 built.

YH-18
1952
Utility observation helicopter for US Army, 4 built. Two modofied into S-59 / XH-39 turbine powered prototypes.

S-52-3
1954
Civil designation for 4 place light observation and utiliy helicopter equivalent to military HO5S-1.

S-59 XH-39
1954
US Army's first turbine-powered helicopter, developed from the S-52. Rejected in favor of the Bell 204 (UH-1 Iroquois)

VAT Hummingbird
1991
Vertical Aviation Technologies at Sanford, Florida built its first Hummingbird helicopter in 1991 by converting an original Sikorsky S-52-3. The ...

List of Operators of Sikorsky S-52 H-18 HO5S
From
Organisation with model S-52 H-18 HO5S
1952




Construction Numbers on database of S-52 H-18 HO5S or its versions