Most armed aircraft based on
ARH-70
type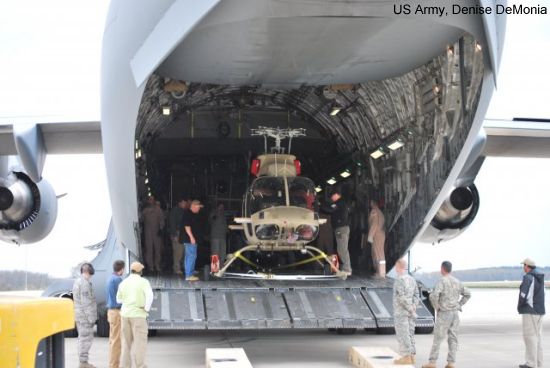 Last of 24 Bell 407 delivered to Iraq, 21-May-13 : REDSTONE ARSENAL, Ala. - The Army completed a significant milestone in helping to maintain stability in Iraq now that the U.S. military have departed from that theater of operations.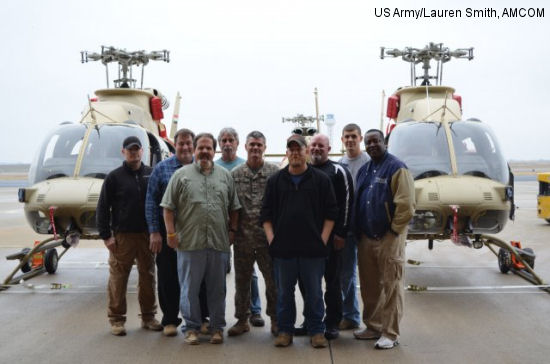 Three more Iraqi Armed Bell 407s, 14-Jan-13 : HUNTSVILLE, Ala. by Ann Jensis-Dale, AMCOM Public Affairs - The U.S. Army Security Assistance Command with U.S. Army Aviation and Missile Command and Program Executive Office Aviation facilitated and delivered three Bell 407 Scout helicopters to Iraqi Army Aviation today. This marks the sixth completed delivery of Iraqi Armed 407 Scout helicopter through Foreign Military Sales that began in 2010.
New helicopters help build IA aviation skills, 04-Jan-11 : BAGHDAD, Iraq by Spc. Amie J. McMillan, Army News Service - The recent arrival of three Bell T-407 training helicopters at Camp Taji will help train qualified Iraqi Army pilots to operate and maintain the helicopters, as well as rapidly accelerate the fielding and utilization of Iraqi Armed 407 Armed Scout Helicopters which are scheduled to be fielded by the end of 2011.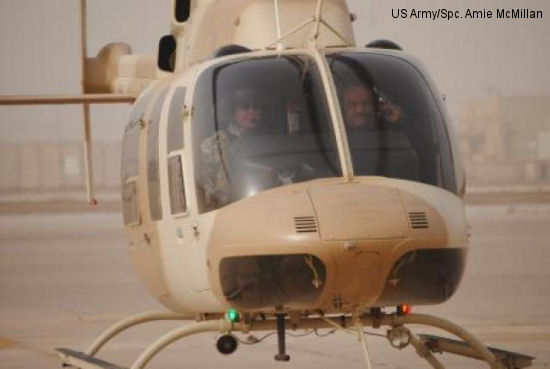 Three Bell 407 to Iraq, 22-Dec-10 : REDSTONE ARSENAL, Ala. By Mrs. Beth Clemons (ACC) - The U.S. Army Security Assistance Command recently facilitated the Foreign Military Sale of three Bell 407 training helicopters to the Government of Iraq.
Bell 407 for Iraqi Air Force via FMS, 29-Apr-09 : FORT WORTH, TEXAS - Bell Helicopter, a Textron Inc. company, today announced that the U.S. Army has awarded the company a $60.3 million contract for 24 of its Model 407 helicopters, which the Army will provide to the Iraqi Air Force as part of a planned Foreign Military Sale to Iraq.
C/N
Mod
Built
ID In this Org
In other Org


Iraqi Army Aviation, ex 09-00113

09-00113: US Army; AFTD

53865
YI-111: Iraqui Army Aviation, BuNo 09-00111

53890
YI-112: Iraqui Army Aviation, BuNo 09-00112

53912
YI-113: Iraqui Army Aviation, BuNo 09-00113

53927
YI-114: Iraqui Army Aviation, BuNo 09-00114

53982
YI-115: Iraqui Army Aviation, BuNo 09-00115

53983
YI-116: Iraqui Army Aviation, BuNo 09-00116

53997
YI-117: Iraqui Army Aviation, BuNo 09-00117

54003
YI-118: Iraqui Army Aviation, BuNo 09-00118

54009
YI-119: Iraqui Army Aviation, BuNo 09-00119

54015
YI-120: Iraqui Army Aviation, BuNo 09-00120

54021
YI-121: Iraqui Army Aviation, BuNo 09-00121

54026
YI-122: Iraqui Army Aviation, BuNo 09-00122

54028
YI-123: Iraqui Army Aviation, BuNo 09-00123, Bell test serial N404LZ

54029
YI-124: Iraqui Army Aviation, BuNo 09-00124

54030
YI-125: Iraqui Army Aviation, BuNo 09-00125; w/o 28sep15 shot down +

54031
YI-126: Iraqui Army Aviation, BuNo 09-00126

54032
YI-127: Iraqui Army Aviation, BuNo 09-00127

54033
YI-128: Iraqui Army Aviation, BuNo 09-00128

54034
YI-129: Iraqui Army Aviation, BuNo 09-00129

54035
YI-130: Iraqui Army Aviation, BuNo 09-00130

54036
YI-131: Iraqui Army Aviation, BuNo 09-00131

54037
YI-132: Iraqui Army Aviation, BuNo 09-00132

54039
YI-133: Iraqui Army Aviation, BuNo 09-00133

54040
YI-134: Iraqui Army Aviation, BuNo 09-00134

54041
YI-135: Iraqui Army Aviation, BuNo 09-00135

54042
YI-136: Iraqui Army Aviation, Armed Scout type, BuNo 09-00136; 14Ja+

54043
YI-137: Iraqui Army Aviation, BuNo 09-00137

53979
YI-138: Iraqui Army Aviation T-407 type Nov09, Bell serial N388BB

53980
YI-139: Iraqui Army Aviation T-407 type, Bell serial N388EB

53981
YI-140: Iraqui Army Aviation T-407 type, test serial N134BH

54149
YI-141: Iraqui Army Aviation, BuNo 12-01141, test serial N501QC

54150
YI-142: Iraqui Army Aviation, BuNo 12-01142, test serial N501NC

54151
YI-143: Iraqui Army Aviation, BuNo 12-01143, test serial N501MC

54152
YI-144: Iraqui Army Aviation, BuNo ?-01144, test serial N506FD

54153
YI-145: Iraqui Army Aviation, BuNo ?-01145, test serial N506EB