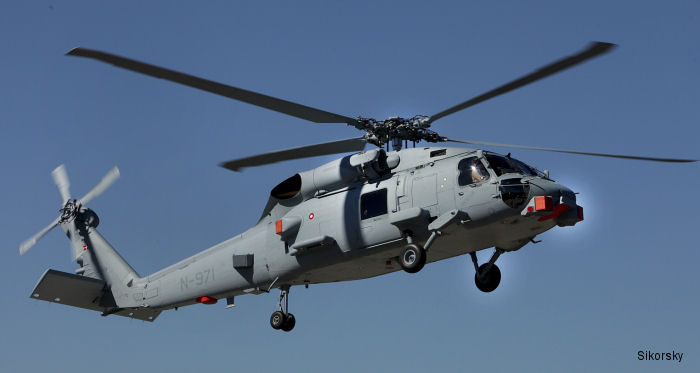 A replacement contest for the
Westland Lynx
was held from late 2011 by the Danish Defence Acquisition and Logistics Organization (DALO) with the selected type likely to enter service from around 2015.
Other contenders on the
Maritime Helicopter Replacement Programme
were the
AW159 Wildcat Lynx
and the
AS565 Panther
.
On November 2012 the MH-60R was announced as the winner with planned deliveries of 9 aircraft between 2016 and 2018
---
On May 11, 2016 the first three MH-60R arrived at Karup Air Base aboard two USAF C-17 Globemaster (01-0187 and 10-0221)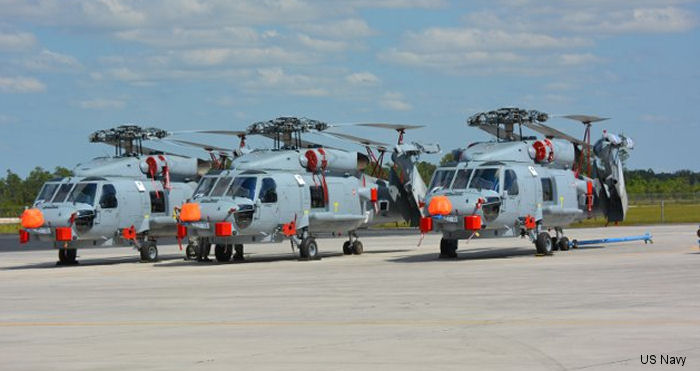 Denmark Received First Three MH-60R Seahawks, 11-May-16 : Royal Danish air force (Flyvevåbnet) received first 3 of 9 MH-60R Seahawk helicopters. Will be used by the 723 Squadron in replacement of their old Westland Lynx.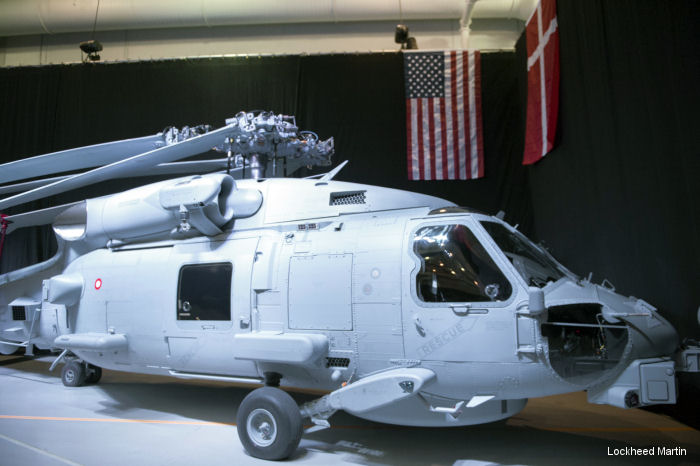 Lockheed Martin Delivers First Danish MH-60R, 23-Oct-15 : The U.S. Navy accepted the first MH-60R Seahawk helicopter slated for Denmark from Lockheed Martin. Will be delivered to the Royal Danish Air Force in 2016 and the full fleet of nine by 2018.
CAE MH-60R simulator for Royal Danish Navy, 08-Jan-14 : Montreal, Canada - CAE today announced that it has won contracts valued at more than C$110 million, not including options, to provide a range of training systems and services for defence customers. The contracts, which add to CAE's third quarter fiscal year 2014 order intake, include a new program to provide Beechcraft T-44C aircrew training for the United States Navy, a foreign military sale contract to provide an MH-60R Seahawk helicopter simulator for the Royal Danish Navy, and a contract from Beechcraft to provide a T-6C ground-based training system (GBTS) for the Mexican Air Force.
Denmark selects the MH-60R Seahawk, 06-Dec-12 : Washington D.C., Maryland - The U.S. Navy announced today that the Danish government signed an official letter of offer and acceptance formalizing its intent to buy nine MH-60R Seahawk helicopters and comprehensive logistics support for its Maritime Helicopter Replacement Program.
Scandinavian Avionics for Danish MPH AW159 contender, 20-Apr-12 : Scandinavian Avionics A/S is pleased to announce that it has signed a Heads of Agreement with AgustaWestland, a Finmeccanica company. Under the agreement, should the AW159 be selected for the Danish Maritime Helicopter Programme (MHP) Scandinavian Avionics A/S will provide a range of avionic support services to AgustaWestland.
C/N
Built
ID In this Organisation
In other Org


70-2720
-: Danish Air Force, BuNo 166407; Denmark by Oct16 as Instr Ai+

166407: USN conv from SH-60B unk; HSM-41 /TS-407; to AMARG


---

02dec10 Stricken from US Navy list

70-407
-: mh-60r SH-60B 162117 in Denmark by Oct16 as a traning unit for pers+

162117: USN


---

May11 HSM-40./HK-404

70-4386
N-971: Danish Air Force, BuNo 168971 f/f 26sep14 d/d 11may16

70-4403
N-972: Danish Air Force, BuNo 168972 d/d 11may16

70-4440
N-973: Danish Air Force, BuNo 168973 d/d 11may16

70-4466
N-974: Danish Air Force, BuNo 168974 d/d Aug16

70-4822
N-975: Danish Air Force, BuNo 168975 d/d Jan17

N-976: Danish Air Force, BuNo 168976 d/d May17

70-4844
N-977: Danish Air Force, BuNo 168977 d/d Aug17