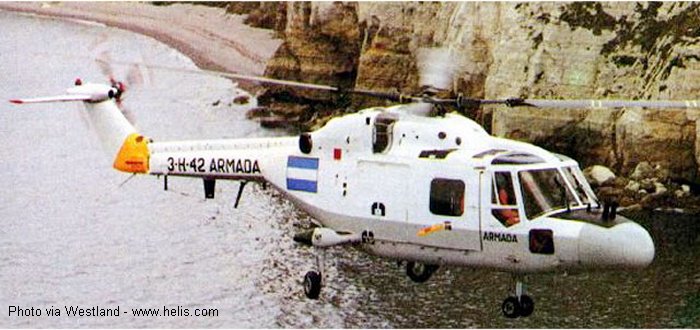 Ordered as early as 1972 to serve on
both Type 42
Argentine Navy destroyers "Hercules" and "Santisima Trinidad", two
Sea Lynx
Mk.23's were delivered in 1978 and were similar to the Royal Navy HAS.2 and Brazilian Navy
Mk.21
types. They were extensively used during the 1982 Falklands/Malvinas War until mechanical failures grounded both airframes. A second batch of eight Lynx were ordered when the war broke out. Similar to the Royal Navy HAS.3 and called the
Lynx Mk87
, the sale was embargoed and so not delivered. The first one,
c/n 249
, completed her maiden flight just three days before the war began and was later sold to Denmark and converted to a Mk.90. The second
c/n 264
was not completed and did not fly. The remaining 6 were not built. The two delivered Mk.23's could not be restored to flight status after the conflict due to the continued embargo and were finally struck off charge from the Argentine Navy by 1985.
C/N
Built
ID In this Org
In other Org


035
1977
0734: Lynx Mk23. UK westland as G-BFDT. ARA 3-H-41 then 3-H-141. E+

S-035: ex Argentine Navy. RDN del. 1987 helicopter used as fli+

036
1977
0735: Lynx Mk23. ARA 3-H-42 then 3-H-142; 02apr82 first argentine +