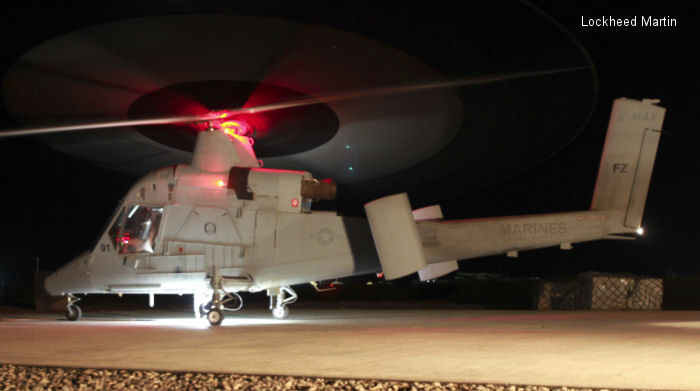 The K-MAX unmanned helicopter was developed under a Lockheed Martin contract. On December 2011, two K-MAX helicopters and three remote control ground stations were delivered to the US Marine Corps and deployed to Afghanistan to evaluate of unmanned cargo resupply in an operational forward deployed environment.

In 2015 were designated as CQ-24A and assigned to Marine test squadron VMX-22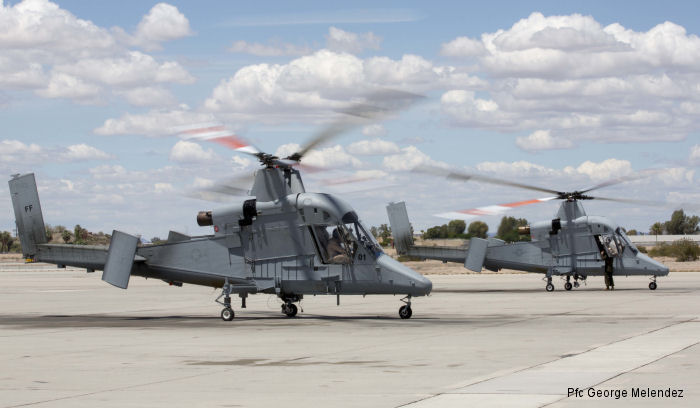 Marines to Reactivate Kaman CQ-24A K-MAX, 02-May-19 : #KMAX Kaman awarded contract to return to flight status two K-MAX, known as CQ-24A in US Marine Corps (USMC) service, that were used in Afghanistan between 2011 and 2013 and are currently stored at MCAS Yuma, Arizona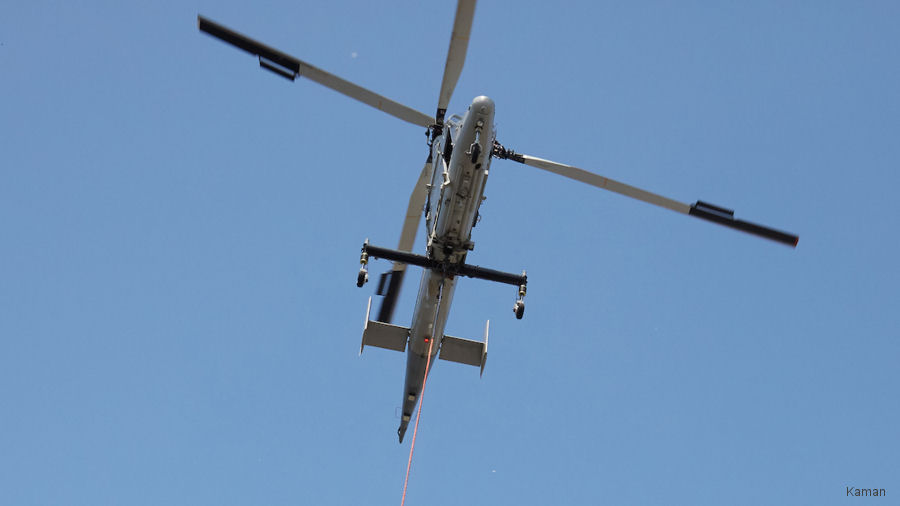 Next Generation K-MAX Drone, 13-Mar-19 : #drones Kaman developing next generation unmanned aircraft system (UAS) kits that will allow the K-MAX helicopter to fly either manned or unmanned missions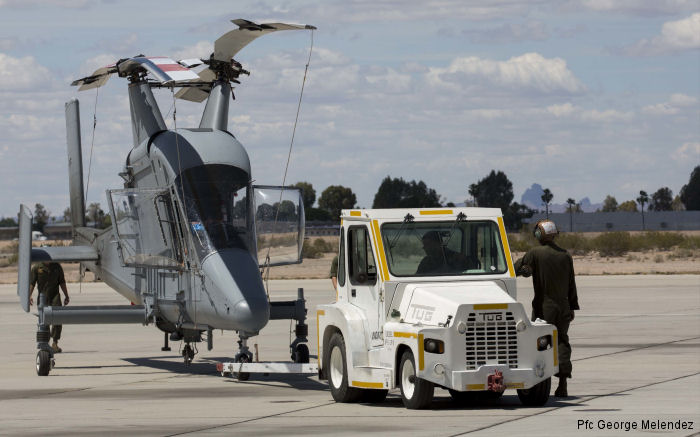 Unmanned CQ-24A K-MAX in MCAS Yuma, 07-May-16 : Two Kaman/Lockheed-Martin CQ-24A K-MAX unmanned helicopters from Marine Operational Test and Evaluation Squadron VMX-22 arrived at Marine Corp Air Station Yuma in Arizona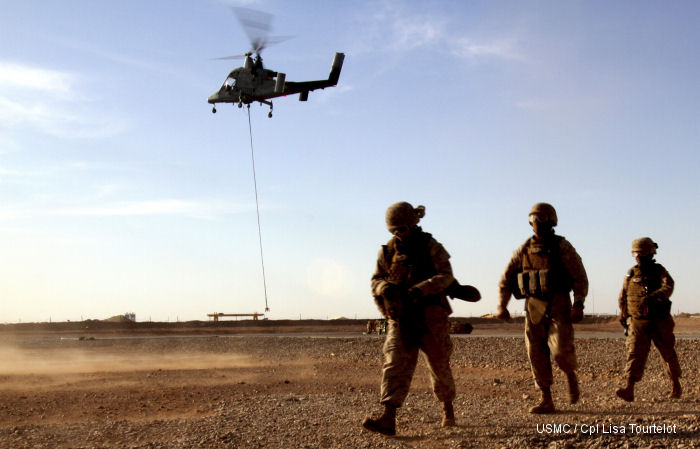 Marines Unmanned K-MAX returns from Afghanistan, 24-Jul-14 : OWEGO, N.Y. – After lifting more than 4.5 million pounds of cargo and conducting thousands of delivery missions for the U.S. Marine Corps, the Lockheed Martin and Kaman Aerospace Corporation K-MAX cargo unmanned aircraft system (UAS) has returned to the United States following a nearly three-year deployment in Afghanistan.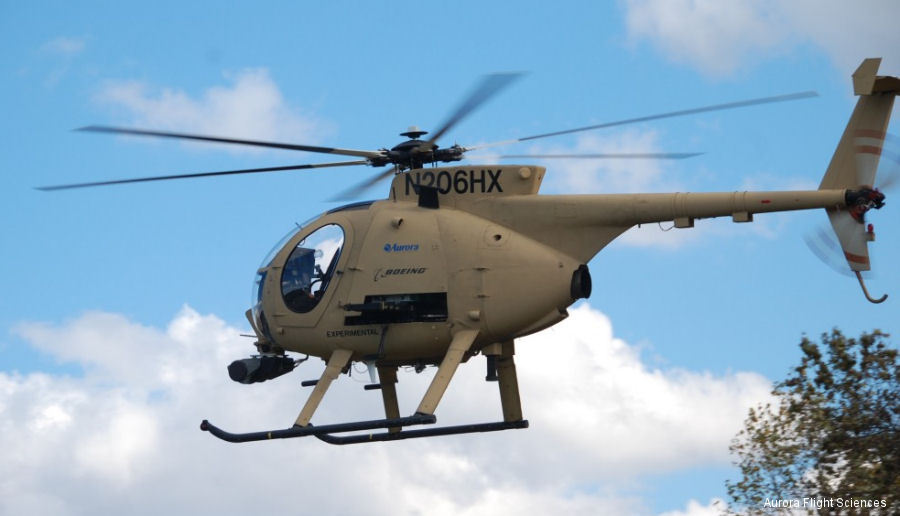 AACUS, 17-Apr-14 :

US Office of Naval Research and Aurora Flight Sciences' Autonomous Aerial Cargo/Utility System (AACUS) research program.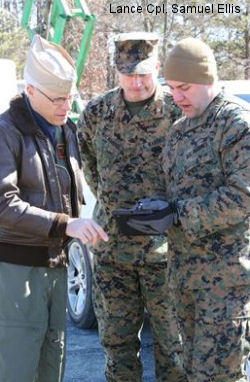 New tech could autonomize rotary-wing landings, 08-Apr-14 : MARINE CORPS BASE QUANTICO, Va by Lance Cpl. Samuel Ellis - Going beyond remote-controlled technology that currently exists for aircraft, the Office of Naval Research is spearheading the development of a new rotary-wing aircraft software and sensor system that would bring autonomous approaches and landings via manned or unmanned helicopters.
Marines extend K-Max use in Afghanistan, 17-Mar-13 : The U.S. Marine Corps has extended indefinitely its use of two unmanned K-MAX heavy lift helicopters in Afghanistan, a Navy spokeswoman said, noting the aircraft kept re-supply trucks off the road and reduced the threat of roadside bombs.
C/N
Mod
Built
ID In this Org
In other Org


A94-0028
2000
169221: 2011-2013 as A11496, UAV for field testing in Afghanistan

N482PH: Kaman 2000


---

?: US Department of State as N357KA from 27Mar01; to Peru+


---

- N357KA: Lockheed Martin Systems from 23Sep08; modified as UAV 2+


---

N357KA: Heli 807 Leasing Llc at Anchorage, AK from Feb18, pictu+


---

San Juan, Puerto Rico, op by ROTAK


---

Nelson, BC

A94-0030
2001
169222: 2011-2013 as A11497, UAV for field testing in Afghanistan

N359KA: Kaman Feb01


---

EJC-501: US Department of State as N359KA from 12Apr01; to Ejer+


---

- N359KA: Lockheed Martin Systems from Aug08; modified as UAV 20+

A94-0002
1992
N131KA: Kaman Aerospace from Nov92, f/f 18Sep93; 2010 used for UAV t+

N131KA: Aug14 Lockheed Martin Conducts First Fully Autonomous M+


---

18nov15 with Stalker XE small unmanned aircraft system+


---

Nov16 Autonomous K-MAX UAT pictured (pic2) with S-76 Ma+


---

pictured (pic3) during demos at Windham Airport Showca+


---

first flight of unmanned KMAX-Titan