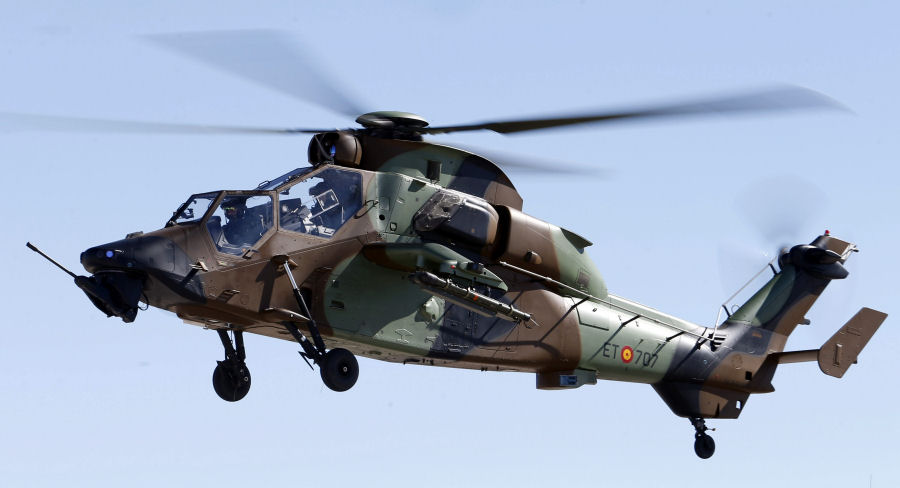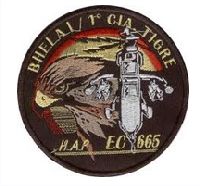 In September 2003, Spain, partner at the EADS group, selected a version of the Tiger HAP combat support helicopter to be called the HAD which will be armed with the Trigat LR and Mistral missile systems. 24 helicopters will be ordered which will also have an uprated Enhanced MTR390 engine and a heavier payload. Deliveries were scheduled for 2007-08.

As of 2010, contract was reduced to six HAP and eleven HAD

Full Operational Capability (FOC) achieved June 2012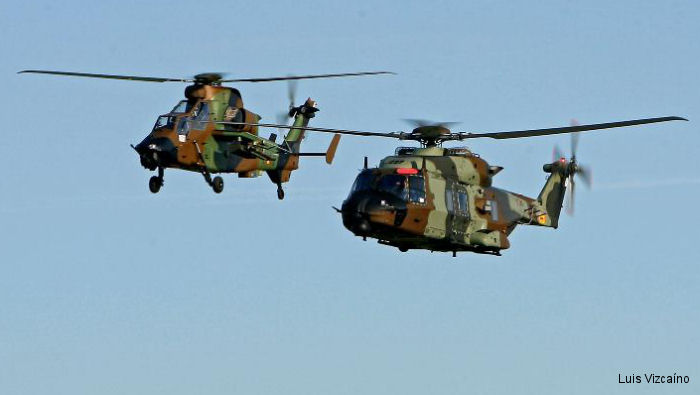 One NH90 and Two HAD-E Tiger Delivered to FAMET, 18-Dec-14 : Official delivery of the first two Tiger helicopters in the new HAD-E version and the first NH90 GSPA tactical transport helicopter to the Spanish Army Airmobile Force (FAMET).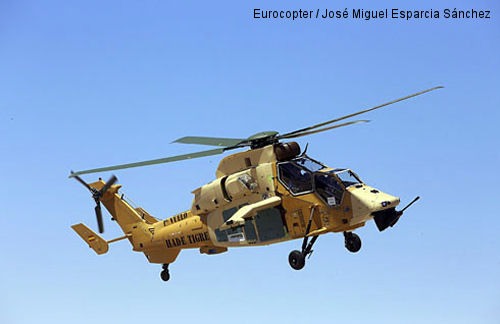 Spanish-assembled Tiger HAD/E first flight, 30-Jul-13 : Albacete, Spain - Eurocopter's Tiger combat helicopter program has reached an important new milestone with the maiden flight yesterday of the initial Tiger HAD/E variant assembled at Eurocopter's Spanish facilities in Albacete, Spain.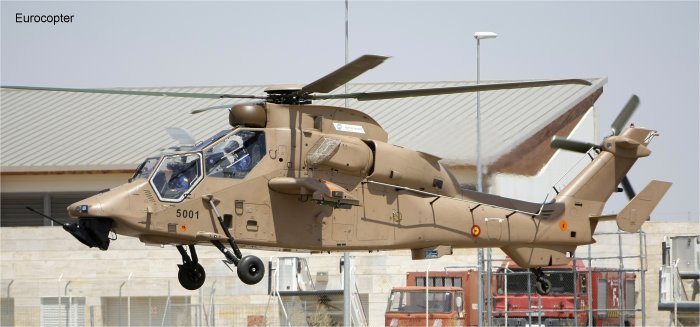 Tiger HAD Tests Begin in Spain, 16-Sep-10 : The first HAD support and attack version of the Eurocopter's Tiger initiated flight test program at Eurocopter's Albacete facility in Spain
C/N
Mod
Built
ID In this Organisation
In other Org


2005
hap
HA.28-01: ET-701. FAMET BHELA I d/d abr07, test serial F-ZKBB

2007
hap
HA.28-02: ET-702. FAMET BHELA I d/d abr07; ex F-ZKBH

2008
hap
HA.28-03: ET-703. FAMET BHELA I d/d abr07; ex F-ZKBC

2014
hap
HA.28-04: ET-704. FAMET BHELA I d/d mar08, test serial F-ZJRM

2017
hap
HA.28-05: ET-705. FAMET BHELA I d/d oct08, test serial F-ZKBN

2020
hap
HA.28-06: ET-706. FAMET BHELA I d/d dec09, test serial F-ZKBM

5002
had
HA.28-07: 5002/HADE02 as HA.28-07-10008; Feb14 as HA.28-10008

5003
had
HA.28-08: 5003/HAD/E03 ET-708 d/d Jan15. HA.28-08-10009

5004
had
HA.28-09: 5004/HAD/E04 ET-709 Jun15, HA.28-09-10010

5005
had
HA.28-10: 5005/HAD/E05 ET-710 Sep15, HA.28-09-10011

5006
had
HA.28-11: 5006/HAD/E06 ET-711 Jun17, HA.28-08-10041

5001
had
2007
HA.28-18: 5001/HAD/E01 Eurocopter España f/f Sep10

F-ZWBP: Eurocopter France f/f 14dec07, first serial HAD French +