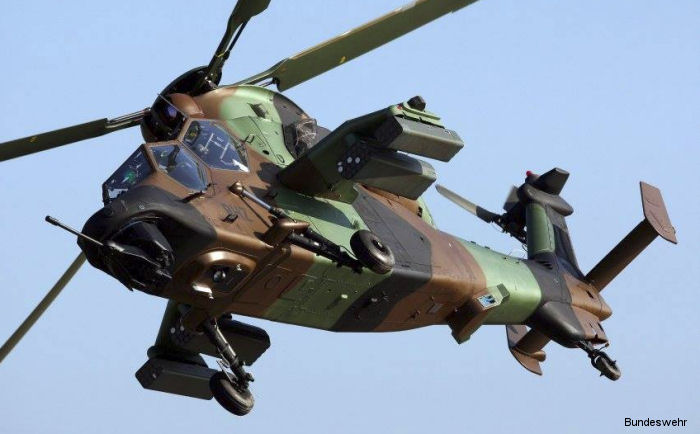 The
Eurocopter EC665
Tiger was a joint venture by MBB and Aerospatiale launched in 1984. Due high costs, the program was cancelled in 1986 but was relaunched during 1987 and 5 prototypes were built. First flight took place April 27, 1991. New setbacks delayed serial production to March 2002 with both France and Germany each ordering 80 aircraft. As of 2010 less than 30 of these were delivered.
Australia and Spain joined the programme providing benefits to their local industries.
In 2009, they flew their first combat mission when three french Tigres where deployed to Afghanistan. In 2011 they saw action again when they were used against Libya
From 2014 marketed by
Airbus Helicopters
As of August 2015, more than 120 Tiger of all variants have been delivered to four nations accumulating more than 68,000 flying hours.
As of December 2017, Tiger fleet flying with France, Germany, Spain and Australia logged over 92,000 flight hours.
As of April 2019, 181 Tigers of all variants have been delivered to the 4 nations and accumulated over 115,000 flight hours.
Model
Year
History
Tiger ARH
The Armed Reconnaissance Helicopter (ARH) is the version ordered by the Australian Army based on the Eurocopter Tigre HAP and to be assembled loc ...

Tigre HAP
The Tigre (Tiger) Hélicoptère d'Appui Protection (HAP, french for Support and Escort Helicopter ) is the air-to-air combat and fire support ...

UH Tiger
The Unterstützungshubschrauber Tiger (UTH, german for Support Helicopter Tiger ) is the multi-role fire support variant for the German Army al ...

Tigre HAD
2007
The Tigre (Tiger) Hélicoptère d'Appui Destruction (HAD, french for Support and Attack Helicopter ) is basically an improved HAP with more engin ...

AH Tiger Mk3
2025
First announced in 2016, the Tiger Mk3 is a proposed further upgrade of the French Tigre HAD and German Tiger UHT involving Airbus, Thales, Safra ...